Christmas Tudor Recipes: NEW Book Out Now!
Over the past year, every month, we have been enjoying the taste of Tudor England, courtesy of Brigitte Webster who runs Tudor and 17th Century Experience breaks. We have been treated to some extraordinary dishes, from Plum Tarts to a 'Dyschefulle of Snowe and Strawberries', on our culinary adventures through sixteenth-century England and beyond. Now, I am delighted to announce that Brigitte has published a lush book, entitled, A Banquet at the Old Hall: an Invitation to Participate in Historic Cooking. In the book, she captures many of these recipes and more – and in this blog, Brigitte shares three of her favourite Christmas Tudor recipes. Read on to the end to find out how to purchase your signed copy.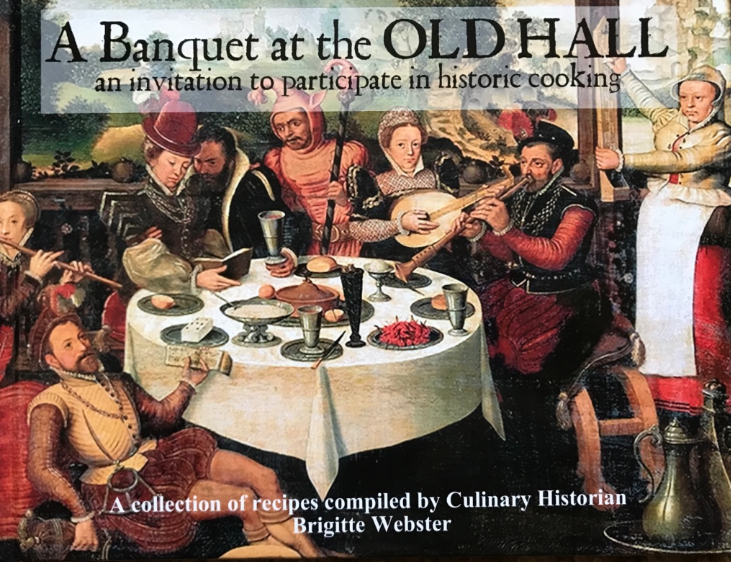 A Message from Brigitte
Producing a book is generally based on a conscious decision to write about something close to one's heart. Only in my case, it happened by accident. I realized that over a period of three years, I had compiled enough material to fill a book – or rather several books!
It was a fellow Tudor history enthusiast and author, Janet Ambrosi Wertman, who suggested I publish a book. She was staying with me at the time. Having enjoyed a number of Tudor dishes, which I had prepared for her, Janet asked to see my research. Her genuine enthusiasm and encouragement gave me the motivation to choose a number of my favourite recipes and compile my first book, entitled, A Banquet at the Old Hall: an Invitation to Participate in Historic Cooking.
The title reflects my mission; to encourage Tudor history enthusiasts to connect with people from the period by tasting the food they ate. My invitation is to step into my new home (literally my new home), called, 'The Old Hall' and become a guest at a banquet. After all, this is the bit of the 'party' that everybody wants to be invited to!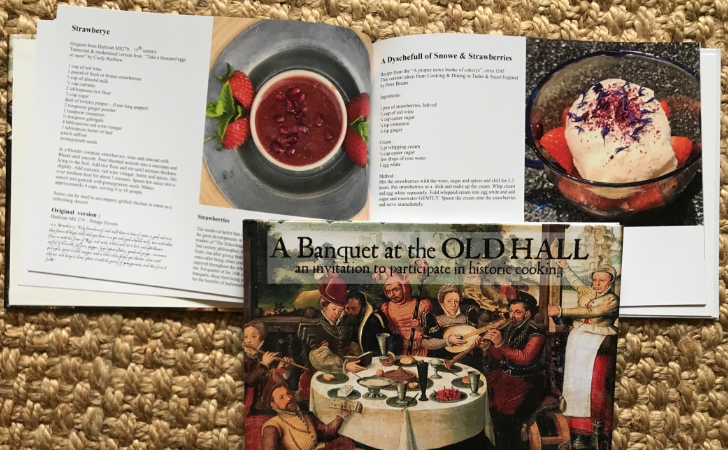 Tudor food is seasonal, and Christmas was my main focus for the choice of recipes selected for this book. I also wanted to tempt people who feel they have limited, or no, cooking skills. I wanted them to feel inspired, and confident, enough to try a number of the recipes.
My choice to focus on sweet dishes is because, in my experience, they are always 'winners' at my Tudor feasts and open days. They tend to be well received by fussy-eaters, vegetarians and people with food intolerances, alike. The recipes can be easily re-created in a modern kitchen, and some ingredients may be substituted with similar if desired. Measurements are only guidelines and can also be adapted to individual needs.
To me, Tudor food, cookery and eating in the sixteenth-century has become a true passion. It has literally taken over my life. My qualifications as a cookery and history teacher are a good part of the reason for my interest and desire to teach others the art, and mystery, of Tudor-period cooking.
Like most culinary historians, I started with modernized, historic recipes. I realised quickly that I wanted to learn more about the original texts and sources. To my astonishment, I discovered a wealth of authentic manuscripts, Tudor period cookery books, dietary books and personal recipe collections by our Tudor forefathers. (Please see the list of sources at the end of this blog).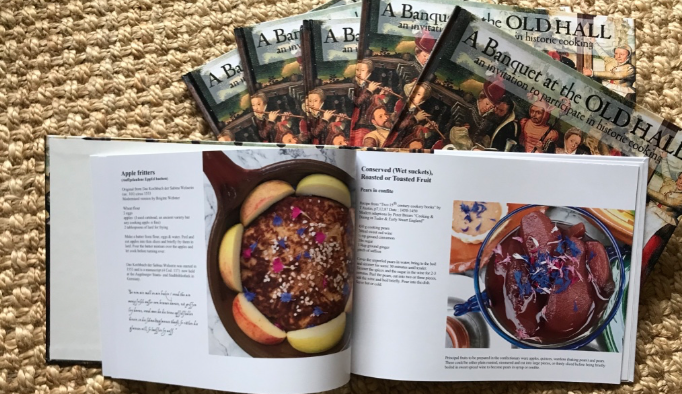 However, such recipes can be a bit of a challenge – even to an accomplished cook – as they are written in the language of the sixteenth-century, often in local dialects and in almost undecipherable handwriting!
Early recipes often lack precise measurements, cooking times and often miss out complete steps because they were aimed at people who were familiar with the basic instructions. The re-recreation of such authentic recipes, therefore, requires the skill of a competent cook and the research skills, and patience, of a food historian. We should remember that the results are often historic interpretations, which enable us to get a 'taste' of what food was like. However, they cannot be used as historic 'evidence', nor can they be dismissed as 'wrong' or incorrect.
Early recipes are fun to reproduce and help us connect with our favourite characters from the Tudor era. I was determined to include pictures of every single recipe to help the user visualize what the final product could look like. As for my personal, favourite recipes? Well, the answer always varies according to the season, the weather and how I feel!
For this month's blog, I have selected a number of Christmas Tudor recipes that, I hope, will inspire you. Maybe you could plan to serve at least one of them as part of your Christmas entertaining this year! NOTE: If you wish to buy the book it can only be ordered directly from Brigitte Webster. Included will be a personal dedication of your choice! Please read to the end of the blog for details on how to place your order.
Christmas Tudor Recipe #3: Marchpane – The Forerunner to Marzipan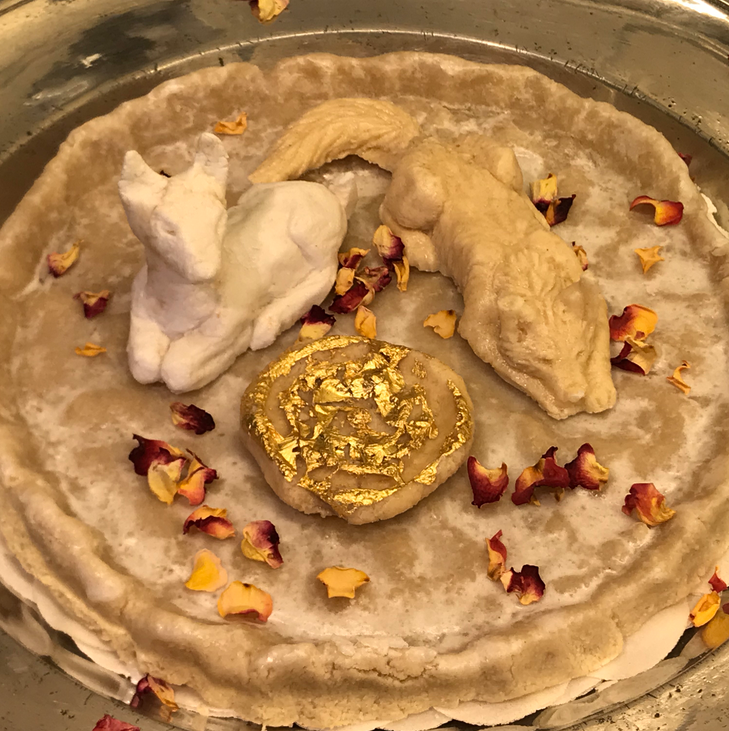 This first Christmas Tudor recipe is taken from The Treasurie of Hidden Secrets; circa 1600; anon. Adapted recipe for modern use by Peter Brears ('Dining and Cooking in Tudor & Early Stuart England)
225g almond paste ( if sugar content is 60%, it requires 80% of its weight of additional ground almonds to be kneaded in )
wafers for the bottom
2 tsps water ( rosewater)
125g icing sugar
Moisten the edges of the wafers, and overlap to form a large, flat round base on a baking sheet. Place the almond paste in the center as a ball, then press down and shape with the fingers to make a flat, round base about 5-7mm thick with a 2.5 cm vertical wall around it. Smooth the top of the wall, then pinch like a pie crust. Bake at 110 C for about 15-20 mins without browning the rim, then remove and leave to cool and dry off. Beat the rosewater and sugar to produce a very thick creamy mixture and apply this evenly to the base and walls of the marchpane with a bristle brush, then return to the oven for another 15-20 minutes until the sugar has turned opaque. Remove from the oven and leave to cool completely before transferring to a wire cooling grid. The marchpane improves if left for a time under a piece of paper in a dry atmosphere.
Marchpanes were decorated in various ways, including being studded with comfits, ornamented with kissing comfits, knot or 'jumbale biskets', three-dimensional models in cast sugar or marchpane. They were also decorated with devices such as animals or the sacred 'HIS' monogram, applied in gold leaf to moistened surfaces through cut paper stencils. Some marchpanes appear to have been cast in carved wooden moulds. I decorated mine with 2 figurines made from marzipan and sugar paste – in the shape of a dog and a baby deer.
Marchpanes were important items of banqueting stuff, being large discs of almond paste with a hand raised vertical rim, like that of a tart, glazed with icing sugar and richly decorated. They were made in various sizes. In 1577, we know the smaller ones cost some 2s 6d and the larger ones 10s or more. Since they had to be dried off in an oven, they were underlain by a layer of wafers and its edges moistened and overlapped with others to build up the required area.
Christmas Tudor Recipe #2: Macaroons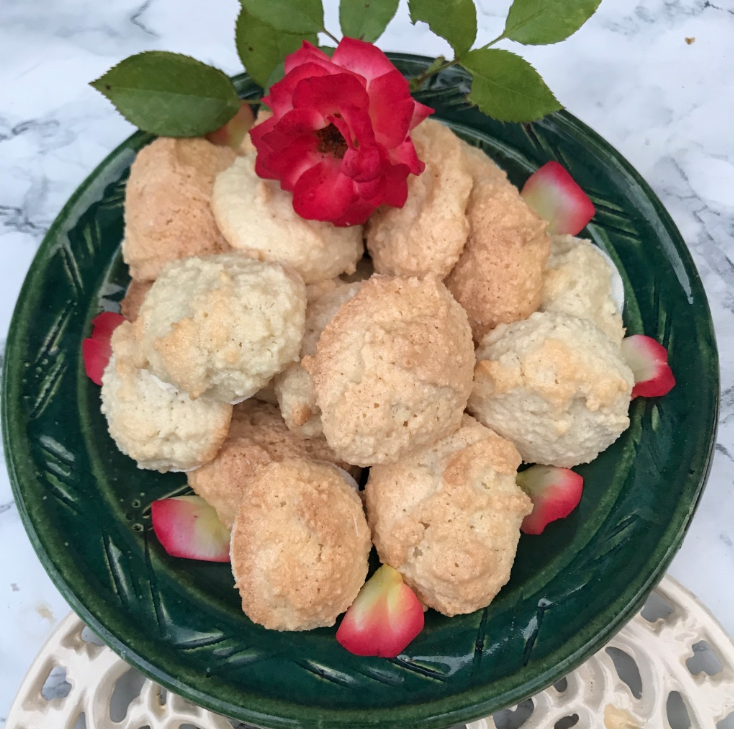 This second Christmas Tudor recipe is taken from The Good Huswifes Handmaide for the Kitchen. 1588, Peachey, p 8. Modern adaptions by Peter Brears 'Dining & Cooking in Tudor and Early Stuart England'
125g ground almonds
75g icing sugar
1 egg white
1tsp rosewater ( I only used a few drops )
Method
Beat the egg to stiffness, beat half the sugar, then the remaining sugar and rosewater until smooth. Finally, add the ground almonds to form a dough. Form into rolls 7.5cm/12mm in diameter. Originally these were baked on wafers, but now rice paper, or non-stick baking parchment, may be used. Bake at 150C/300F/gas mark 2 for 10-15 mins until pale brown.
By replacing the ground almonds with sliced almonds, then changing the proportions of sugar and egg, these rather solid macaroons were converted into much lighter and more delicate "bean bread". Believe me, this tastes much better than it sounds!
Festive Tudor recipe #3: Twelfth Night Cake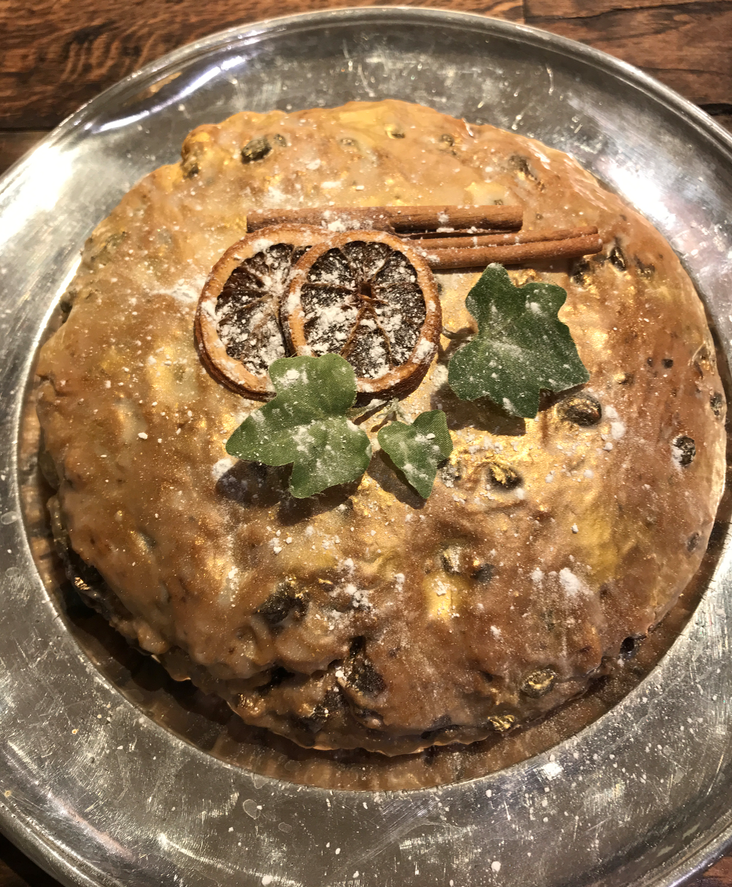 This final, Christmas Tudor recipe is taken from Historic Royal Palaces. I have reduced the amount to make it suitable for my bread making machine!
Ingredients :
500g flour
170g currants
1 tsp cinnamon
½ tsp ginger
¼ tsp nutmeg
3 ground cloves
170 ml milk
170 ml ale
37g butter
½ tbsp sugar
2 tsp dry yeast
Method :

Put all the ingredients into the bread maker and set on 'dough with raisins' programme. I also added the necessary 'bean' (I used a dark, dried bean) to the currants for authenticity. (The person who finds the bean in their slice is the 'King' for the day). Bake in a cake tin until done (about an hour medium heat) and then decorate with a sugar glaze. I have also gilded the cake in an edible gold spray for extra 'bling'!
How to order a Copy of A Banquet at the Old Hall: an Invitation to Participate in Historic Cooking
What a great Christmas present this would make for any Tudor lover, who is also interested in cooking and getting a taste of the sixteenth -century! If you wish to place your order, please email Brigitte Webster via [email protected]. You will also be interested to know that Brigitte runs Tudor cookery classes for those keen to learn more. Again, if you are interested, please contact Brigitte directly.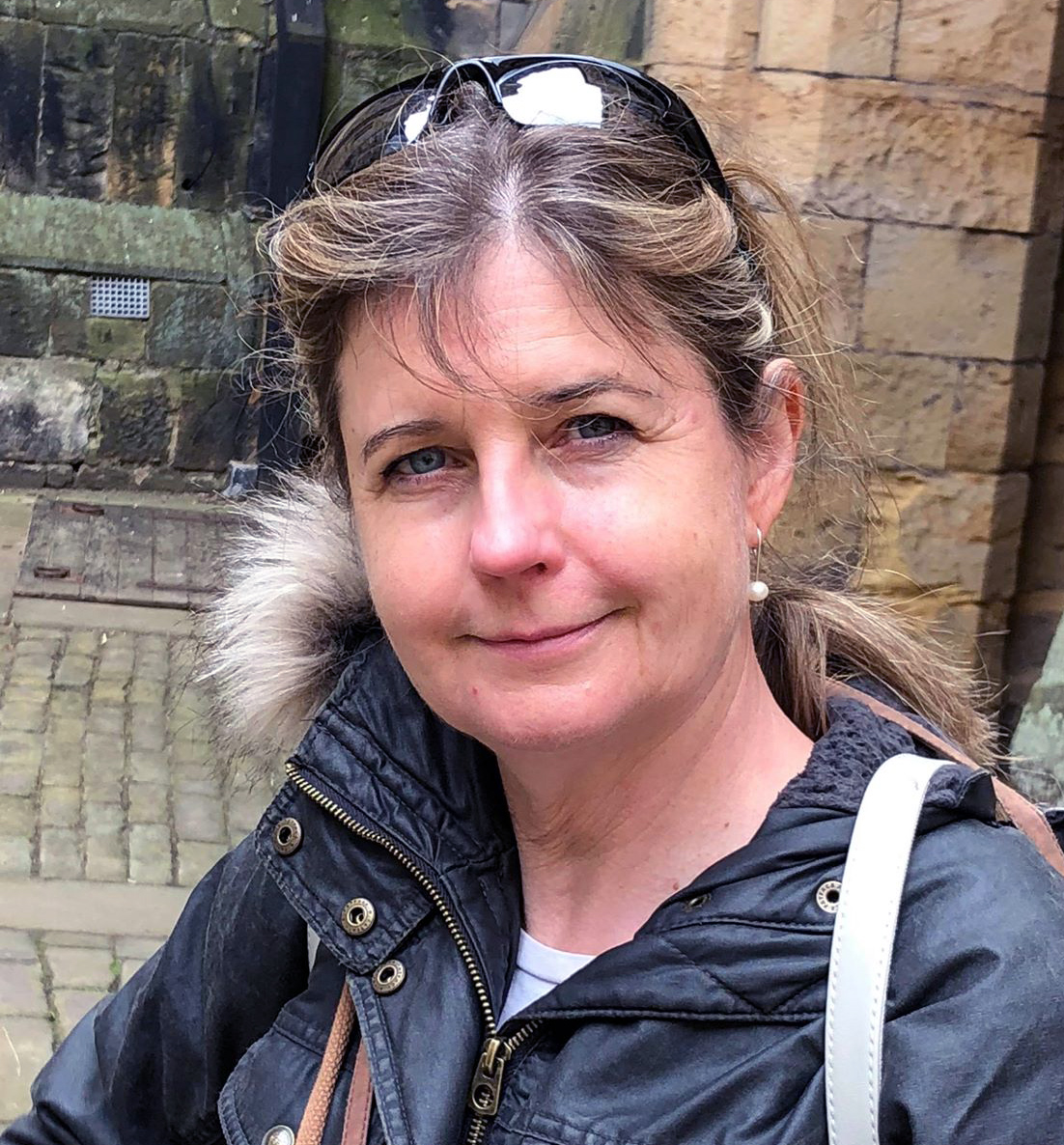 Each month, our Tudor recipe is contributed by Brigitte Webster. Brigitte runs the 'Tudor and 17th Century Experience'. She turned her passion for early English history into a business and opened a living history guesthouse, where people step back in time and totally immerse themselves in Tudor history by sleeping in Tudor beds, eating and drinking authentic, Tudor recipes. She also provides her guests with Tudor entertainment. She loves re-creating Tudor food and gardens and researching Tudor furniture.
Sources and further reading :
Dining and Cooking in Tudor & Early Stuart England, by Peter Brears
The Good Housewife's Jewel, by Thomas Dawson. 1596/97.
A Proper Newe Booke of Cokerye. 1557.
Cooking in Europe 1250-1650, by Ken Albala
Livre fort excellent de Cuysine. 1555. (Trans. T J Tomasik & K Albala)
The English Housewife, by Gervase Markham
How to Milk an Almond, Stuff an Egg and Armor a Turnip, by D Friedman & E Cook
The Treasurie of Commodious Coceipts, and Hidden Secrets, by John Partridge 1591.
The Good Huswifes Handmaide for the Kitchen. 1594-97
Ashmole Ms. 1439
Harlian Ms 5401
Harlian Ms 279
A Banquet at the Old Hall (available from Brigitte Webster)
The Treasurie of Hidden Secrets; circa 1600
The Good Huswifes Handmaide for the Kitchen. 1588.