Hardwick Hall: 'More Glass Than Wall'
Note: This show notes page accompanies my on-location podcast at Hardwick Hall, recorded in Spring 2023.

A Brief History of Hardwick Hall
Hardwick Hall in Derbyshire is a stunning Elizabethan country house. A veritable time capsule, little has changed at Hardwick, and much of its furniture and interiors are those Bess herself would have known. It is a Tudor treasure trove and a must-see for anyone who loves Tudor buildings and authentic sixteenth-century interiors. A house built to display wealth, Hardwick Hall is one of the best-known and most magnificent Prodigy Houses in England, well known for its iconic architecture: the lavish use of glass, its impressive turrets, and its parapets, embellished with the Countess of Shrewsbury's monogram.
In this podcast, I'm joined by Liz Wearing, Property Curator at Hardwick Hall. We explore this jewel of the late Elizabethan age. As ever, there is unrestricted access to the first half of this podcast, which you can tune into here. However, to listen to the full episode, you must be a member of The Ultimate Guide to Exploring Tudor England, The Tudor Travel Guide's membership site. You can access the episode via the member's dashboard or the Castos app if you are already a member. If you are not yet a member but would like to join the community, you can do so by following this link.
The Redoubtable Mistress of Hardwick Hall
The indomitable owner of Hardwick Hall, Bess of Hardwick, was a remarkable figure in the sixteenth century. From humble beginnings, her exceptional social climbing and multiple marriages made her one of the wealthiest and most influential women of the Elizabethan era.
Bess gained considerable wealth through her marriages, including land, estates and connections. After Sir William Cavendish's death, she married Sir William St. Loe, who died shortly afterwards, leaving Bess as one of the wealthiest widows in England. She managed her late husbands' estates with remarkable skill and guile, amassing more riches along the way. However, her most famous marriage was to George Talbot, the 6th Earl of Shrewsbury. This marriage enobled Bess as 'Countess of Shrewsbury', bringing her to the peak of her power and wealth, although, in later years, the Count and Countess would fall out spectacularly and in a very public fashion.
Bess commissioned several impressive houses alongside Hardwick Hall, including Chatsworth House. These prodigy houses were designed to showcase her wealth, taste and power. Her significant contributions to the cultural and architectural landscape of the time are still recognised today, a testament to her intelligence, ambition and determination.

Bess of Hardwick died on 13 February 1607, aged around 87, and having lived a remarkable life. You can read more about Bess' life, death and her place of burial in my membership, 'The Ultimate Guide to Exploring Tudor England'.
Mary Queen of Scots: Did She Visit Hardwick Hall?
It is often cited that the Queen of Scots visited Hardwick Hall while in the custody of the Earl of Shrewsbury. Sadly, this is, in fact, a romantic myth. Mary was executed in 1587, while Hardwick Hall was not completed until well after her death, in 1597.

Part of the confusion comes from one of the chambers in Hardwick Hall, which is called 'The Mary, Queen of Scots' room. This is because of two features. First is the coat of arms of the Scots Queen, positioned inside the room and above the doorway. The second concerns the striking tester bed that dominates the chamber. The bed is hung with black drapes and is said to have been used by Mary during her stay at Hardwick Hall.

For further clarification and details of how the legend of Mary at Hardwick came about, I am posting an extract from the National Trust website, which describes in more detail the history of the bed and how it erroneously became associated with Mary:

'This bed is part of the myth that Mary, Queen of Scots, passed a period of her imprisonment at Hardwick Hall. There is no evidence that Mary spent any time at Hardwick (indeed, the house was not completed until after her execution in February 1587), and this bed – as a 19th-century confection using earlier fabrics from different sources – cannot have been hers. Indeed, a bed with embroidered black velvet hangings is shown in the 1835 'Vitruvius Britannicus' in the same place as this bed, but the bed then known as having been Mary's (which had been brought from Chatsworth) is shown in the same volume as in the High Great Chamber. This bed, then, has earned its name merely by standing in the room which is erroneously thought to have been hers. The embroidered slips applied to the black velvet hangings once thought to have been her work, are now thought to post-date her death.'

As for the coat of arms? There is a record of its removal from Chatsworth, where Mary did indeed spend time, in the 1700s. Some historians postulate that the coat of arms adorned the entrance to the Scots Queen's lodgings at Tudor Chatsworth. This is certainly feasible. Sadly, the sixteenth-century Chatsworth is long gone, and the location of these chambers is lost to time.

Thus, although Mary is not the focus of this podcast and article, we have talked about the life of the Scots Queen and the places associated with her on The Tudor History & Travel Show in the past. To learn more about Mary's life, you can listen to a series of podcasts that follow in her footsteps – the links are below.
Mary, Queen of Scots on The Tudor History & Travel Show
Later this year, we'll explore Mary's time in Sheffield, while under the guardianship of the Earl of Shrewsbury by visiting Sheffield Manor Lodge. As soon as this content is available, I will let you know and post a link here. Watch this space!
In the Footsteps of Mary, Queen of Scots – Part 1: Linlithgow Palace with Anne Daly is available here.
In the Footsteps of Mary, Queen of Scots – Part 2: Stirling Castle with Liz Manson is available here.
In The Footsteps Of Mary, Queen Of Scots: Part 3: Edinburgh -The Royal Mile And Holyroodhouse With Jerry Ozaniec And Liz Manson is available here.
In The Footsteps Of Mary, Queen Of Scots: Part 4: Edinburgh Castle With Donal Ferrie And An 'Audience With Marie Stuart' is available here.
Mary, Queen of Scots: The Making of an Icon with Dr Steven Reid and Anne Dulau is available here.
Hardwick Hall Gallery
All images in this gallery are the author's own unless otherwise stated.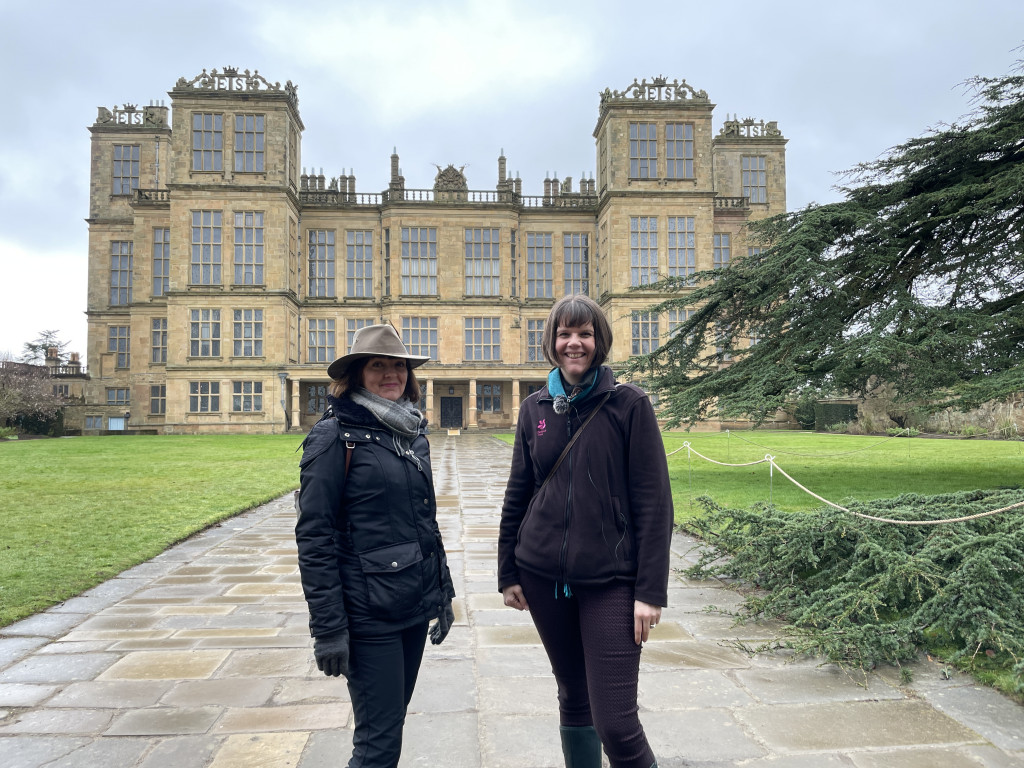 Sarah with Liz outside Hardwick Hall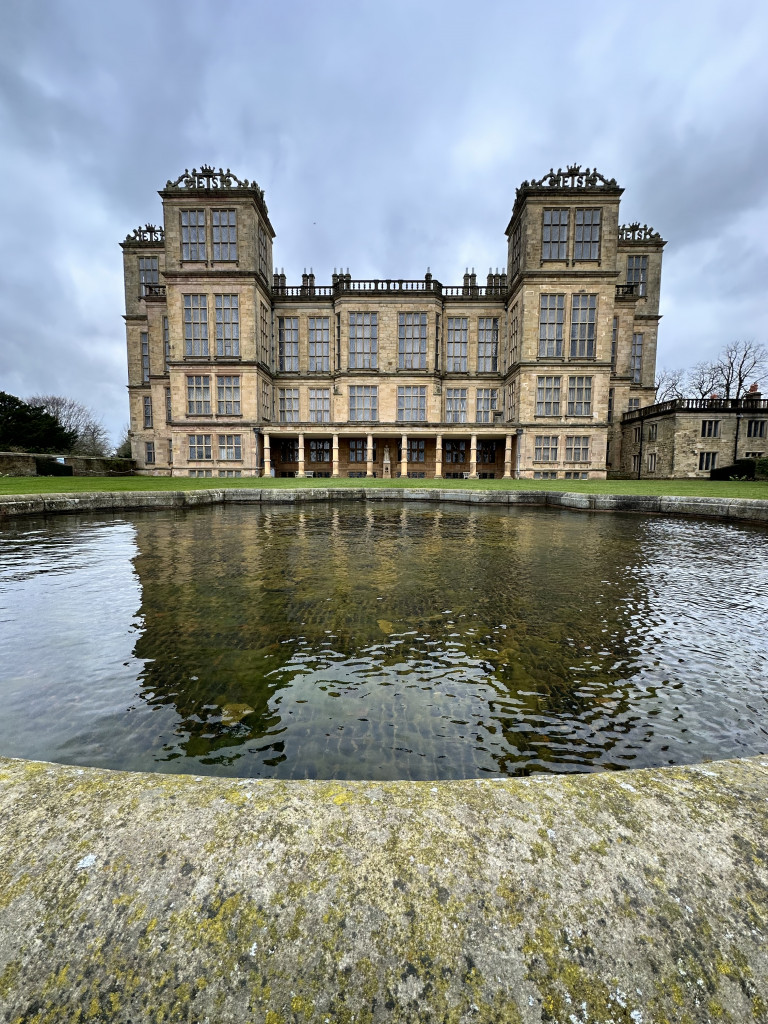 Exterior of Hardwick Hall with Bess's 'ES' monogram for Elizabeth Shrewsbury visible upon the building's parapet.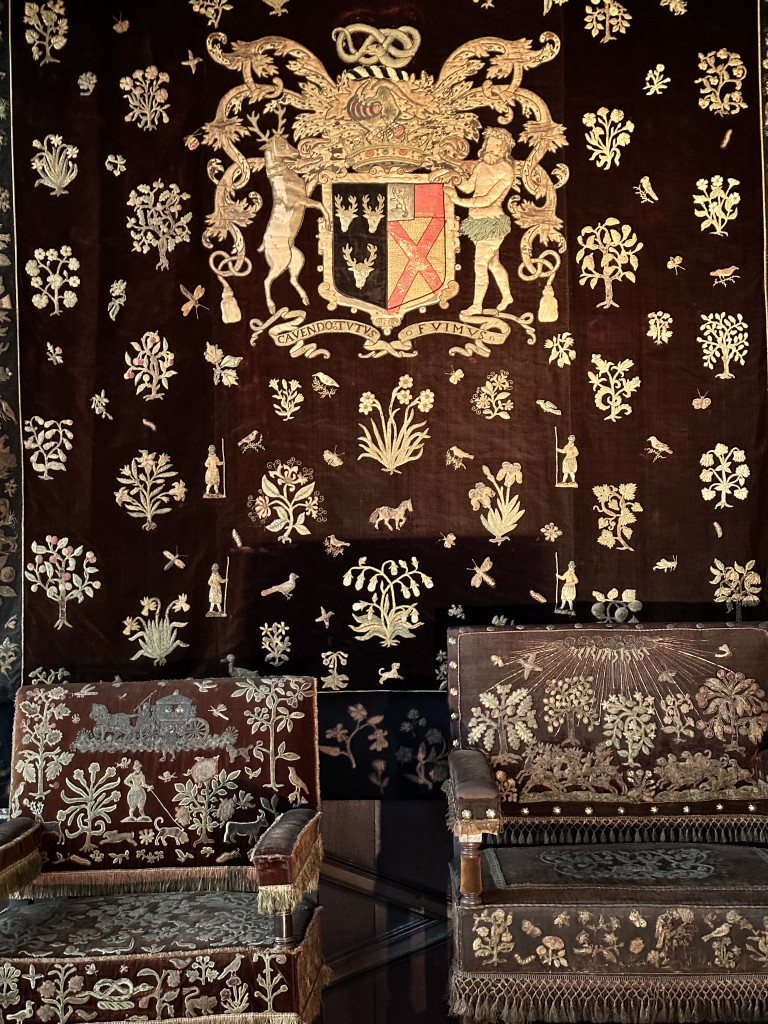 Bess of Hardwick's Presence Chamber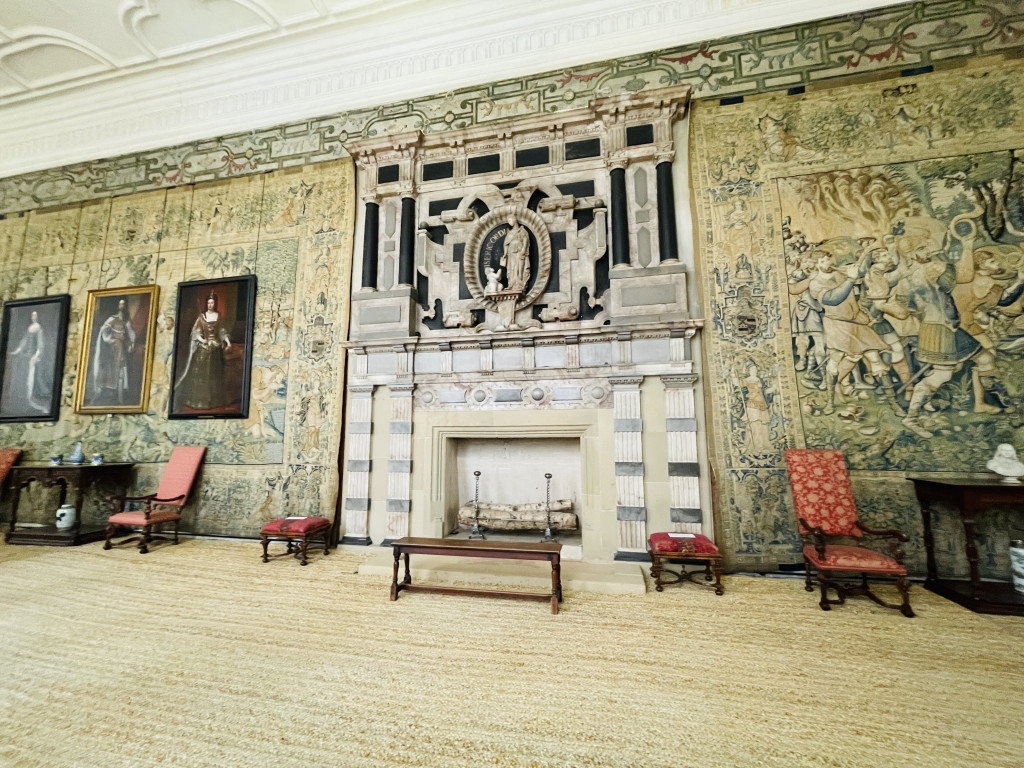 Bess's Presence Chamber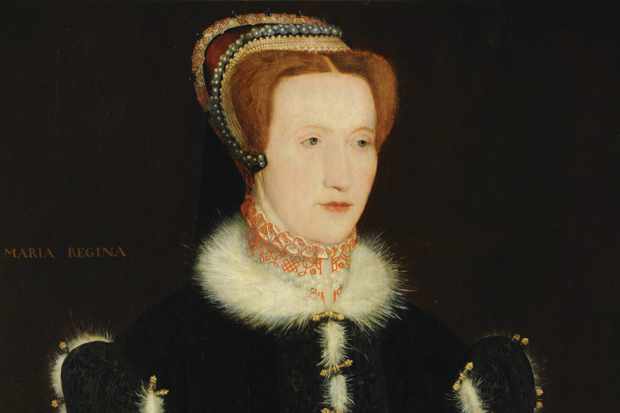 Elizabeth Hardwick (Bess of Hardwick), Countess of Shrewsbury (oil on panel) by Eworth, Hans (c.1525-after 1578) (follower of); 87.6×66.7 cm; Hardwick Hall, Derbyshire, UK.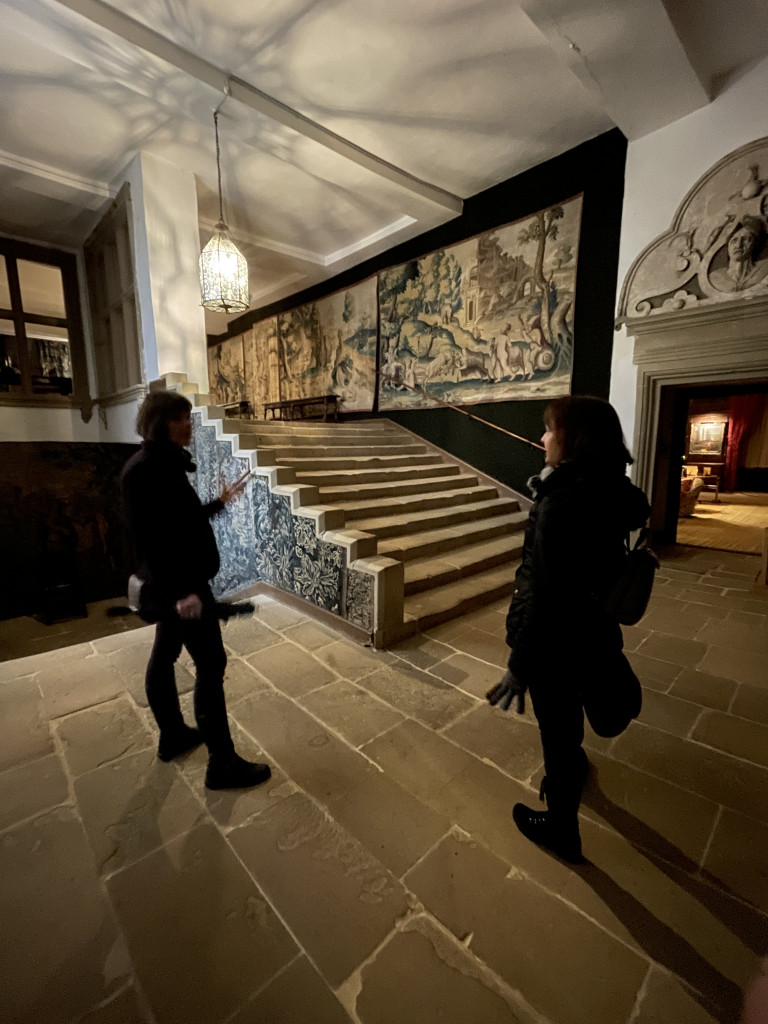 The main staircase leading to staterooms.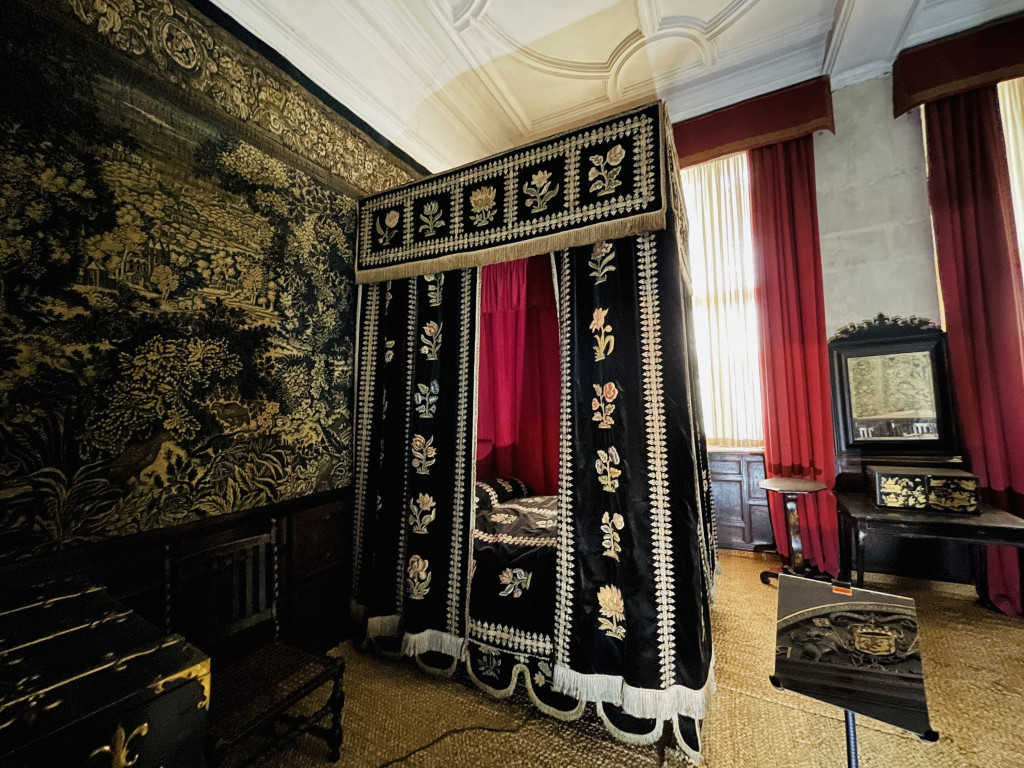 Left: The Mary, Queen of Scots room: This chamber is falsely ascribed to where Mary. In fact, she never visited Hardwick Hall. Right: a fabulous piece of sixteenth-century furniture to be found in the main privy chamber, just beyond the Presence Chamber.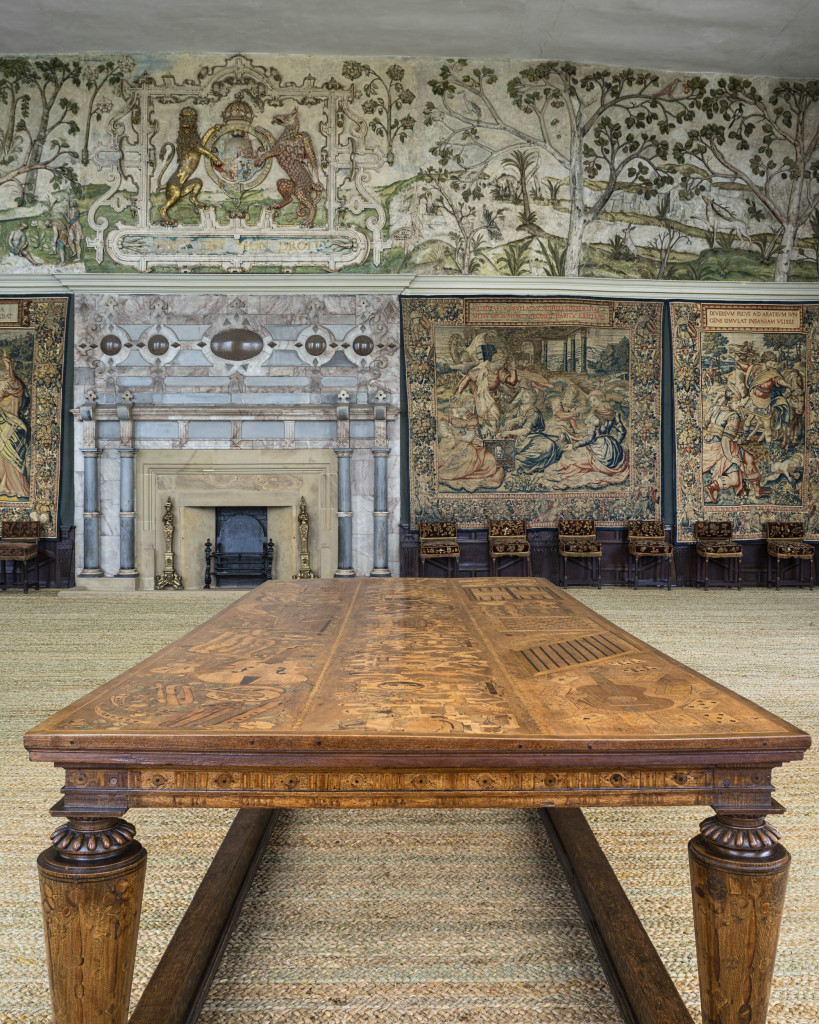 Looking across the Eglantine Table towards the fireplace in the High Great Chamber.
© National Trust. Image by Andreas von Einsiedel.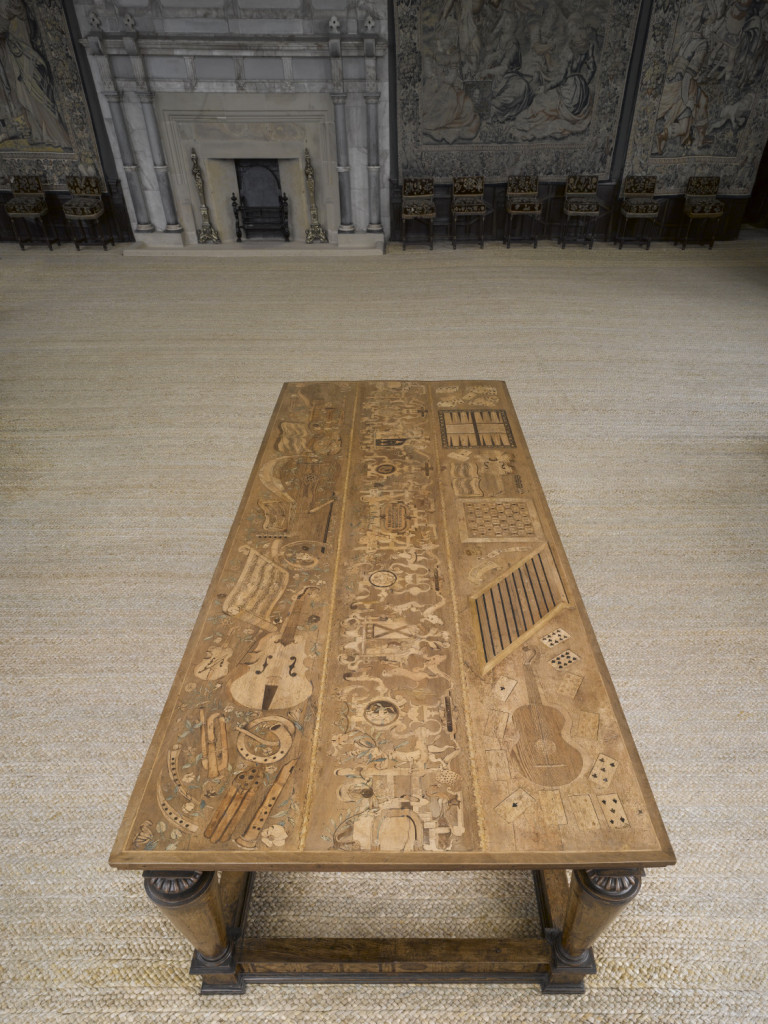 The Eglantine or "Aeglantyne" table in the High Great Chamber at Hardwick Hall, Derbyshire. The walnut table top is elaborately inlaid with marquetry depicting musical instruments, games and heraldic references. The table was made to celebrate the triple marriage contract between the
families of Talbot and Cavendish in 1567.
© National Trust. Image by Nick Guttridge.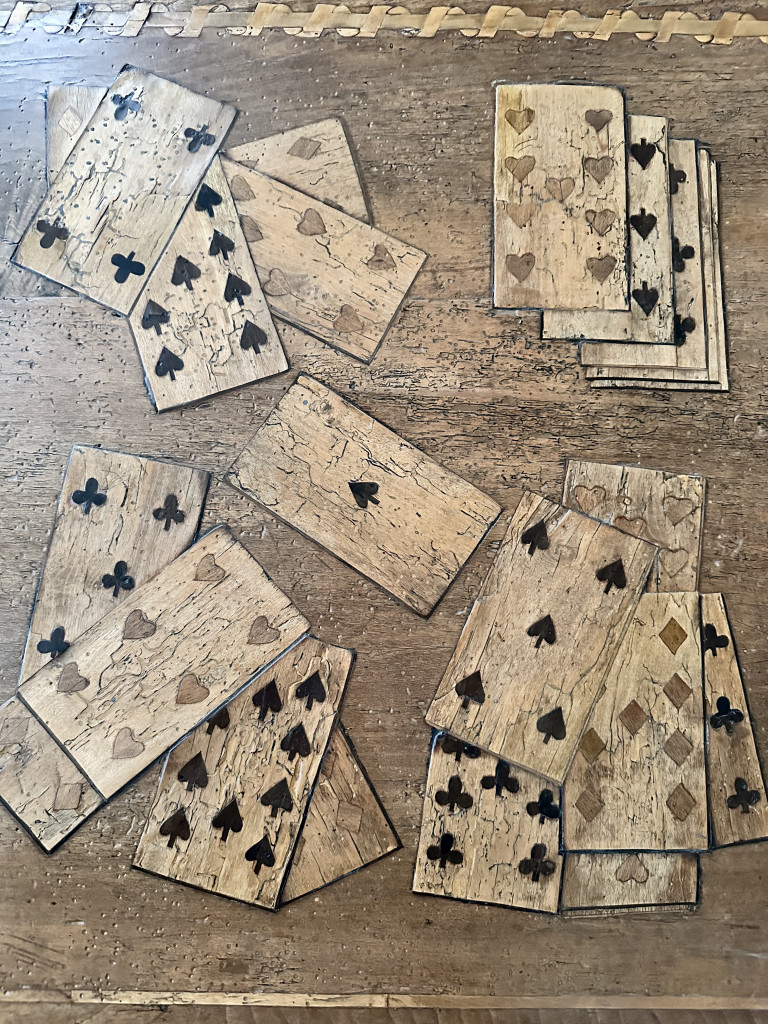 Detail on the Eglantine Table, circa 1568, is thought to have been created to celebrate a double marriage and one of the rarest surviving pieces of furniture in England.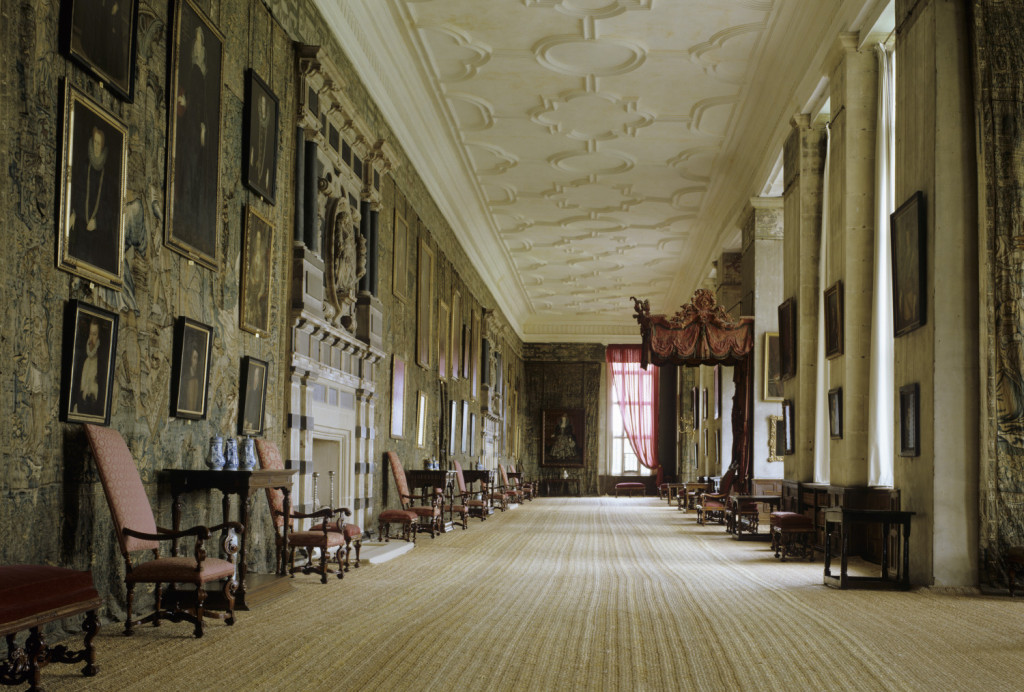 Room view of the whole of the Long Gallery with the Gideon tapestries on the left. It measures 162 feet long and 26 feet high and is the largest surviving Elizabethan long gallery.
© National Trust. Image by Andreas von Einsiedel.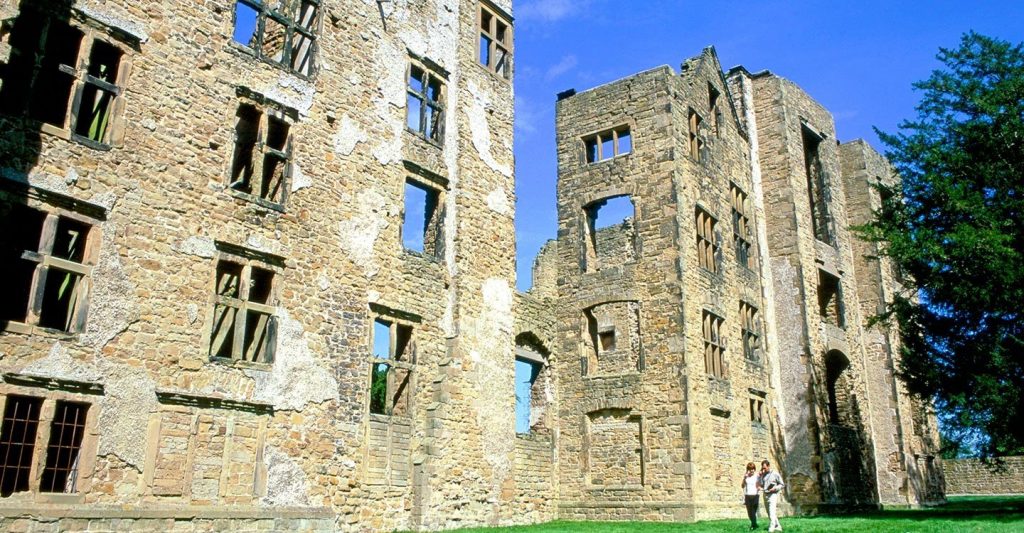 Hardwick Old Hall
Useful Links
Visiting information for Hardwick Hall is here.
Bess of Hardwick by Mary Lovell is available to buy here.
Hardwick Hall: A Great Old Castle of Romance, by The Paul Mellon Centre for Studies in British Art, is available to buy on Amazon UK here or Amazon US here.
TUG Members-Only Related Content
For details of other Tudor places to visit in Derbyshire, my weekend itinerary is here.
Discover Bess of Hardwick's tomb here and her husband's here.
If you have enjoyed touching the past through this blog, you can join my membership, The Ultimate Guide to Exploring Tudor England, which brings together all my best, most comprehensive content in one place: blogs, videos, live chat, progresses, maps, itineraries, travel information and podcasts.