Chelsea Old Church – 'Discovering Tudor London', by Natalie Grueninger
Did you know that 2.4 million people visit The Tower of London each year? That is a lot of people! Of course, somewhere like the Tower is one of the 'must see' places on every Tudor time traveller's list. However, as wonderful and evocative as the Tower is, believe me, if you haven't visited in recent years, then I can assure you, you will be well aware that you are sharing this gem of English history with a good share of that 2.4 million! It can get a little crowded.
Luckily for us, London is a treasure trove of medieval and Tudor gems, and sometimes, it's just good to escape the crowds and have all the space and peace you need to soak in the atmosphere.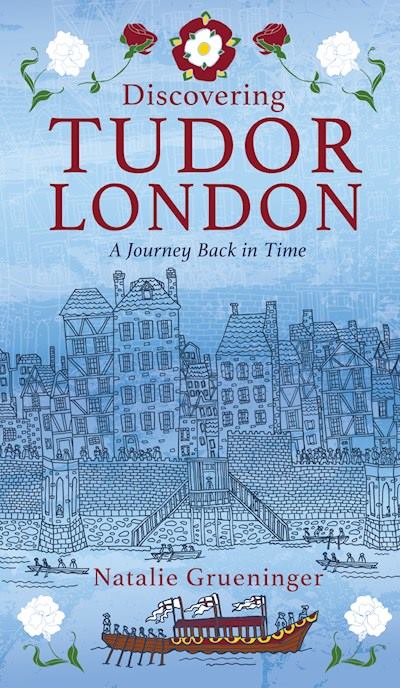 This brings me onto today's blog post; a privileged peek into the history of Chelsea Old Church, once the centre of one of the most fashionable of districts. Just 3 miles downstream from Westminster, its notable inhabitants once included Sir Thomas More, Anne of Cleves and Katherine Parr.
Today, our guide is Natalie Grueninger who is posting an excerpt from her recently published book, Discovering Tudor London, published by The History Press. It's over to Natalie!
On the night of 16- 17 April 1941, hundreds of German bombers attacked South and Central London for almost eight hours, killing and maiming thousands of civilians. Among the buildings bombed that night were eighteen hospitals and thirteen churches, including Chelsea Old Church.
A parachute mine, which detonated nearby, destroyed the majority of the church, which at the time consisted of a seventeenth-century tower and nave, a thirteenth-century chancel, and two adjoining fourteenth-century chapels.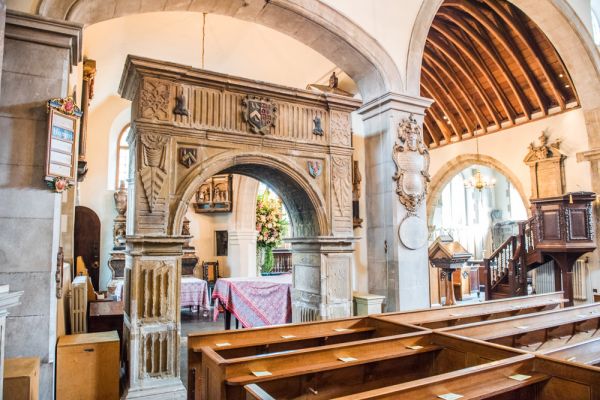 These chapels were private property, the one in the north, now known as the Lawrence Chapel, was built for the Lord of the Manor of Chelsea. The chapel in the south, known as More's Chapel, was rebuilt in 1528 as a private chapel for Sir Thomas More, who in c.1520 settled in the area. He and his family regularly worshipped at the church, which was just a short stroll away from their palatial home, of which no trace remains today. Surrounded by formal gardens and orchards, the house once stood on the site of the present-day Beaufort Street and stretched from the river to the present King's Road.
More's private chapel was virtually the only section of the church to remain standing after the air raid. In the years that followed the 1941 attack, the church was lovingly and meticulously rebuilt, and appears much as it did before the war. Many of the memorials shattered in the blast were painstakingly restored, and the remains of ancient tombs, salvaged from the rubble, returned to their rightful place within the church, including that of Lady Jane Guildford, Duchess of Northumberland. Lady Jane was the mother of, among others, Robert Dudley, Earl of Leicester, and his younger brother, Guildford Dudley, who in 1553 married Lady Jane Grey.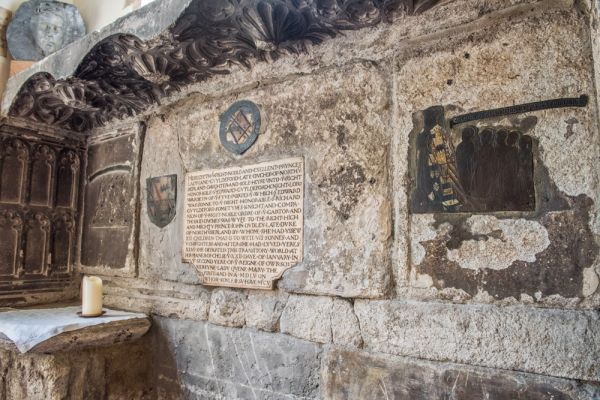 Other Tudor monuments include that of Gregory Fiennes, Lord Dacre and his wife, Anne, Lady Dacre, who died in 1594 and 1595 respectively, and a memorial to Sir Thomas More, which bears an inscription written by More, describing his life and ending with a tribute to his first and second wives, Jane Colt and Alice Harpur.
In the chancel is a memorial to the Hungerford family, below which is the tomb of Sir Edmund Bray (d.1539). Other highlights include the sixteenth-century triumphal arch and the capitals of the pillars leading into the chancel, which Hans Holbein is said to have designed.
As you exit the church, look out for the statue of Sir Thomas More made by L. Cubitt Bevis in 1969, and just across the road from the west door of the church is Roper's Garden, which is believed to have once formed part of the gardens of More's vast Chelsea estate.
Visitor Information
The Church is open from 2 – 4 pm Tuesdays, Wednesdays and Thursdays, however, I recommend contacting the Parish Office ahead of your visit to confirm these hours.
The nearest underground stations are South Kensington and Sloane Square. The latter is about a fifteen-minute walk from the church. Alight at Sloane Square, exit the station onto King's Road and follow it to Old Church Street. Turn left and follow the road all the way to the river, where you'll see the church on your left.
No doubt the very Tudor looking house across Roper's Garden will catch your attention. This is Crosby Hall, a largely twentieth-century house constructed by Christopher Moran to house a spectacular medieval survivor – a fifteenth-century great hall. Between 1466 and 1475, Sir John Crosby built a grand home in Bishopsgate. During the sixteenth century, the house was occupied by a number of prominent statesmen, including Sir Thomas More. The hall was moved to its present site in 1910, and Mr Moran's private house built to house it.
While in the area, you might also like to visit the site of Chelsea Place, a former royal manor, where it's likely that Henry VIII and Jane Seymour celebrated their betrothal on 20 May 1536, just one day after Anne Boleyn's execution. Catherine Howard visited the house during her brief reign, and Katherine Parr was given the property in 1544 as part of her dower. It became Katherine's principal residence after Henry VIII's death and the backdrop to her illicit love affair with Thomas Seymour. The Tudor house also witnessed the death of Anne of Cleves, on 16 July 1557. Sadly, the manor was demolished in the 1750's—a blue plaque next to 25 Cheyne Walk marks its approximate location.
The fine Tudor houses that once lined this fashionable area of London all boasted sumptuous gardens, which served more than simply a decorative function. Plants and herbs were grown as food but many, including lavender and rosemary, were also used for medicinal purposes. Interestingly, just a short walk from the church stands one of London's oldest botanic gardens, founded in 1673 as the Apothecaries' Garden. Chelsea Physic Garden boasts an extensive plant collection, including a Garden of Medicinal Plants. For opening times and other visitor information, follow this link.
To check church opening hours visit http://www.chelseaoldchurch.org.uk/. Chelsea Old Church Postcode: SW3 5LT
Discovering Tudor London can be purchased via Amazon here.
Author Information
Natalie Grueninger is a researcher, writer and educator, living in Australia with her husband and two children. In 2009 she created On the Tudor Trail, a website dedicated to documenting historic sites and buildings associated with Anne Boleyn and sharing information about the life and times of Henry VIII's second wife. Natalie is fascinated by all aspects of life in Tudor England and has spent many years researching the period
Her first non-fiction book, co-authored with Sarah Morris, 'In the Footsteps of Anne Boleyn', was published by Amberley Publishing in the UK in September 2013. Book number two in the series, 'In the Footsteps of the Six Wives of Henry VIII', was released in the UK in March 2016. In 2017, Natalie collaborated with illustrator Kathryn Holeman to create 'Colouring History: The Tudors', a unique and beautifully illustrated colouring book for grown-ups that features images and scenes inspired by the ever-fascinating Tudor dynasty. She also completed 'Discovering Tudor London', which was published in the UK by The History Press in August 2017. Natalie is currently writing a guide to Tudor York that will be published by Pen and Sword Books in 2019.
Connect with Natalie:
www.onthetudortrail.com
Facebook.com/OntheTudorTrailRetracingthestepsofAnneBoleyn
Facebook.com/nataliegrueningerauthor
Twitter: @OntheTudorTrail
Instagram: themosthappy78