Cardinals, Queens and Captives: Fascinating Tales From Sheffield Manor Lodge
Note: This is a show notes page accompanying my on-location podcast at Sheffield Manor Lodge, recorded in the spring of 2023.

A Brief History of Sheffield Manor Lodge
During the sixteenth century, Sheffield Manor Lodge was a luxurious hunting lodge belonging to the powerful Earls of Shrewsbury. Built in one of the largest deer parks in the country (eight miles in circumference), Sheffield Manor Lodge was perched on an elevated promontory of land, offering panoramic views of the park and miles beyond. Unfortunately, much of the building's fabric has since been lost to time. The only structure to remain entirely intact is the Turret House, which sits alongside the ruins of the rest of the house.
The fabulous palace-like complex was constructed over two main phases by the 4th and the 6th Earls of Shrewsbury. Fashioned from the remodelling and augmentation of an earlier hunting lodge, work was completed in 1516, the same year as Hampton Court Palace. Interestingly, this grand Tudor house contained the first long gallery outside London.
Perhaps the most famous, or infamous, event associated with Sheffield Manor Lodge is its role in the captivity of Mary, Queen of Scots. It was here that Mary was held in custody under the supervision of George Talbot and his wife, Bess of Hardwick, for a period of about fourteen years.
Mary, Queen of Scots: Prisoner at Sheffield Manor Lodge
From the beginning, Mary, Queen of Scots' reign was plagued by dynastic power struggles between rival factions of Scotland's unruly nobles. At the same time, religious turbulence saw Protestantism rapidly replace centuries of Catholic dominance. Mary attempted to navigate a tricky path to appease all factions of her nobility. Still, in 1567, the Scot's Queen faced a rebellion led by her Protestant nobles and her husband, Henry Stuart, Lord Darnley.
Darnley was later murdered under suspicious circumstances. Rumours spread of the Scots Queen's involvement, fatally damaging her reputation with the people of Scotland. This was only compounded by her abrupt marriage to the hated James Hepburn, 4th Earl of Bothwell. Events came to a head on 16 June 1567; Mary submitted to her rebellious Lords at Carberry Hill, South East of Edinburgh. The Queen was transferred to her new prison on an island in the centre of Loch Leven. Under enormous duress, Mary was subsequently forced to abdicate, thus surrendering the throne to her infant son, James, who became King of Scotland.
On 2 May 1568, the twenty-five-year-old queen made a daring escape from her prison. Hunted by her Lords, Mary sought refuge in England, believing her cousin, Queen Elizabeth I, would help her regain her throne. In reality, she became Elizabeth's captive.
Over the next nineteen years, Mary resided in various castles and mansions throughout England. In 1568, George Talbot, the forty-year-old 6th Earl of Shrewsbury, was appointed as her custodian. All told, Mary would spend around fourteen years as Shrewsbury's 'house guest', being moved between his various properties, including Sheffield Manor Lodge, the focus of today's podcast.
Sadly, as you will hear in this podcast, we do not know precisely where Mary was housed while staying at Sheffield Manor Lodge. However, thanks to a near-contemporary account of Thomas Wolsey's life by his gentleman usher, George Cavendish, we can pinpoint EXACTLY where Wolsey stayed. Luckily for us, as you will hear, fragments of this part of the house still stand.
Thomas Wolsey is Taken Gravely Ill at the Lodge
During his unhappy sojourn at the Lodge, the Cardinal became gravely ill while dining in his chamber with several of the Earl's men and chaplains. Cavendish, who was 'dressing the wardens [pears]' at the time, noted how the colour drained from the Cardinal's face. Enquiring discreetly about his master's health, Wolsey replied that he was 'suddenly taken about the stomach with a thing that lieth across my breast as cold as a whetstone. Wolsey diagnosed that it was 'just wind', but when the symptoms persisted, he asked his Gentleman Usher to go to the apothecary and enquire if he had 'anything that would break wind upward'.
After some to-ing and fro-ing, in which Cavendish reported on Wolsey's request to the Earl and the Earl, in turn, summoned the apothecary with his remedy, Cavendish was finally able to make his way back to the gallery and the Cardinal's privy chambers in the Tower. Wolsey had not moved, clearly in considerable discomfort. Having tried the 'white confection' in front of his master (presumably to show it was not poison), the Cardinal 'received it wholly altogether at once' and immediately 'he broke exceedingly much wind upwards' before heading off to prayer, as he usually did after dinner. Unfortunately for the Cardinal, it was not just wind. Cavendish tells us that while at prayer, he was soon hit by a bout of diarrhoea (which the Tudors called 'lask').
While he was 'at his stool' (toilet), the Earl summoned Cavendish to tell him that Sir William Kingston had arrived with 24 guards to escort the Cardinal to London, so that he may 'try himself and his truth'. While the king had written that he still held the Cardinal in high regard and that he should be treated with all honour, both the Earl and Cavendish rightly believed that Wolsey would see this as a dark turn of events, for Sir William Kingston was Constable of the Tower of London.
It was left to Cavendish to break the difficult news. Wolsey's Gentleman Usher found the Cardinal 'sitting at the upper end of the gallery, upon a packing chest of his own with his beads and staff in his hands'. Despite George's protestation that Wolsey had nothing to fear from the king, the Cardinal had seen too much of the world to be pacified so easily, telling his Usher that he could see 'more than ye can imagine or do know.' In other words, Wolsey was no fool, nor was he naive. He knew how these things worked; he had seen it all before.
Preparations were made ready for the next day. The journey toward London would continue, this time under the command of Sir William. However, Wolsey was worn out. The diarrhoea, which had struck him down shortly after dinner, continued through the night until the next morning; Cavendish reports that he had had over 50 stools, leaving the Cardinal 'very weak'. However, more tellingly, we hear that the stools were 'wonderous black' (which Tudors called Choler Adustum).
In the meantime, Wolsey knew the symptoms were severe, declaring, 'If I have not some help shortly, it will cost me my life'. A physician who happened to be visiting the Earl concluded that Wolsey would not live past four of five days. Significantly weakened, the Cardinal rested for one further day at Sheffield Manor but insisted on pressing on with his journey thereafter. Perhaps fortunately for the Cardinal, given the fate that undoubtedly awaited him in London, he died two days later at Leicester Abbey, en route to face trial for treason.
In this podcast, I'm joined by David Templeman, historian and author of Mary, Queen of Scots: Captive Queen in England, as we explore the site and remains of Sheffield Manor Lodge. There is unrestricted access to the first half of this podcast, which you can listen to by clicking here. However, to enjoy the entire episode, you must be a member of The Ultimate Guide to Exploring Tudor England, The Tudor Travel Guide's membership site. For more information on the membership, click here.
Sheffield Manor Lodge Gallery
All images in this gallery are the author's own.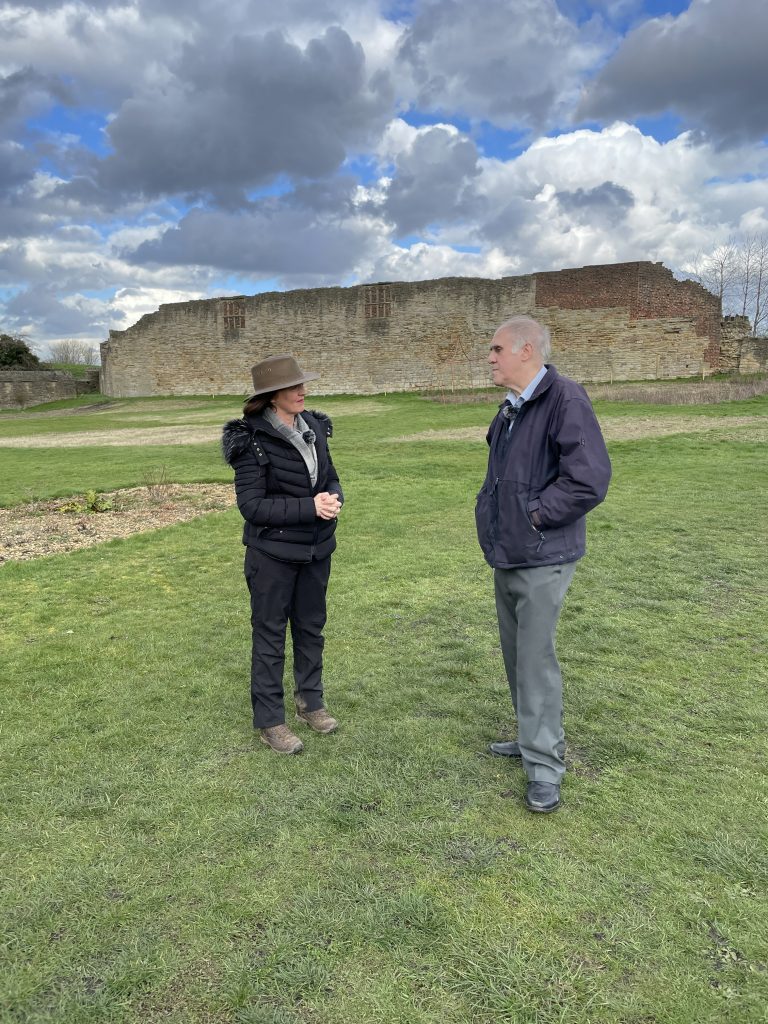 Sarah with David in the outer courtyard of Sheffield Manor Lodge with the remains of the Long Gallery in which Cardinal Wolsey was housed in the background.
Ruins of Sheffield Manor Lodge (scroll to see more images).
The base of one of the gatehouse turrets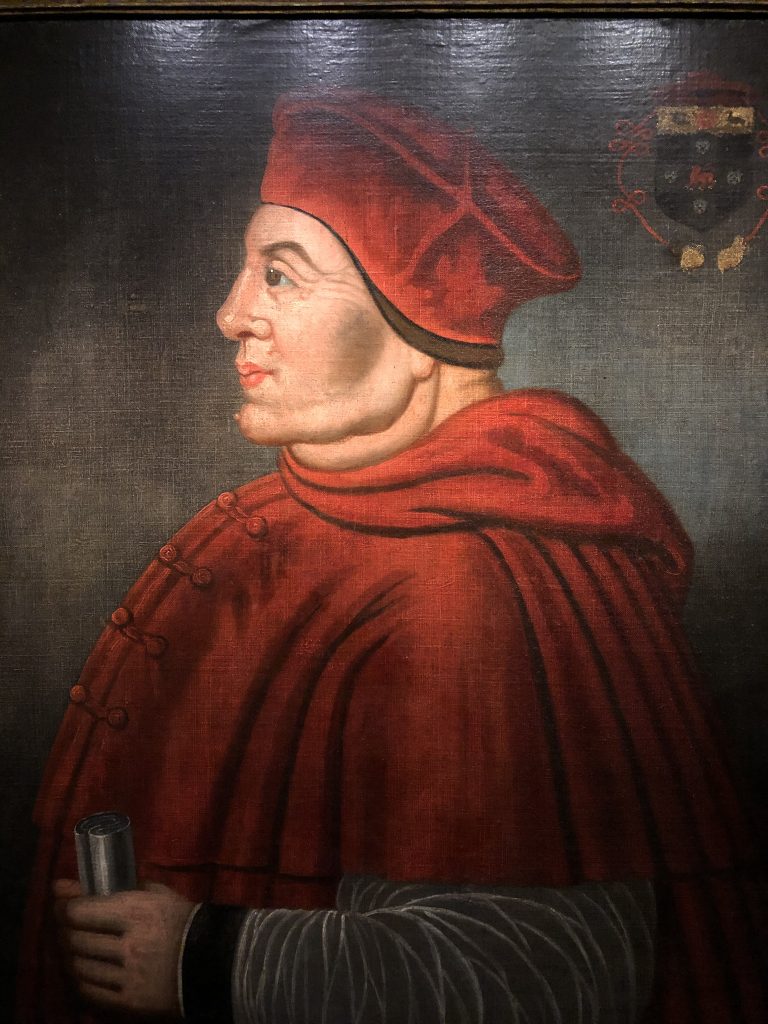 Cardinal Thomas Wolsey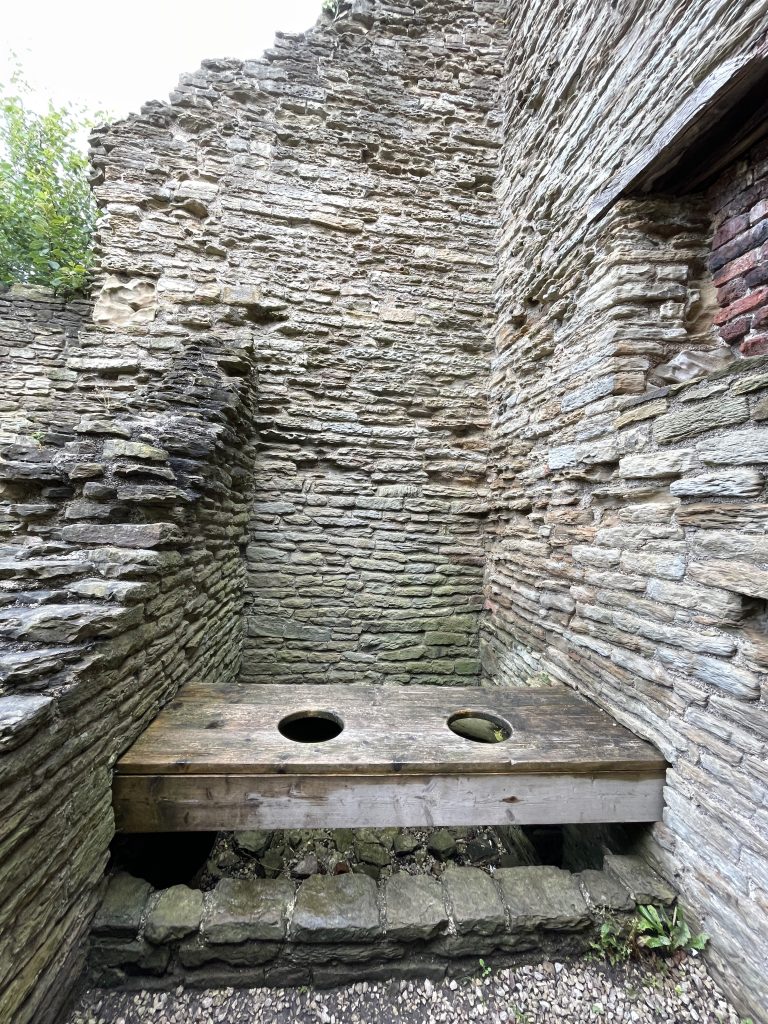 Replica of the toilet seat where Thomas Wolsey no doubt spent many an hour after being taken ill at the Lodge.
A reconstruction of Sheffield Manor, showing the octagonal turrets flanking the inner gatehouse and gallery (with adjoining tower) in which Wolsey was lodged, running off to the left of the gatehouse.
The Turret House, Sheffield Manor Lodge (scroll to see more images)
Original Tudor oak door to Turret House and spiral stone staircase (scroll to see another image).
Banquet room set up in the Turret House (scroll to see more images)


Painting of the ruins of Sheffield Manor: the square tower in the foreground was used to house Wolsey, along with the near part of the Long Gallery, whose range can be clearly seen in this picture. The remnants of the octagonal towers, which gave entry from the outer court to the inner court, can be seen to the right of the image.
Useful Links
Visiting information for Sheffield Manor Lodge is here.
To read my blog, Sheffield Lodge: Wolsey & The Spectre Of Death, click here.
To read my blog about Wolsey's death at Leicester Abbey, click here.
To read my blog about Mary's time at Loch Leven Castle, click here.
My long weekend in Tudor Derbyshire itinerary details other places to visit nearby.
David's book Mary, Queen of Scots, the Captive Queen in England 1568-87 is available on Amazon UK or Amazon US, and in other bookstores.
If you have enjoyed touching the past through this blog, you can join my membership, The Ultimate Guide to Exploring Tudor England, which brings together all my best, most comprehensive content in one place: blogs, videos, live chat, progresses, maps, itineraries, travel information and podcasts.