Tudor Places to Visit Outside of London: Travel Essentials
Welcome back to the Tudor History & Travel Show: Travel Essentials, Episode Three!
If you're looking for inspiration or tips for your next Tudor trip, you're in the right place. Here in Travel Essentials, we discuss all you need to know before planning a trip – venues to visit, what to expect to pay, upcoming Tudor events and, of course, the best places to have tea and cake! In today's episode, our resident travel expert, Philippa Brewell from British History Tours is in the hot seat once again to discuss some wonderful Tudor places to visit outside of London. Away from the hustle and bustle of the capital city, there's an abundance of Tudor places to enjoy. Today we focus on places that are accessible – so expect great recommendations that you can get to easily, meaning you can fit in as much Tudor history as possible to any trip. So, let's get started!
Please note: These show notes are intended to complement the relevant podcast episode, which can be found here. I highly recommend that you listen to the conversation and use this blog for reference. You will find links to the topic under discussion towards the end of this blog
Tudor Places to Visit Outside of London: Our Top 5 Recommendations
1. Stratford-upon-Avon: About 100 miles northwest of London, in the county of Warwickshire, Stratford-upon-Avon is the birthplace of William Shakespeare. With many attractions in walkable distance from one another, Stratford is top of our list for Tudor places to visit outside of London. The house of Shakespeare's birthplace is both well preserved and accessible – you can even stand in the exact room he was born. Visit the school he attended a short walk away at The Guildhall, and visit Holy Trinity Church to see his burial place. Built around the river Avon, Stratford has a relaxed vibe, with boat trips, rowing boats, many beautiful swans and of course, many lovely tea rooms. Also in close proximity are the RSC Theatres and the Dirty Duck pub – allegedly a regular hang out for actors so head there for some star gazing! Stratford-upon-Avon is a couple of hours from London on the train – alight at Stratford-upon-Avon station rather than Stratford Parkway station for easier access to the town centre.
2. The Mary Rose, Portsmouth Historic Dockyard: Henry VIII's flagship, The Mary Rose, is docked at Portsmouth Historic Dockyard. With both the ship gallery and an artefact gallery housing over 19,000 items recovered from the Mary Rose, it's safe to say this museum is a time capsule for the life of a Tudor sailor. Located on the south coast of England, Portsmouth is around 75 miles from London, and less than 2 hours on the train. There's a rail station near the harbour, providing easy access to the dockyard. For trips further afield, Portsmouth has a car ferry terminal for the Isle of Wight.
3. Ludlow Castle: Up to the Midlands and over to the English/Welsh border, Ludlow Castle stands in the quaint, pretty town of Ludlow. Built within a decade of the Norman conquest, Ludlow Castle was home to Arthur Tudor and Catherine of Aragon, and where Arthur Tudor died just a few months later. He was originally buried at St. Laurence's Church in Ludlow, which is well worth a visit – lookout for the extensive set of misericords in the choir stalls as well as the fine stained glass windows. If you're in the area, Worcester Cathedral is about 30 minutes drive from Ludlow – Arthur Tudor was finally buried here. You're unlikely to experience crowds so you can look at his extravagant and beautiful tomb at your leisure. When you're planning a trip to Ludlow, see if you can coincide your trip with one of their food festivals as they're excellent.
4.  Peterborough Cathedral: Peterborough is about 75 miles north of London, and about an hour on the train. Founded as a monastic community, it became one of the most significant medieval abbeys in the country as the burial place of Catherine of Aragon and the first burial place of Mary Queen of Scots (before she was re-buried in Westminster in 1612). With hand-painted wooden ceilings, carved wooden stalls and of course, Catherine of Aragon's tomb, this cathedral is steeped in history. If you're in the car, Peterborough is only 13 miles south-west of Fotheringhay Castle. One of my favourites, this power-base of the House of York is the last place of imprisonment of Mary, Queen of Scots and definitely worth visiting.
5. Sudeley Castle, Hailes Abbey and Gloucester Cathedral: All located in the county of Gloucestershire, our fifth and final recommendation is for a trio of Tudor delights. Sudeley Castle is the final resting place for Katherine Parr, the only English queen to be buried on private land. Nestled in beautiful countryside, the castle rooms and gardens are beautiful and objects from all of the war, romance and royalty at Sudeley are on display in an exhibition. Hailes Abbey is another must-see, and walking in its ruins you can really imagine the elaborate building it once was. There's an on-site museum to explore the treasures of Hailes, uncovering stories of the monks who lived and worshipped at the abbey. The third and final Tudor venue on our list is Gloucester Cathedral, part of Henry VIII and Anne Boleyn's 1535 royal progress and where Henry III was crowned. The cloisters at Gloucester are some of the earliest surviving fan vaults and are often used in films so don't miss those. Also in the area is Blackfriars, one of the most complete surviving friaries of Dominican 'black friars' in England, later converted into a Tudor house and cloth factory.
We recommend you check venue websites before visiting for more information on Covid safety measures and opening information.
Recommended Places: Rest and Refreshment at The George, Alfriston
This episode's recommendation for a place to get some much-needed rest after all of your exploring comes from fellow history lover, Kat Marchant. Kat is a researcher and lecturer specialising in early modern literature and culture, check out her YouTube channel here. Kat's recommendation is for The George Inn in Alfriston which offers lovely food and accommodation. This quintessentially English pub, with its low ceilings and open log fire, offers a warm welcome and a hearty meal. The George is right in the heart of the beautiful Sussex downs, near Alfriston Clergy House, The National Trust Long Man Walks and Coombes Church so it's a perfectly placed pit-stop as you tour the local history.
Tudor Places to Visit Outside of London: Some Essential Links
We hope you enjoyed our discussion of Tudor places to visit outside of London. If you would like to find out more about any of the resources we mention in the podcast, please see the links provided below:
You may also be interested in finding out more about some of these Tudor places to visit outside London in my blog articles:
Not to be Missed! Tudor-Themed Events Coming Up…

Tudor Magnificence – Historic Royal Palaces
'Prepare to be transported to a world of opulence and sixteenth-century bling, as Joint Chief Curator Lucy Worsley, along with Professor Glenn Richardson from St Mary's University and fellow Historic Royal Palaces curators Dr Alden Gregory and Brett Dolman, bring to life the magnificence of the Tudor court.' from Historic Royal Palaces website.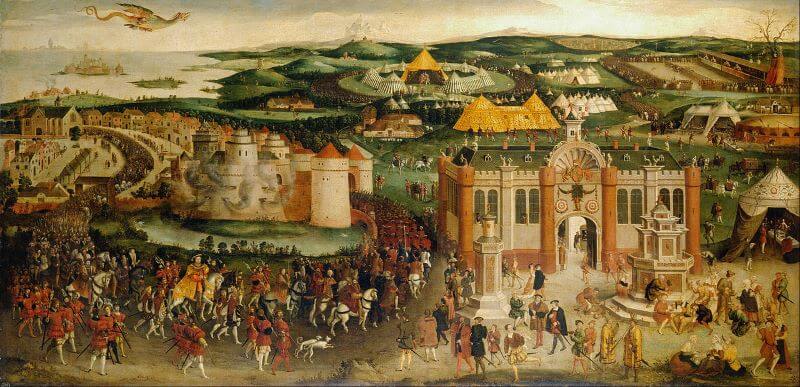 When: 7pm, 24th March, 2021
Where: Online
Price: Donations requested by not mandatory
'Prepare to be transported to a world of opulence and sixteenth-century bling, as Joint Chief Curator Lucy Worsley, along with Professor Glenn Richardson from St Mary's University and fellow Historic Royal Palaces curators Dr. Alden Gregory and Brett Dolman, bring to life the magnificence of the Tudor court. Featuring a sneak preview of Hampton Court Palace's upcoming exhibition Gold and Glory: Henry VIII and the French King, this one-hour talk will bring to life the grandeur and majesty of one of the most spectacular examples of royal showmanship, the Field of Cloth of Gold.' from Historic Royal Palaces website.
For more information, visit the What's on page on the Historic Royal Palace's website, or book your place online here.
Kentwell – Eastertide Special Event
Spend Easter weekend in Kentwell's beautiful gardens and woodlands. With Covid safety measures in place, enjoy a safe, outdoor family walk with an egg hunt to keep all ages entertained.
When: 11am-4pm, 2nd-5th April, 2021
Where: Kentwell, Suffolk
Price: Adults: from £17.95, Senior: from £17.00, Child 5-15 yrs: from £13.50 (Under 5s are free). See prices here for family tickets and detailed booking information.
This year's event will be different to our usual Eastertide offering, for obvious reasons! We will have a one-way route around our Gardens and Woodlands for an Easter Trail with a difference! We challenge families to find the huge wooden eggs we have hidden around the walk, and to 'scramble' the clues to 'crack' the code they reveal! This is an egg-hunt with a difference, for the whole family to join in with together. An active, outdoor day out for explorers of all ages – a breath of fresh air for everyone! We recommend you dress for the weather – our pathways can become a little muddy after prolonged rainy periods. However, this is great news for our younger visitors, as it means there are puddles galore! ' from Kentwell website.
For all of the latest information, visit the events page on the Kentwell website.
Cover Image: Tomb of Katherine of Aragon at Peterborough Cathedral, courtesy of British History Tours