Spanish Tudor Recipes: The Great Tudor Bake Off – Week 4
When the teenaged Katherine of Aragon set foot on land in Plymouth on 1 October 1501, she was soon to learn that royal food in England did not quite reflect what she was used to eating in Spain; the growing season was shorter and a cooler climate restricted the cultivation of Mediterranean vegetables and fruits. In honour of the up-and-coming Starz series, The Spanish Princess, this month we have been following in the footsteps of Katherine of Aragon from her state entry into London prior to her marriage to Arthur Tudor, as well as being a fly on the wall at her wedding and the events which unfolded afterwards in the Bishops of London's Palace. But what Spanish Tudor recipes might have made it onto the menu of the wedding feast, and what influence did this Spanish princess have on English culinary tastes?
In this week's Great Tudor Bake Off, we will be exploring 3 recipes, which are either rich in Spanish heritage, or which we know were enjoyed by Katherine during her time as Henry VIII's queen consort. We hope you enjoy them. Let's get cooking!
Spanish Tudor Recipes: The Spanish Pantry
The Medieval manuscript Libre de Sent Sovi, written in 'Catalunya' in the east of modern-day Spain, shows more or less that the same basic cooking procedures and flavour combinations were enjoyed across Europe. However, Granada, where Katherine spent her childhood, was strongly influenced by Arab cuisine through the Moorish community. This exposed her to a variety of exotic spices and fresh produce which the English would not use for another few hundred years, such as chick peas and  aubergine (eggplant).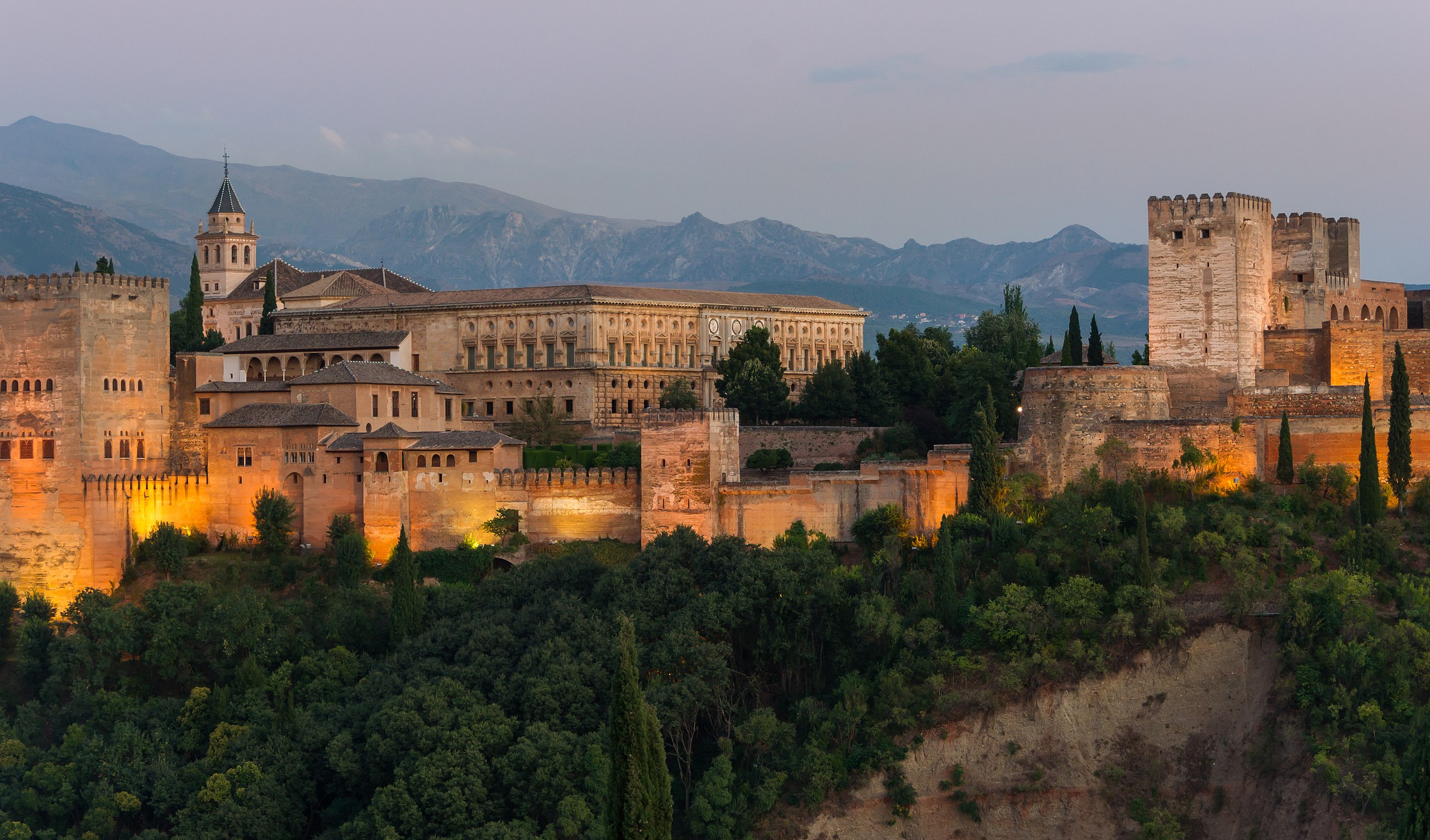 Fresh fruit such as pomegranates, grapes, oranges and lemons, as well as olives  required warmer climates and had to be imported from Spain. There is no doubt that Katherine's arrival in England will have made these foods both fashionable and desirable in aristocratic circles. To celebrate Katherine's Spanish heritage, we have dug out this medieval, quick to make, but distinctively 'Spanish' in taste recipe for you to try. It's delicious!
#1. Spanish Tudor Recipe: Tharida with Lamb and Spinach, Moist Cheese and Butter.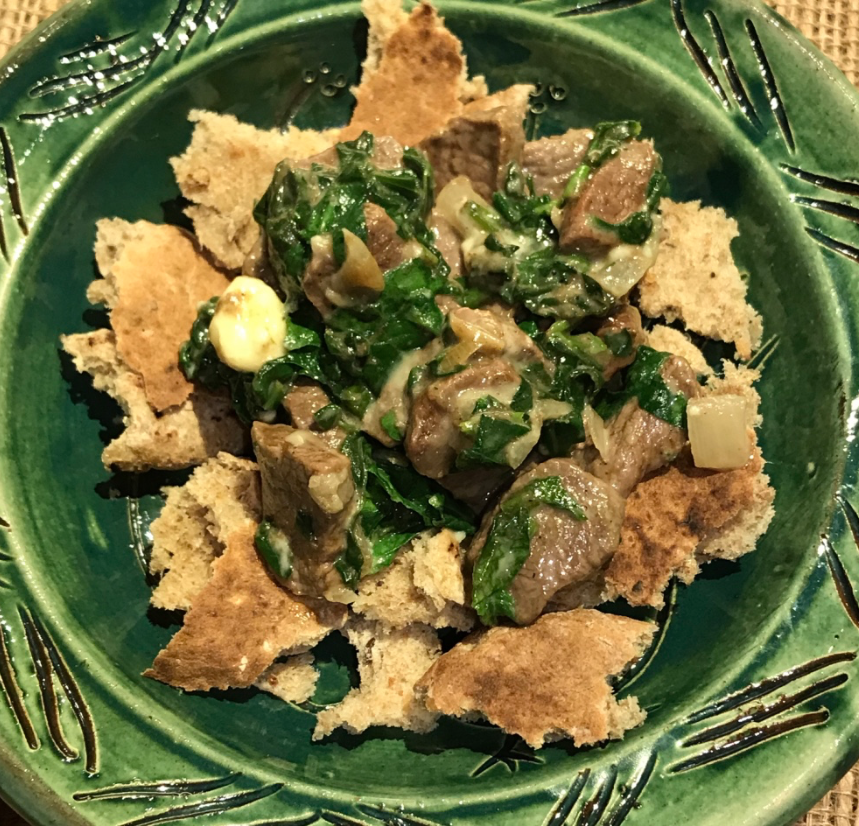 This is an Andalusian recipe from the 13th century, taken from How to milk an almond, stuff an egg and amor a Turnip, by David Friedman and Elizabeth Cook. Katherine's own master cook was John Case (1509). We do not know much about him, but I wonder whether on occasions she would have asked him to prepare her a dish like this!
1 lb lamb ( or minced lamb )
¼ tsp salt
2 tsps onion juice
¼ tsp pepper
1 tsp ground coriander
½ tsp caraway
1 tbsp olive oil
10 ozs spinach
½ fresh cheese ( I used Chester cheese but crumbly goat's cheese is good too )
1 tbsp butter
3 7″ pitta breads (6 ozs)
1 tbsp more butter
Method:
Cut lamb to bite size pieces (if not using mince). Put in the pot with salt, onion juice, spices and oil, heat through, turn down to a simmer and cook for 15 mins uncovered, stirring periodically to cook off most off the liquid. While the lamb is cooking, wash and chop spinach, crumble cheese. Add spinach, cheese and the butter to the lamb and cook for 10 minutes. Tear up bread and put on a serving platter. Add remaining butter to lamb, pour it over the bread and serve.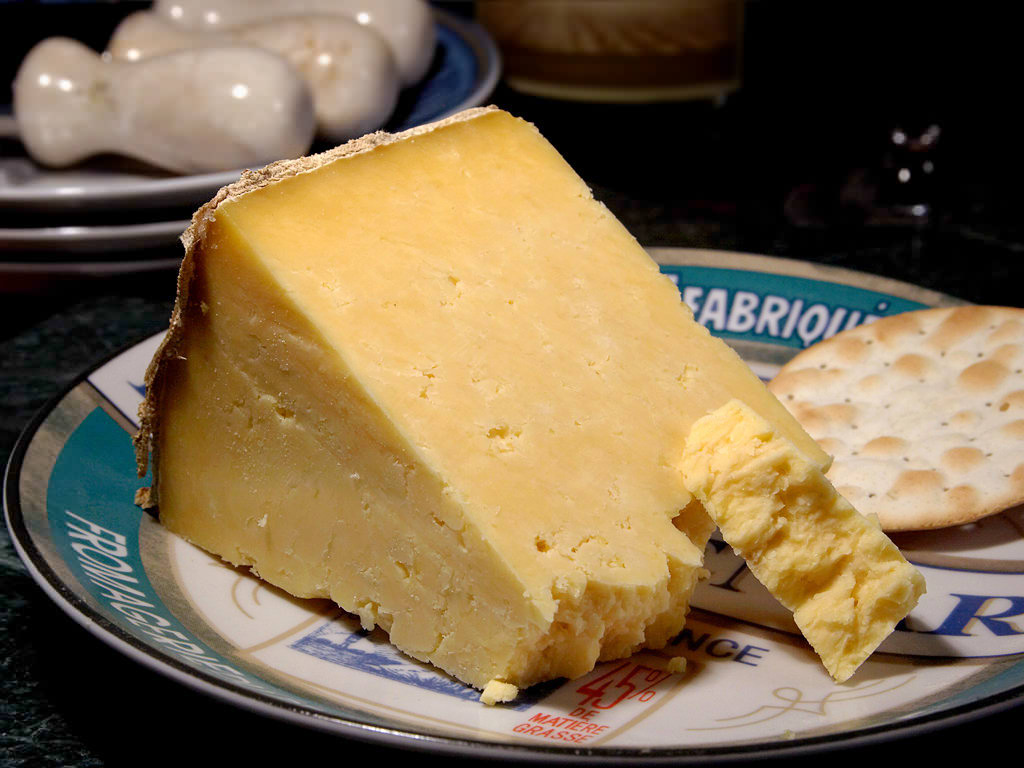 Chester cheese is one of England's oldest cheese varieties still in production and because of its crumbling habits is perfect for this dish.
May Day Feasting
As Queen of England, and wife to Henry VIII, (a man who loved to dress up and perform in masques and pageants), Katherine of Aragon would have enjoyed the best food that England could offer, and feasts would have played a major part of regular court entertainment.
May Day feasts and celebrations were already strongly supported by Henry VII, but one of the best documented May Day feasts took place in the woods of Shooter's Hill on May Day in 1515, when Henry VIII and his wife, Katherine, rode out of Greenwich Palace to enjoy a feast outdoors. It is one of the best known episodes of royal pageantry of the age! According to the contemporary chronicler, Hall, the royal party was met by 'Robin Hood' and his 'outlaws' who invited the king and queen to join him, and his people, for breakfast – and what was on the menu? Venison and wine!
Venison was an extremely high status meat and commonly reserved for the Crown, but those who could afford to keep their own deer park (i.e. the aristocracy) would regularly enjoy it as part of their diet. Interestingly, venison was the only meat that could not be purchased. You either obtained it by hunting, or being 'gifted' it as a special favour. However, poachers were a perennial problem. In 1538, Thomas Cromwell investigated deer-stealing in the parks of the Kentish Weald. He found the crime to be the light hearted, nocturnal recreation of young men when the weather was fine!
However, venison was believed to generate bad melancholic blood, and would have been off the menu for Katherine during her many pregnancies. To mark the significance of venison as part of the elite dining enjoyed at the royal court, and as it played such a major part in the May Day outing of 1515,  we have chosen the following Tudor recipe as representative of the type of dish Katherine and Henry would have enjoyed. It is, like all upper class dishes, a little more labour intensive to prepare, but if you cook it as a special Sunday roast for May Bank Holiday, we can assure you it is worth the effort. Venison can be purchased from most butchers but some supermarkets also sell venison steaks (we got ours from Waitrose!).
Note: Venison was served with a number of different sauces, but we have opted for this orange-based one to emphasise Katherine's Spanish heritage.
#2.  Spanish Tudor Recipe: Roast Venison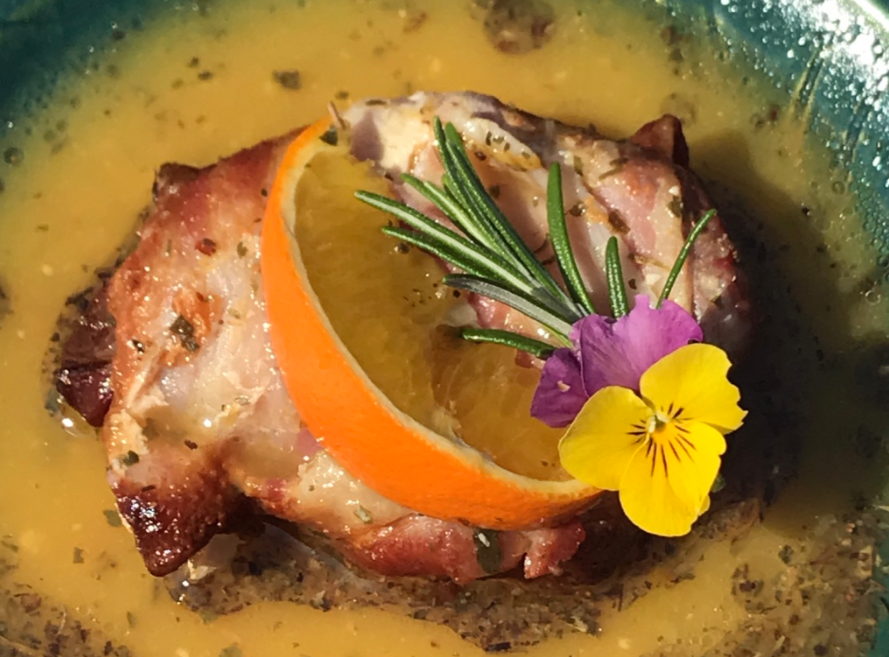 The Roast:
1 joint of venison ( butchers or steaks available from some supermarkets)
100 g streaky bacon
cloves, rosemary, thyme and savory (herb)
Method:
Weigh the joint and calculate the cooking time at 25 mins per 450 g, plus 25 mins. Put the joint (or steaks) into boiling water and make sure that the meat does not stick to the bottom of the pan. Cover and simmer gently for half its overall cooking time. Then, remove from the pan and plunge into cold water for a couple of minutes.
Lard (wrap bacon around the joint/steaks) and stick cloves (circa 20) and rosemary sprigs into the meat. (Don't forget to remove these after roasting!) Make holes (with a skewer or stab with a knife ) into the meat and pack with thyme and savoury. Finally, spit roast, or bake, on a grid in a roasting tin at 170° C/ 325° F/gas mark 3 for the remainder of the cooking time.
The orange sauce:
Juice of one orange and the juices from the pan in which you boiled the venison, chopped sweet herbs
Method:
Mix all together and heat in a pan. Pour the sauce into a dish and place the roast venison on top. Serve hot.
#3. Spanish Tydor Recipe: Hippocras
Having studied young Katherine and Henry's first years together through the diet they ate, as well as their eating habits, we came across numerous references which mention the royal couple being offered, or enjoying, 'spiced wine'. Hippocras is a spiced wine which was traditionally served warm, or cold, at the end of a meal, after the table had been cleared (void), to aid digestion. It was often served with thin wafers.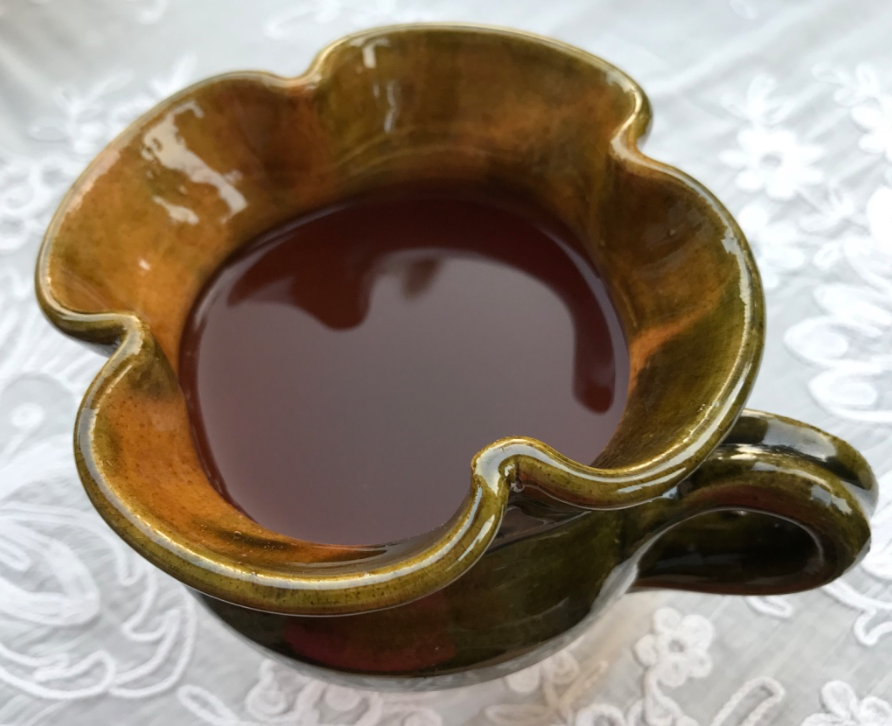 At Hampton Court Palace, hippocras was made in the privy cellar. For small quantities, the spices were put into a conical filter bag of felted woollen cloth – its shape supposedly resembled the sleeves of Hippocrates, the celebrated Greek physician. A pint of wine was poured into the bag, followed by a pint of sweetened wine – then it was all poured back through the bag until it ran perfectly clear. For larger batches, beaten spices would be mixed in a gallon of wine in a pewter basin, and a sample run through the first two filter bags in a row of six suspended from a bar; then the spicing of the main batch would be corrected as necessary and the whole batch passed through all six filters, after which it was poured into a vessel and sealed down until ready for use.
Although hippocras could be purchased, it was usually home-made just before being used. Various combinations of spices were infused in either red, or white, wine for up to four days, then carefully filtered to clarity by being passed through one or more conical flannel filter bags.
The choice of wine available is beautifully illustrated in this rhyme:
"Ye shall have rumney and malmesine, Both ypocras and vernage wine, Mountrose and wine of greke, Both algarde and respoce eke, Antioch and bastarde, Piment also and garnarde, Wine of Greke and muscadell, Both clare, piment and rockell, The reed your stomake to defye, And pots of osey set you by ……."
So, in celebration of this very traditional Tudor drink, much enjoyed by Katherine and her contemporaries, we are including two such recipes below. Enjoy!
A. Ypocras (Hypocras, Hippocras) Spiced Wine: Recipe from The Forme of Cury, circa 1390; Master-chef of Richard II.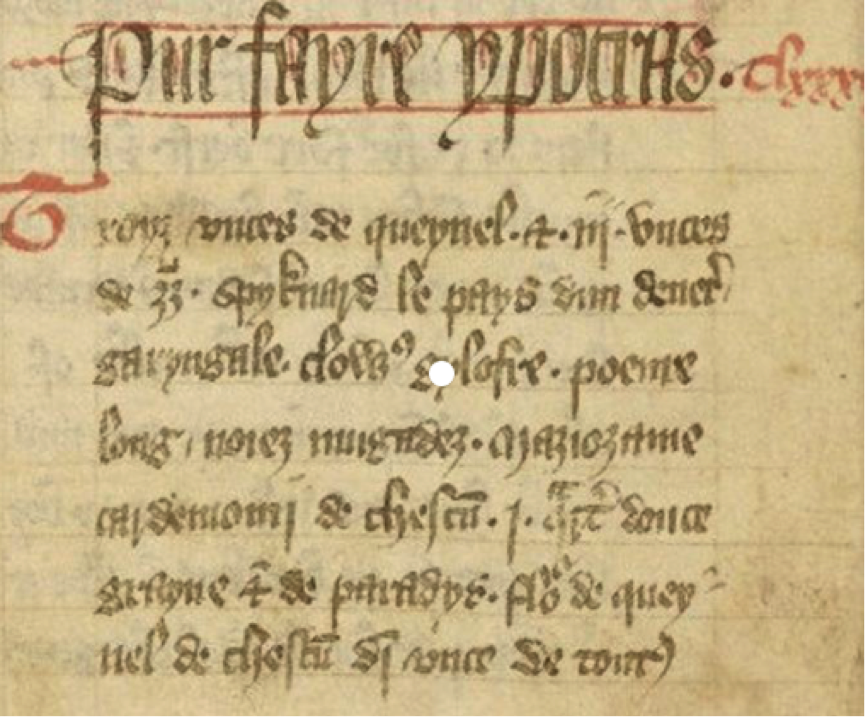 Original recipe : Pur fait ypocras (To make Hypocras)
"Treys unces de canett. & iii unces de gyngeuer. Spikenard de Spayn le pays dun denerer, garyngale, clowes, gylofre. Poeurer long, noez mugadez. Maziozame cardemonij de chescun i. quart' douce grayne & de paradys stour de queynel de chescun dim unce de toutes, soit fait powdour &c."
Modern adaptation:
Soak cinnamon, ginger, long pepper, cloves, grains of paradise, galingale, nutmeg, cardamom and marjoram in circa 600 ml white wine (Rhenish or claret) in a lightly corked bottle for 1-4 days, then pour the settled and relatively clear liquid through a coffee filter paper (as a substitute for the traditional flannel filter bags). Stir in sugar and either drink immediately or store bottled for long term storage in a cool place.
B. Ypocras (Hypocras, Hippocras) Spiced Wine: Recipe from Le Menagier De Paris, circa 1393
Translated from French :
'To make powdered hippocras, take a quarter-ounce of very fine cinnamon, hand-picked by tasting it, an ounce of very fine meche ginger and an ounce of grains of paradise, a sixth of an ounce of nutmeg and galingale together, and pound it all together. And when you want to make hippocras, take a good half-ounce or more of this powder and two quarter-ounces of sugar, and mix them together, and a quart of wine as measured in Paris.'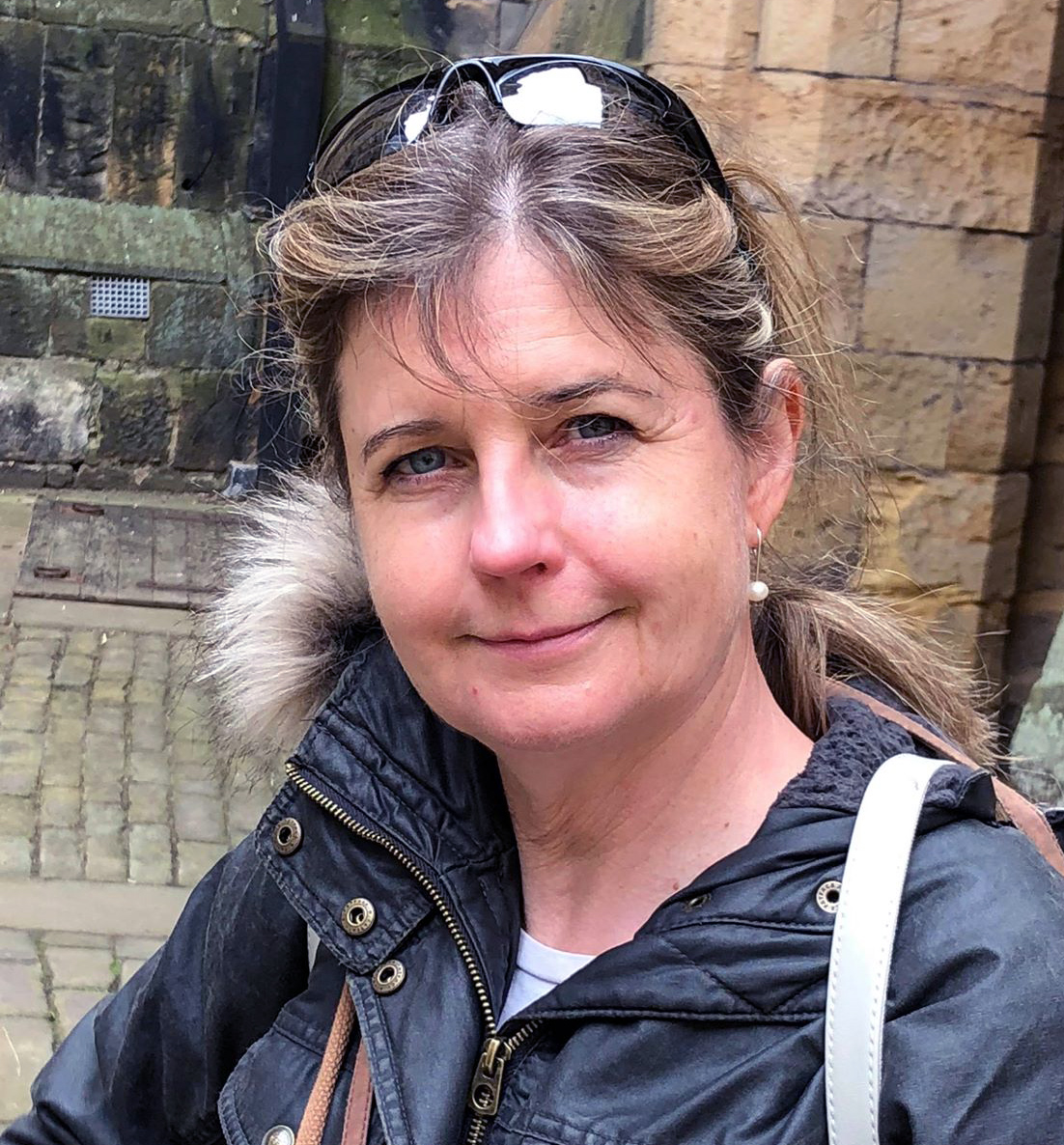 Each week, our Tudor recipe is contributed by Brigitte Webster. Brigitte runs the 'Tudor and 17th Century Experience'. She turned her passion for early English history into a business, and opened a living history guesthouse, where people step back in time and totally immerse themselves in Tudor history by sleeping in Tudor beds, eating and drinking authentic, Tudor recipes. She also provides her guests with Tudor entertainment. She loves re-creating Tudor food and  gardens, and researching Tudor furniture.
Sources:
The Stations of the Sun, by Ronald Hutton
The Six Wives & Many Mistresses of Henry VIII, by Amy Licence
Cooking & Dining in Tudor & Early Stuart England, by Peter Brears
Food in Medieval Times, by Melitta Weiss Adamson
Food in Early Modern Europe, by Ken Albala
Food in Medieval England, by Woolgar, Serjeantson & Waldron
The Culture of Food in England 1200-1500, by C.M. Woolgar
Food in Early Modern England, by Joan Thirsk
Katherine of Aragon, by Patrick Williams
Cooking in Europe 1250-1650, by Ken Albala
At the First Table – Food and Social Identity in Early Modern Spain, by Jodi Campbell
The Forme of Cury, by Forgotten Books
All the King's Cooks, by Peter Brears
The Tudor Kitchen, by T. Breverton