5 Sensational Anne Boleyn Inspired Recipes You Need to Try
Anne Boleyn Inspired Recipes:
In this month, we continue to honour the memory of Anne Boleyn. We will be delving in, and tasting, some sensational Anne Boleyn inspired recipes that come from the place that held such fond memories for the young girl who would become queen. Of course, we are talking about French cuisine from the sixteenth century. As usual, Brigitte Webster from Tudor and 17th Experience takes us on a culinary journey to explore the exotic and slightly unusual tastes of our Tudor forefathers…
Anne Boleyn was much admired for her French flair, which she carried off effortlessly, having been educated abroad for 9 years. She was about twelve years old when she was sent to the court of Margaret of Savoy, in what is today 'The Netherlands', sometime during the summer of 1513. Having stayed there for around one year only, Anne was then sent to France to attend Princess Mary's marriage to the aged Louis XII. She later stayed on at the French court to serve Queen Claude, finally returning to England in January 1522. Those years abroad served her continental education well and turned her into a 'Francophile', developing a taste for the finer things that France had to offer. This, of course, included French food, which had not, at that time, gained its worldwide reputation for excellence.
Anne is known to have enjoyed fresh strawberries and cherries. In June 1531, she received the latter as a gift from a servant of the Mayor of London. That summer, Henry and Anne also received other tokens of goodwill, such as strawberries, supplied by Jasper the gardener of Beaulieu, pears, puddings, cakes, capons, artichokes, cucumbers and lettuce.
On Sunday 27 October 1532, when Francis meet Henry for dinner at Calais, and Anne finally made her international debut as Henry's partner, the meat of the feast was served dressed in the 'French' style for Francis and in the 'English' style for Henry. It is indeed interesting to observe that the French enjoyed their meat cooked and served in a different fashion to the English.
On Saturday 31 May 1533, being six months pregnant, Anne Boleyn retired to Westminster after processing from the Tower to Westminster, in advance of her coronation. She was served spices (sugar coated seeds), subtleties (sugar & marzipan sculptures), hippocras (hot, spiced wine) and wine.
At Anne's trial, according to the Spanish Chronicle, Smeaton "waited in her sweetmeat cupboard until she summoned him after dark by the coded message to bring her some marmalade". This marmalade was quite unlike the orange spread we know today; it compares better to a kind of Turkish delight made from quince.
With Anne's love for all things French, I am delighted to use this opportunity to introduce you to some Anne Boleyn inspired recipe from sixteenth century France in this month's Great Tudor Bake Off .
Anne Boleyn Inspired Recipes:
Vegetable-cheese Tourte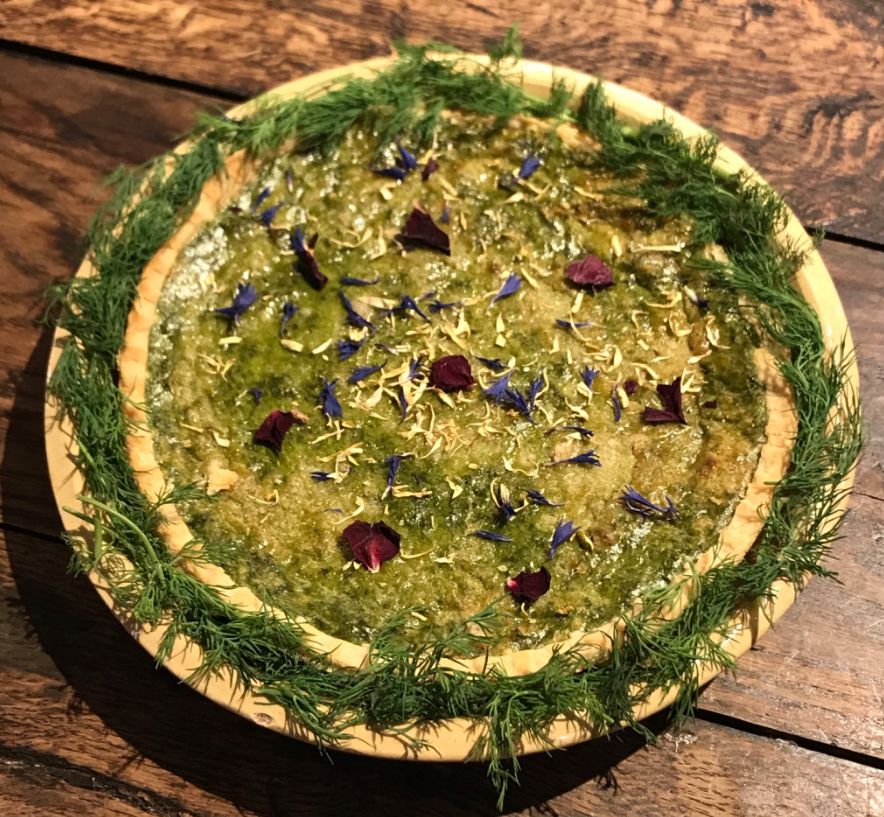 Ingredients:
Pastry:
200g flour
100g butter
3 tablespoons water
½ teaspoon salt
Filling:
200g chard leaves
200g spinach
a handful of fresh chervil or 1 teaspoon of dried chervil
a handful of parsley
a handful of fennel or dill fronds
250g cream cheese, softened
150g moderately rich, but mild cheese
2 beaten eggs
1 teaspoon of spices ( pepper, cinnamon, ground ginger, saffron, cloves)
1 teaspoon of ginger
80g freshly grated parmesan
Method ( adapted for modern use )
An hour or two in advance make pastry and refrigerate until needed. Wash greens in cold water and remove stems. Finely chop all leaves and dry. Preheat oven to 425 degrees F ( 220 degrees C). In a bowl, beat the cream cheese until smooth, grate the rich & mild cheese into the bowl and add the chopped greens. Mix until smooth and add the eggs, spice mixture and ginger. Add salt to taste. Roll out dough and line a deep tart pan. Line the dough with a sheet of aluminium foil and fill with baking weights or dried beans. Bake shell for about 8 minutes. Remove foil and weights and bake for another 5 minutes.
Add the filling, sprinkle evenly with the parmesan and bake until the top is golden brown and the bottom is baked. ( about 1 hour ) Reduce heat to 375/190 degrees if browning too quickly.
Cherry and Rose Tart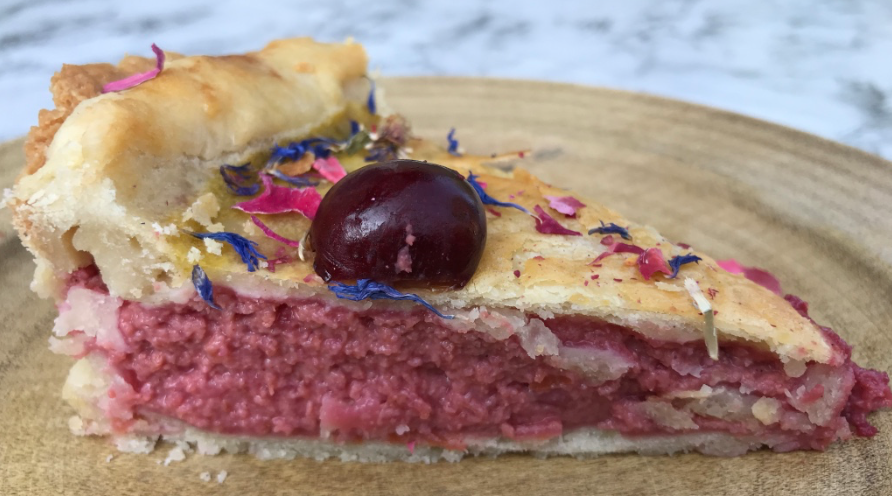 Ingredients :
Cherries
Some red roses petals
A bit of fresh cheese ( soft cheese, cottage cheese )
A bit of good old cheese ( such as parmesan )
Cinnamon
Ginger
A little pepper
Some sugar
3 – 4 eggs according to the quantity you want to make
Shortcrust pastry
Some rosewater
Original ( translated ) recipe from Cooking in Europe 1250-1650, by Ken Albala
Get the darkest cherries you can find and take out the pits, pound very well in the mortar and get some red roses very well chopped with a knife, with a bit of fresh cheese and a bit of good old cheese, adding spices such as cinnamon, ginger and a little pepper and some sugar, and mix very well all these things, adding even three or four eggs according to the quantity you want to make, and with a crust beneath put it to cook at your leisure in a pan. And when it is cooked put on top sugar and some rosewater.
Emplumeus – apple mousse with almond milk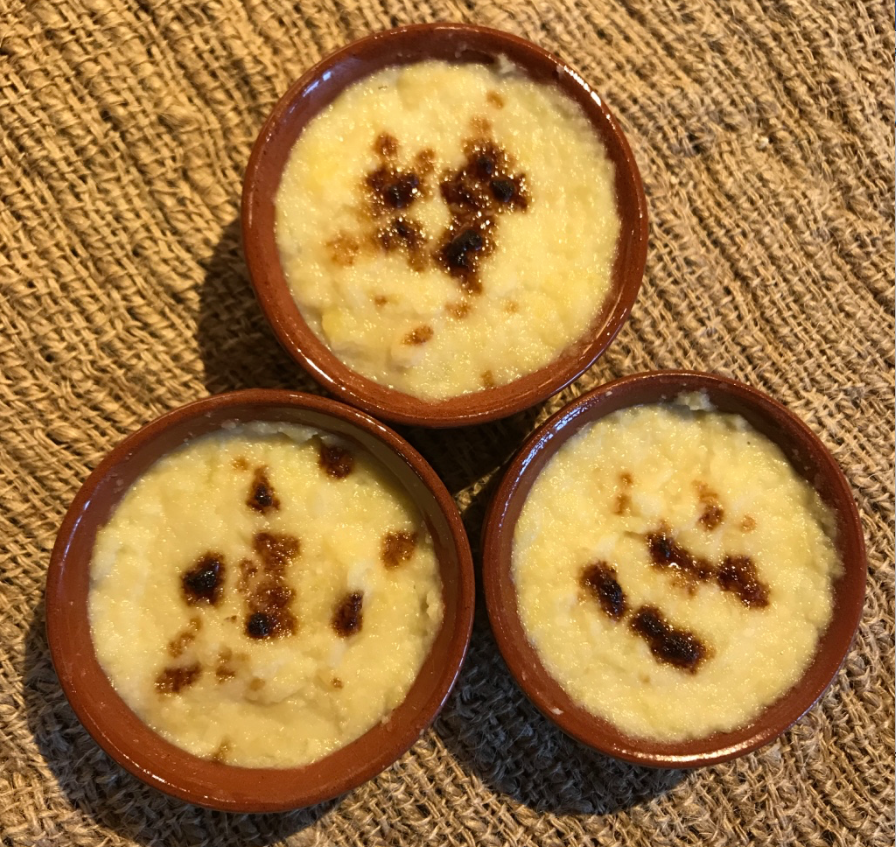 Ingredients:
800g apples such as golden delicious ( a variety that does not disintegrate when cooked )
3 ½ cups water
200 g unblanched almonds
4 bitter almonds or a couple of drops almond extract
4 tablespoon sugar
Method:
Pour boiling water over the almonds and soak them for 15 mins; then skin them. Alternatively, pour boiling water over the almonds; when it has cooled; replace it with fresh cool water and soak overnight. (This long soaking softens the almonds and makes them more tender). Peel and core the apples and cut them into large chunks. Bring the water to the boil in a stainless steel or other nonreactive pan. Add the apples and cook until very tender but not falling apart, about 10-15 mins. Drain the apples, reserving the cooking liquid.
Grind the almonds in a blender or food processor, gradually adding the apple cooking water to yield a thick, white liquid. Strain through three layers of cheesecloth or a kitchen towel. Squeeze the almonds with your hands to extract as much liquid as possible. The resulting almond milk should be thicker than usual. Chop the apples finely with a knife but not pureed. Bring the almond milk to the boil and add the chopped apples and the sugar. Wisk to combine and simmer for about 15 mins, stirring frequently. Serve cold.
Dodine Blanche ( Duck in white sauce)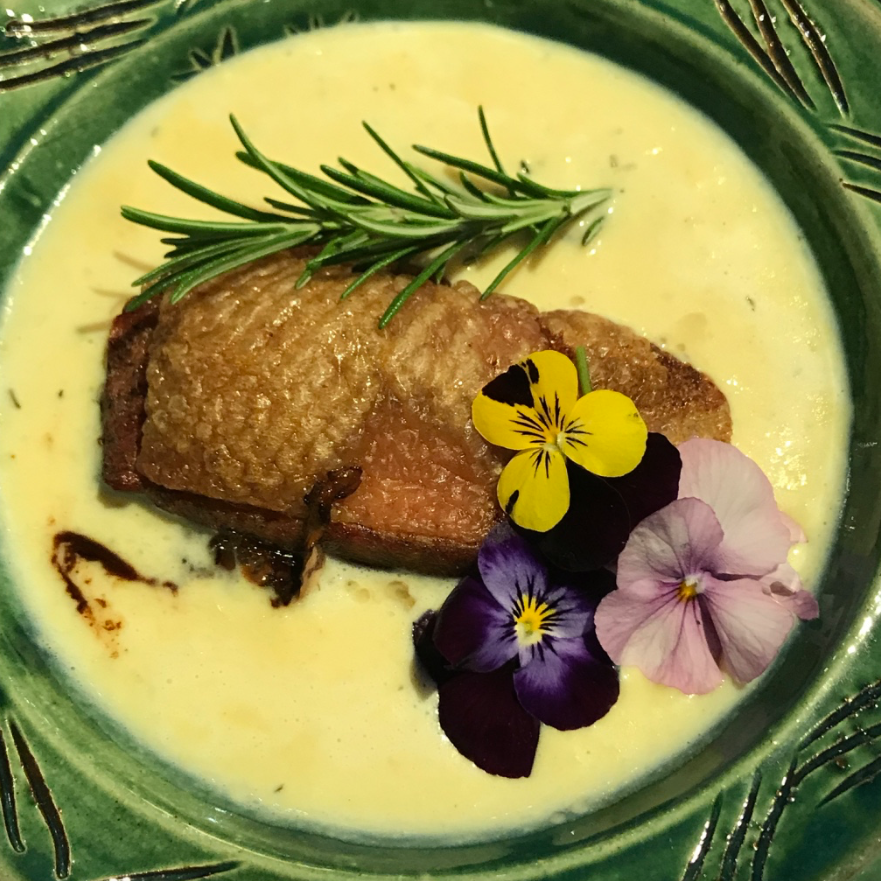 Ingredients:
Duck steaks
2 cups of milk
Hard boiled egg yolk
Dried ground ginger (white powder)
Chopped onions
Salt, sugar
Pinch of starch
Modernised recipe:
Roast the duck steaks in the oven and retain the drippings. Put the fried onion, white powder, starch and hard boiled egg yolks, a teaspoon of sugar and a little salt into the milk and blend. Cook the mixture in a pan until it thickens and add the drippings. Serve.
Green Poree with Swiss chard
Ingredients:
1.7kg Swiss chard leaves
200g salt pork belly or blanched pancetta cut into matchstick pieces
2 tablespoons minced parsley
1 tablespoon minced fennel
4 cups of broth
Modernised recipe:
Trim the chard of its fleshy white stalks. Wash the leaves and cut them into fine strips. Soak in cold water. Rinse in a change of water and drain. Dry carefully. Meanwhile, put the pork and broth into a pot and bring to the boil. When this reaches the boil, add the chard and cook for about 15 minutes. Remove from the heat, add the parsley and fennel and serve hot.
The chosen recipes were sourced from :
Le Menagier de Paris, circa 1393
Du fait de cuisine, Maitre Chiquart, Savoy, circa 1420
Livre fort excellent de cuisine, France, published by Pierre Sergent, Lyon, 1555 ed.
Libro de Arte Coquinaria, Martino of Como, circa 1470
Livre Fort Excellente de Cuysine (la.wikipeadia.org)
We hope you have enjoyed these Anne Boleyn inspired recipes from sixteenth century France. If you love Anne Boleyn and wish to read some of our most popular blogs about Anne Boleyn, then check out this one about 'The Life of Anne Boleyn: When the Ordinary Feels Extraordinary' or 'The Royal Apartments at the Tower & the Scandalous Killing of Anne Boleyn'.
Other Useful Reference Sources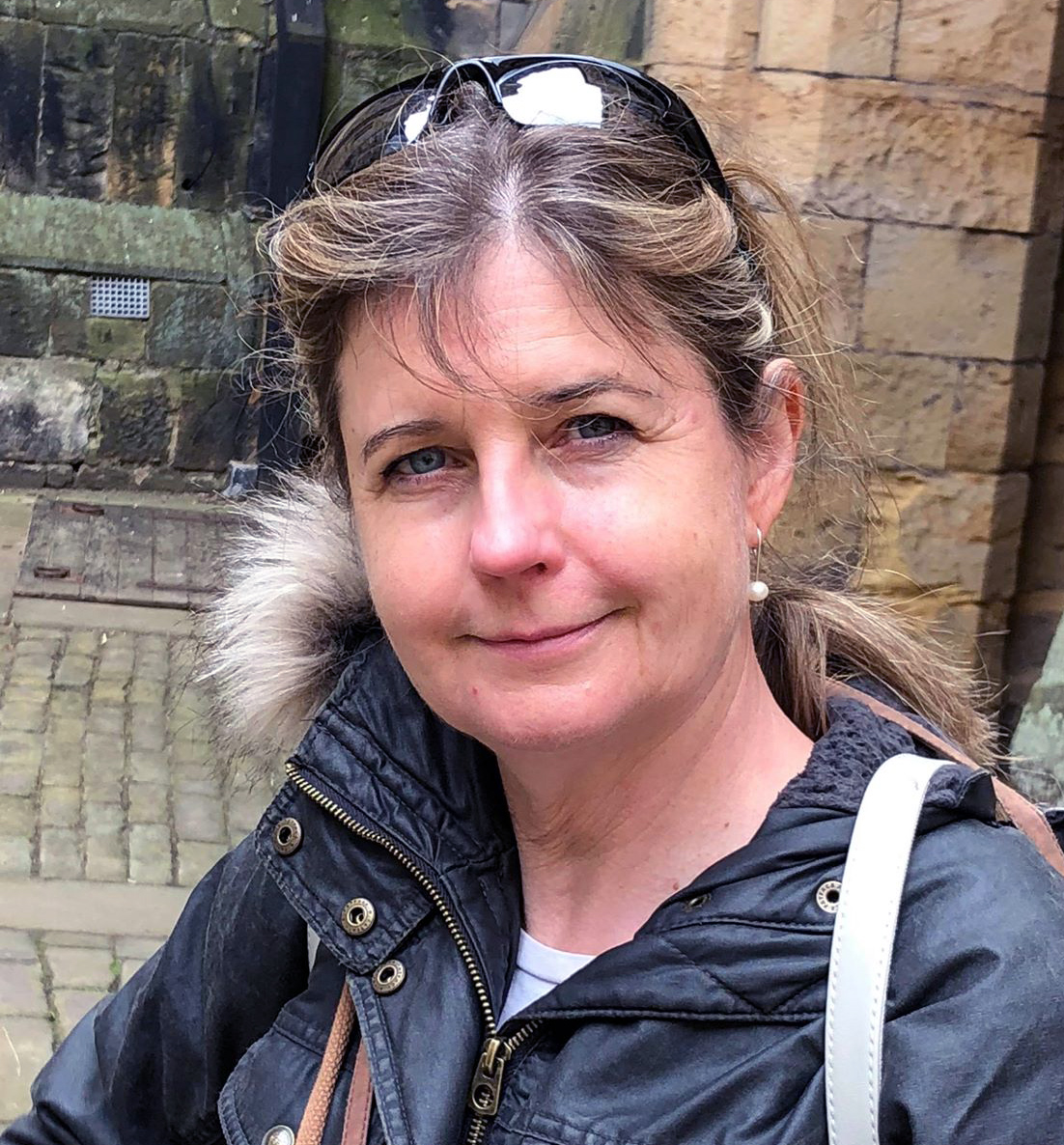 Each week, our Tudor recipe is contributed by Brigitte Webster. Brigitte runs the 'Tudor and 17th Century Experience'. She turned her passion for early English history into a business, and opened a living history guesthouse, where people step back in time and totally immerse themselves in Tudor history by sleeping in Tudor beds, eating and drinking authentic, Tudor recipes. She also provides her guests with Tudor entertainment. She loves re-creating Tudor food and gardens, and researching Tudor furniture.