Peterborough Cathedral: A Glimpse of Heaven, by Jonathan Foyle
For Tudor time travellers, the burial sites of each of Henry VIII's consorts are places of pilgrimage. One such place is Peterborough Cathedral, where the body of Henry's first wife, Katherine of Aragon, rests in perpetuity. Peterborough is just 43 minutes north of London's King's Cross station, en route to York and Edinburgh. If you plan to venture out of London and head north (where there is a wealth of Tudor treasures to uncover), then Katherine of Aragon's tomb and the magnificent cathedral it resides in are 'must sees'.
In a recent release, Peterborough Cathedral; A Glimpse of Heaven, Architectural Historian, Jonathan Foyle, surmises the cathedral's history, and then goes on to do what Jonathan does best, breaks a lost code of medieval symbolism (see also Jonathan's work with The Bed of Roses), this time painted into the decoration of the cathedral's ceiling. He reveals to us not just a random bunch of bizarre and meaningless images, but on the contrary, he prompts us to realise that the images tell a very specific story. It was a story that would have been evident to the medieval mind, but indecipherable to most of us today. However, the code is now unlocked, and I have included below excerpts from a recent article written by Jonathan for the FT, which touches on these findings.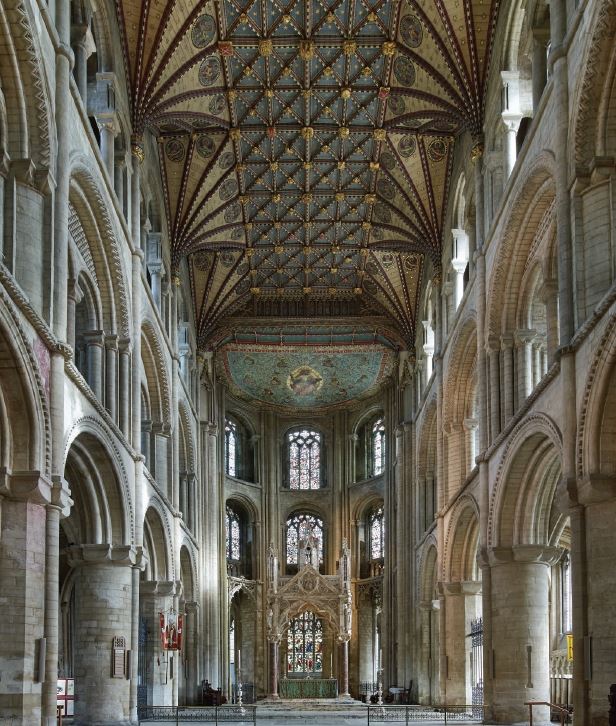 A Monkey Riding a Goat Backwards!
'Peterborough's nave ceiling is not so much a portrayal of heaven as a compendium of big concepts, including astronomy, kings and bishops…and a monkey riding a goat backwards.' A monkey riding a goat'! Yes, that does take a bit of understanding! Luckily with Jonathan as our guide, what would have been undoubtedly lost on most of us, is now in plain sight: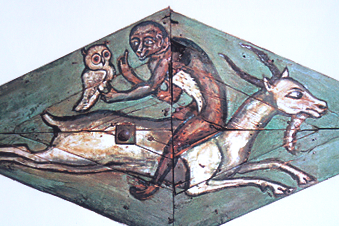 '…diagonally boarded and painted in the years 1238…It is the largest [ceiling of its type] in Europe, and as the greatest surviving coloured work of art in the whole of medieval England it demands the attention of any visitor.'
So, it's over to Jonathan:
'This year marks the 900th birthday of a beautiful and underrated building. Peterborough Cathedral originated as an abbey, enjoying the title of 'cathedral' for merely the past 478 years, and became the fitting burial-place of two queens of England.
The first Peterborough Abbey was founded about 654, probably over a Roman temple whose stones it reused. Today's church sits at the edge of the fens in east England. After Viking raids apparently smashed the abbey church as it stood in c870, it was reconstructed with a fine western tower. Dripping with gifts of gold and jewels, its late Anglo-Saxon wealth gave the walled town the name of "Gildenburgh" — the golden borough.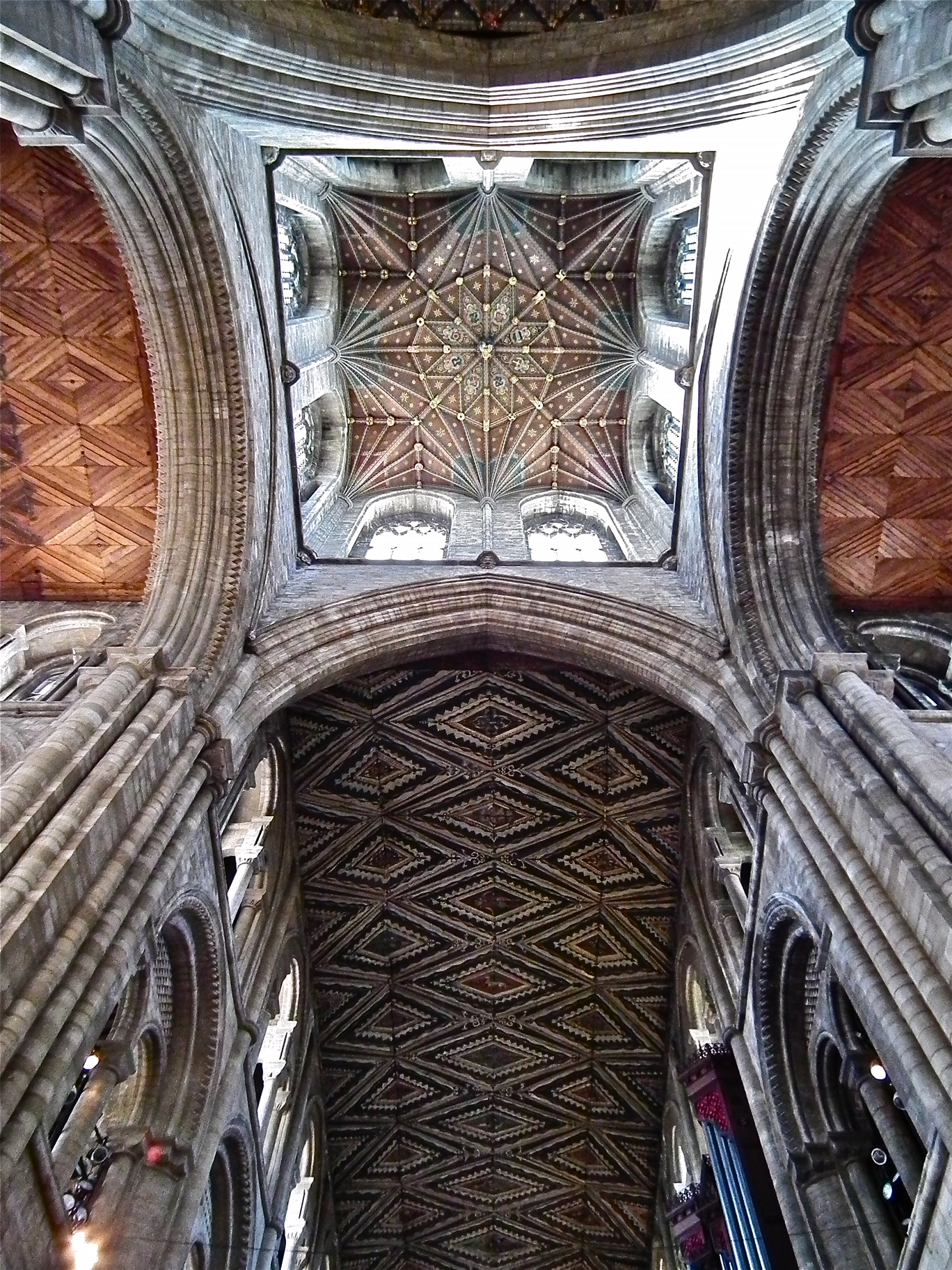 At the Norman invasion of 1066, the abbey's fate turned south. In 1070 its treasury was looted by an aggrieved local Saxon overlord called Hereward the Wake. Meanwhile, the abbey's lands were given to the myrmidons of the new Norman kings, and the new Norman abbot Thorold built a castle for his own safekeeping to the north of the church.
As a salve to their subjugation, the monks maintained Peterborough's version of the Anglo-Saxon Chronicle, which recalled the arrival of the Vikings to Northumbria in 793 with "immense flashes of lightning, and fiery dragons were seen flying in the air". Their neglected old abbey was among the last of the Anglo-Saxon great churches to be replaced. It took a huge fire in 1116 to clear the way for the present building, begun by Abbot John de Seez in 1118, hence the birthday.
My research for the new book revealed the source and meaning of the ceiling's imagery: it shows the six kings whose reigns spanned the building's commencement (Henry I, 1100-35) to its completion (Henry III, 1216-72). They are being schooled by educated bishops, surrounded by the seven liberal arts that informed their theological training: grammar, rhetoric and logic (the trivium) with geometry, arithmetic, music and astronomy (the quadrivium). Raising their fingers and gesturing to texts, the ecclesiasts are putting tyrants in their place. There is one exception: the latest, living king is set in an almond-shaped mandorla usually reserved for Christ, holding a torch to St Paul. Flattery will get you everywhere.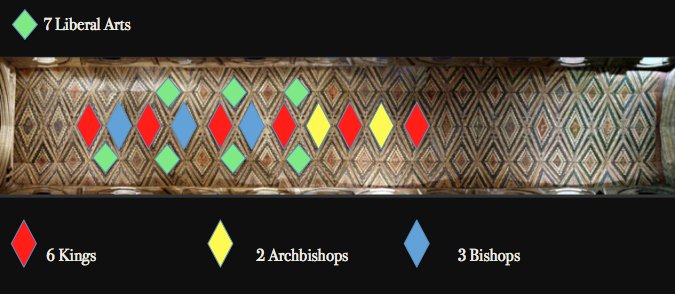 At least, their flattery may have worked until the era of Henry VIII who in 1536 committed Catherine of Aragón to eternity in the choir. A few years later, it was Henry's henchmen who came to dissolve the monastic buildings. The abbey church could easily have gone the way of many others — but Peterborough had a reprieve. The king created a cathedral from the monastery, and within this episcopal seat the body of Mary Queen of Scots was lowered on August 5 1587, before James I spirited her away to Westminster Abbey 25 years later.'
Summary
A much more detailed description of the ceiling is included in Jonathan's book. So, while you are making your Tudor Pilgrimage, why not squeeze out all the juice of learning and enjoyment from your visit by pausing in the nave and casually informing your travel companions about the symbolism hidden in plain sight high above your head. It must surely be a glimpse into heaven!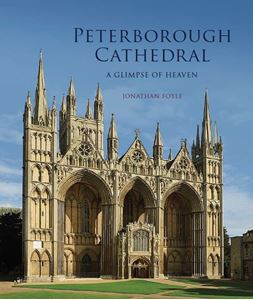 'Peterborough Cathedral: A Glimpse of Heaven' by Jonathan Foyle is published by Scala and is available via Amazon.
About Jonathan Foyle: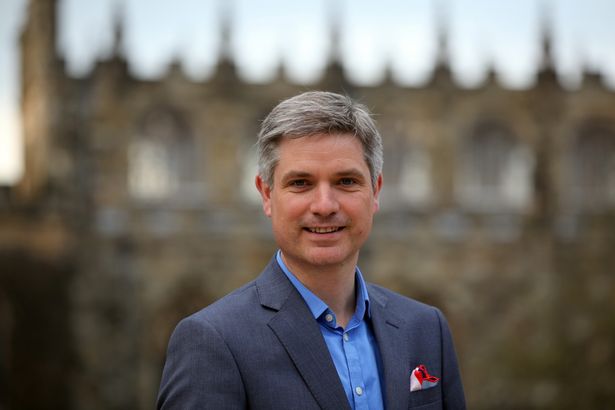 Dr Jonathan Foyle is quite obsessed by historic buildings. From an immersive career in conservation, research and curating, he is fortunate to have found ways to share many discoveries and insights into our ancestors' experiences. He is an award-winning BBC broadcaster, writes regularly for the Financial Times Weekend, presents multi-media interpretations at fascinating historic sites, and has explained the wonders of the historic environment to audiences from America to Australia (but usually closer to Amersham). Author of two well-received monographs on cathedrals – Canterbury and Lincoln – he also draws a bit. You might come across him as Visiting Professor in Conservation at the University of Lincoln, or helping to bring old buildings to life as Director of the consultancy Built Heritage Ltd.