Baddesley Clinton: Murder, Loyalty and Treason
NB: Baddesley Clinton Cover image via Wikimedia Commons, by localpref: Creative Commons Attribution-Share Alike 4.0
There is something singularly beautiful about a medieval, moated manor house; I have some favourites dotted around the country, which perhaps, one day, we might compare notes on? Igtham Mote in Kent, Markenfield Hall in North Yorkshire and Oxburgh Hall in Norfolk are in my top five. Another one to add to the list is the small but perfectly formed, the manor of Baddesley Clinton in Warwickshire. It is compact and bijoux, warm and welcoming, and over the festive season, decorated with wreaths, garlands and Christmas trees, fashioned from dried flowers that have been grown on the estate during the summertime. Let's go explore!
A Brief History…
The evidence suggests that the site of the manor of Baddesley Clinton was certainly occupied by the close of the thirteenth century, and possibly settled from as early as 1230, when the estate passed to the de Clinton family. However, Emery, in his Greater Medieval Houses of England and Wales states that we do not know exactly when the present stone house was built.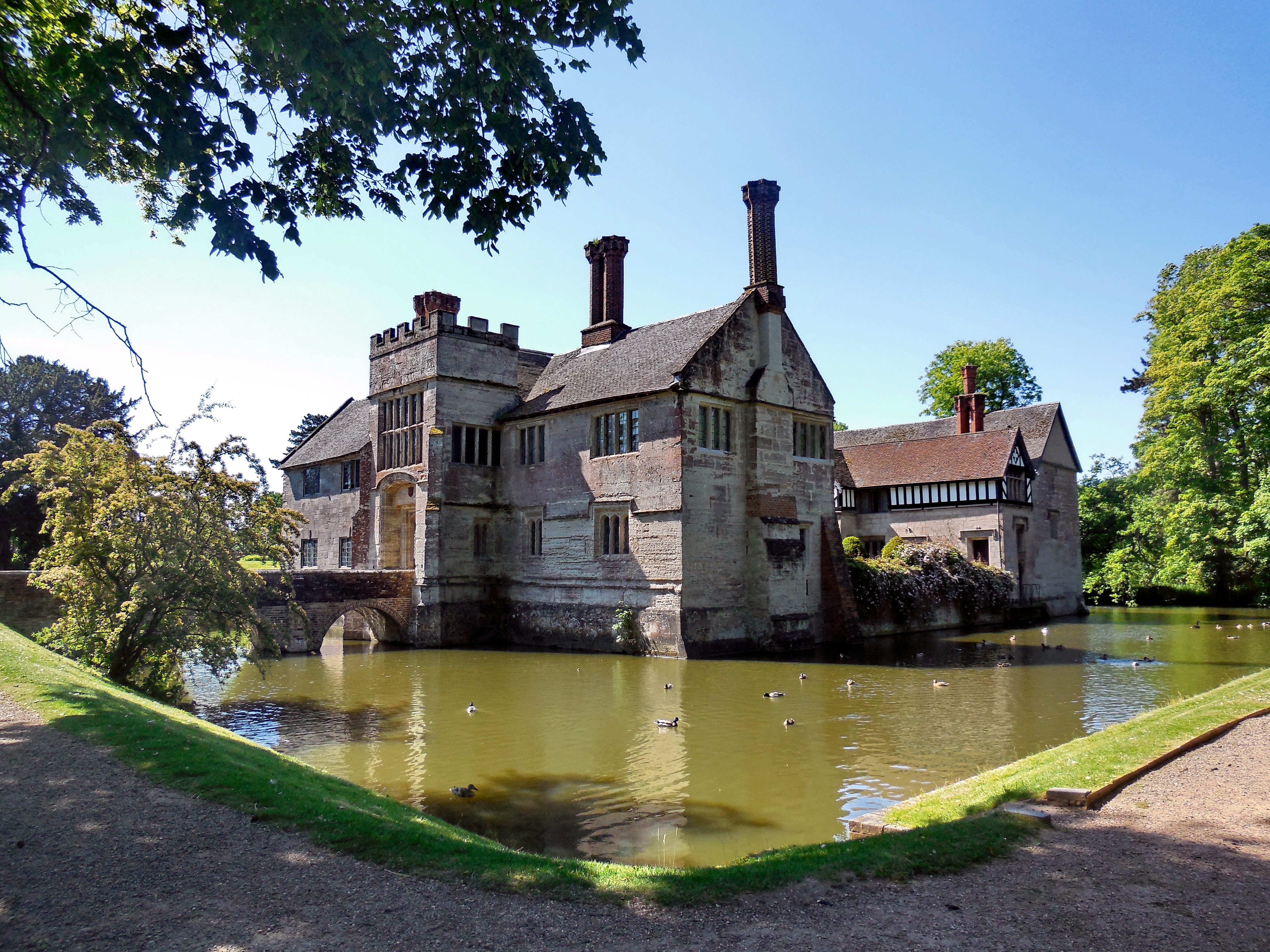 In 1438, John Brome, who became Under-Treasurer of England to Henry VI, bought Baddesley Clinton and later passed it on to his son, Nicolas. We will hear more about this hot-headed gentleman shortly! Emery speculates that either one may have been responsible for the construction of the building we see today.
Baddesley Clinton is enclosed on all sides by a spring-fed moat – and it is enchanting to look at. Perched upon a raised plateau, and constructed of rather pleasing 'quality grey freestone', it appears entirely medieval. One writer muses: 'About seven miles from Warwick… all amid the silent woods, its grey walls and timber gables reflected in a lake-like moat, stands the old Hall of Baddesley Clinton. Its aspect carries you back hundreds of years…'
However, as Emery states, appearances can be deceptive. There are indeed some late medieval features remaining at Baddesley Clinton; the gatehouse, the north-east end of the eastern range (to the right of the gatehouse as you look upon it from across the moat), and part of the west wing, opposite the gatehouse entrance. Yet, the south wing, containing the parlour, is entirely Elizabethan. Its frame is made of timber in typical Tudor style, but the wing was later refaced in red brick, so that little of the original Tudor structure is now identifiable. Other later features include the pretty stone bridge leading to the gatehouse, which is Georgian, and parts of the west range, that are Victorian.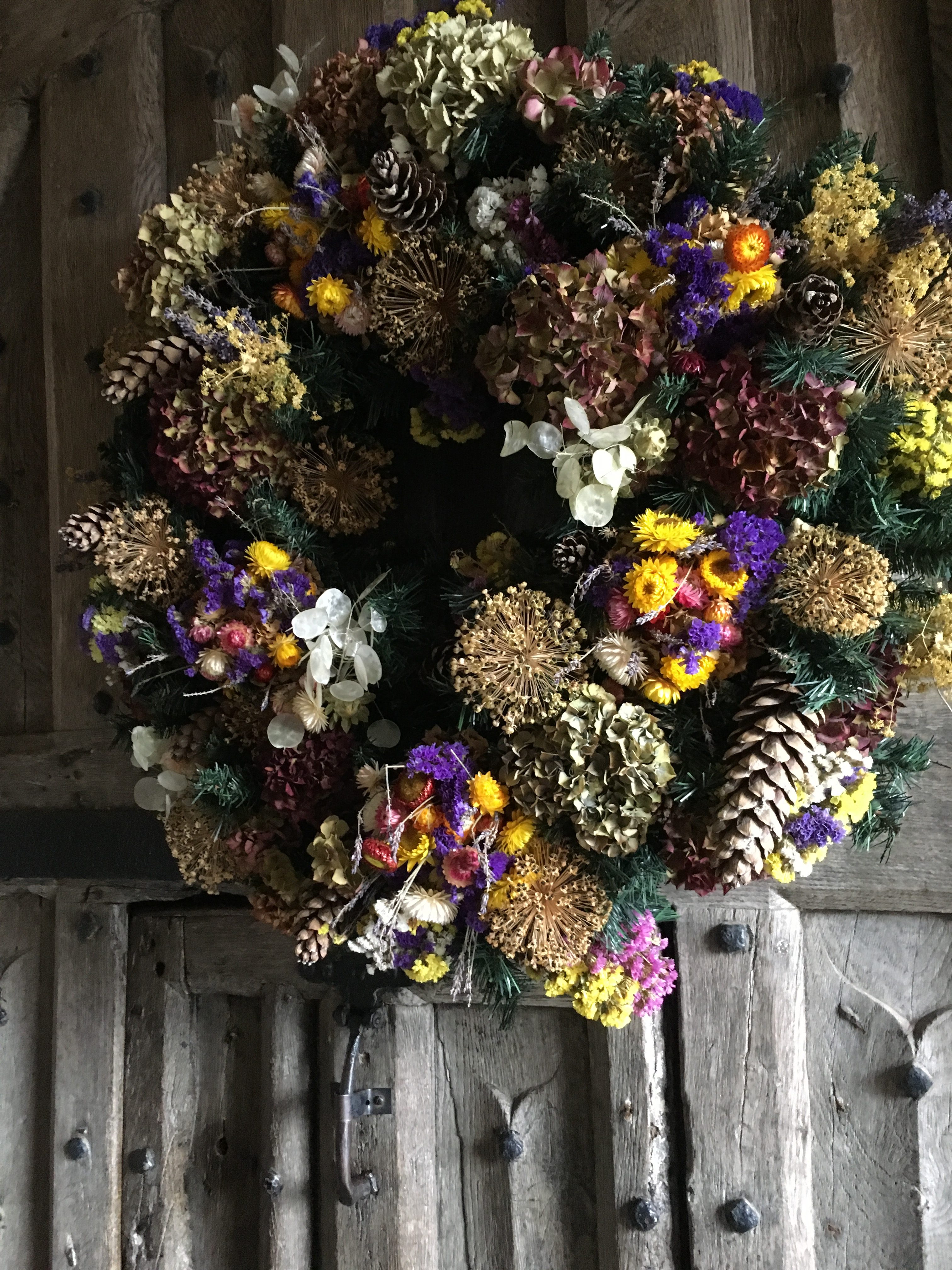 Once across the moat, you pass through Baddesley Clinton's gatehouse whose entrance is protected by a gnarled, old, wooden door, which at Christmas time welcomes the visitor with a splendid and most beautiful wreath of dried flowers. Before you know it, you find yourself in a tiny courtyard, where a mature wisteria has lazily snaked its way around the walls – and which literally drips with colour and scent during May-time.
There are three wings around the courtyard, but once upon a time, there were four. The north wing, thought possibly one to have contained the great hall, was demolished during the Georgian era to give a pleasant view over the moat. At one time, a second bridge crossed the moat to provide a service entrance on the northwest side. This connected to the west range. One assumes, therefore, that it was this range that once contained the offices servicing the house.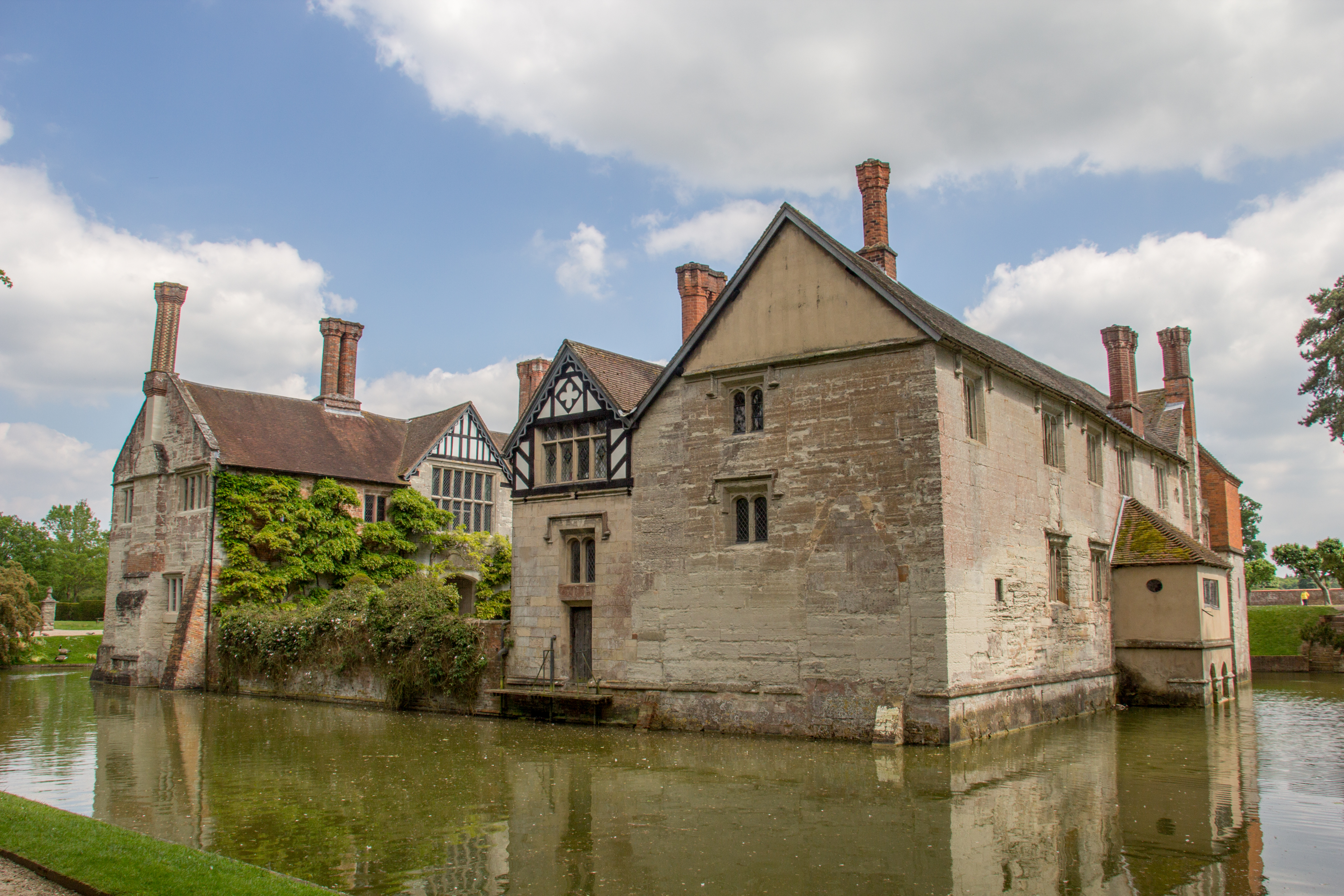 Today, the main entrance to Baddesley Clinton takes you into this wing, and then through a series of higgledy-piggledy rooms, corridors and uneven stone floors to explore a series of rooms, rich in fine oak panelling and, at Christmas time, prettily decorated with dried flowers. The parlour in the south wing, remodelled by its Elizabethan owner, Henry Ferrers, is perhaps the most impressive.
The carved stone fireplace is made all the more inviting by the fire crackling in the grate and in December, a giant Christmas tree festooned with baubles, also fashioned from dried flowers, makes for an inviting space. The flowers scent the air with their own particular smell; a little like dried hay, which evokes a distant, faded memory of the warmth of summer.
However, not everything has always been so idyllic at Baddesley Clinton!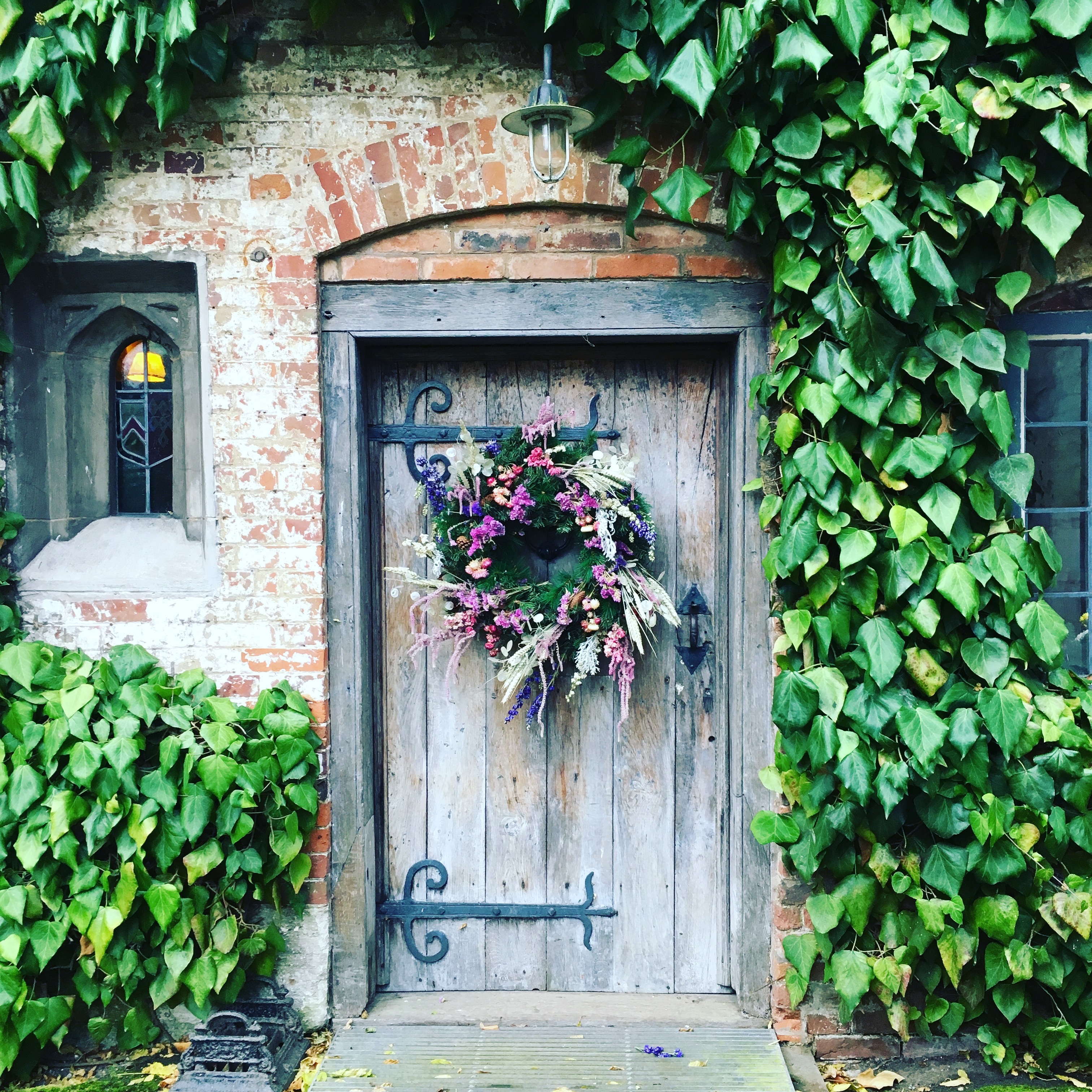 The Murderous History of Baddesley Clinton
This sleepy, picturesque house has seen its fair share of drama. During the Wars of the Roses, the house was owned by John Brome. As we have already heard, it may have been John, a prosperous Warwickshire lawyer and later Under-Treasurer to Henry VI, who was responsible for building the stone house on site. Sadly, he came to a sticky end, being murdered in November 1468, in Whitefriars church in London. The story goes that having been called to the porch door during the Mass, he was stabbed by John Herthill, a steward of Richard Neville, Earl of Warwick, (although the grievance which led to the offence was over a property dispute between the two men, and had no connection to the Earl).
One somewhat bizarre, and unresolved, twist to this sorry tale is that clearly John survived the attack long enough to dictate a will in which he states that he forgave his eldest son, Thomas who 'when he sawe me runne through in ye Whitefriers church porch, laughed and smiled att itt.' But, we hear no more of it.
The estate of Baddesley Clinton was inherited by John's second son, Nicolas. Nicolas must have been a man given to intemperate outbursts; we know he killed in cold blood at least twice. The first was in revenge of his father's murder, duelling with Herthill in 1471, and slaying his father's murderer by the sword as a result.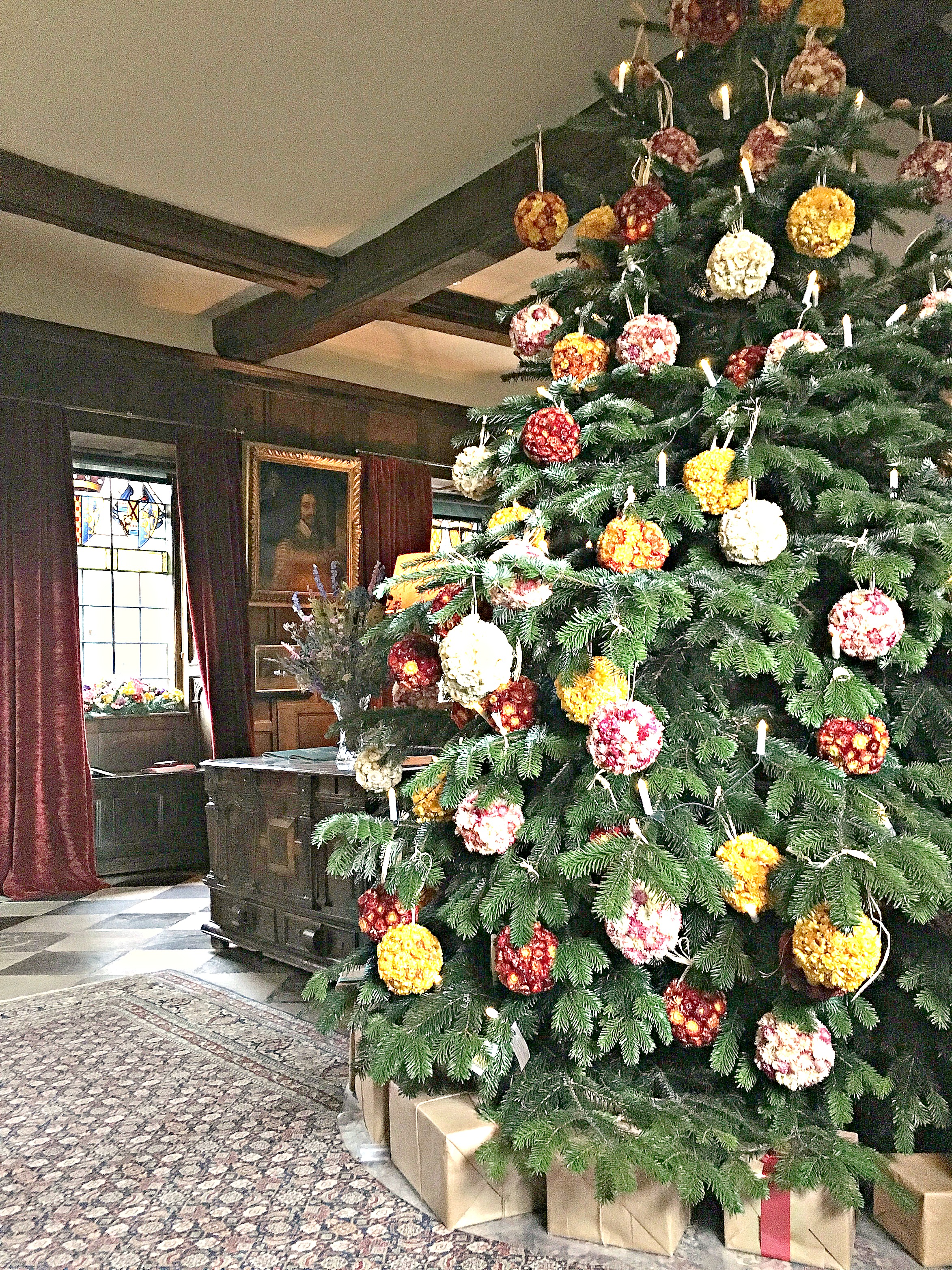 Yet, more shocking still are the goings-on at Baddesley Clinton itself. An account of what happened is recorded by one of Nicolas' own descendants, Henry Ferrers, the Elizabethan owner of Baddesley Clinton. Henry was a well-known antiquary, and he writes that Nicolas "slew ye minister of Baddesley Church finding him in his plor (parlour) chockinge his wife under ye chinne". Apparently, 'chin chucking' means stroking someone affectionately under the chin and, according to one book I consulted, which refers to 'The Erotics of Chin Chucking in Seventeenth Century England', had 'amorous' or 'flirtatious' connotations.
Nicolas however, got away with murder for a second time. His main penance seems to have been to apply himself to extensive remodelling of the local parish church and suggesting that when he died, he was to be buried standing up beneath the pavement of the church porch so that people could walk over his head! (You might want to check out the porch of the nearby church when you visit!)
When Nicholas Brome died in 1517, the house passed to his daughter, Constance, who had married Edward Ferrers (High Sheriff of Warwickshire and descendent of the 5th Lord Ferrers of Groby) in 1500. It was on his wife's estate, at Baddesley Clinton in Warwickshire, that the couple were to settle.
Edward had an interesting history at court. First introduced into royal service during the reign of Henry VII, he later attended the king's funeral in 1509 and later the same year, was made Squire of the Body to Henry VIII. Sadly, Sir Edward would attend another royal funeral in 1511, with the burial of the infant Prince Henry, first-born son of Henry VIII and Katherine of Aragon. The little prince had enjoyed just one month of life.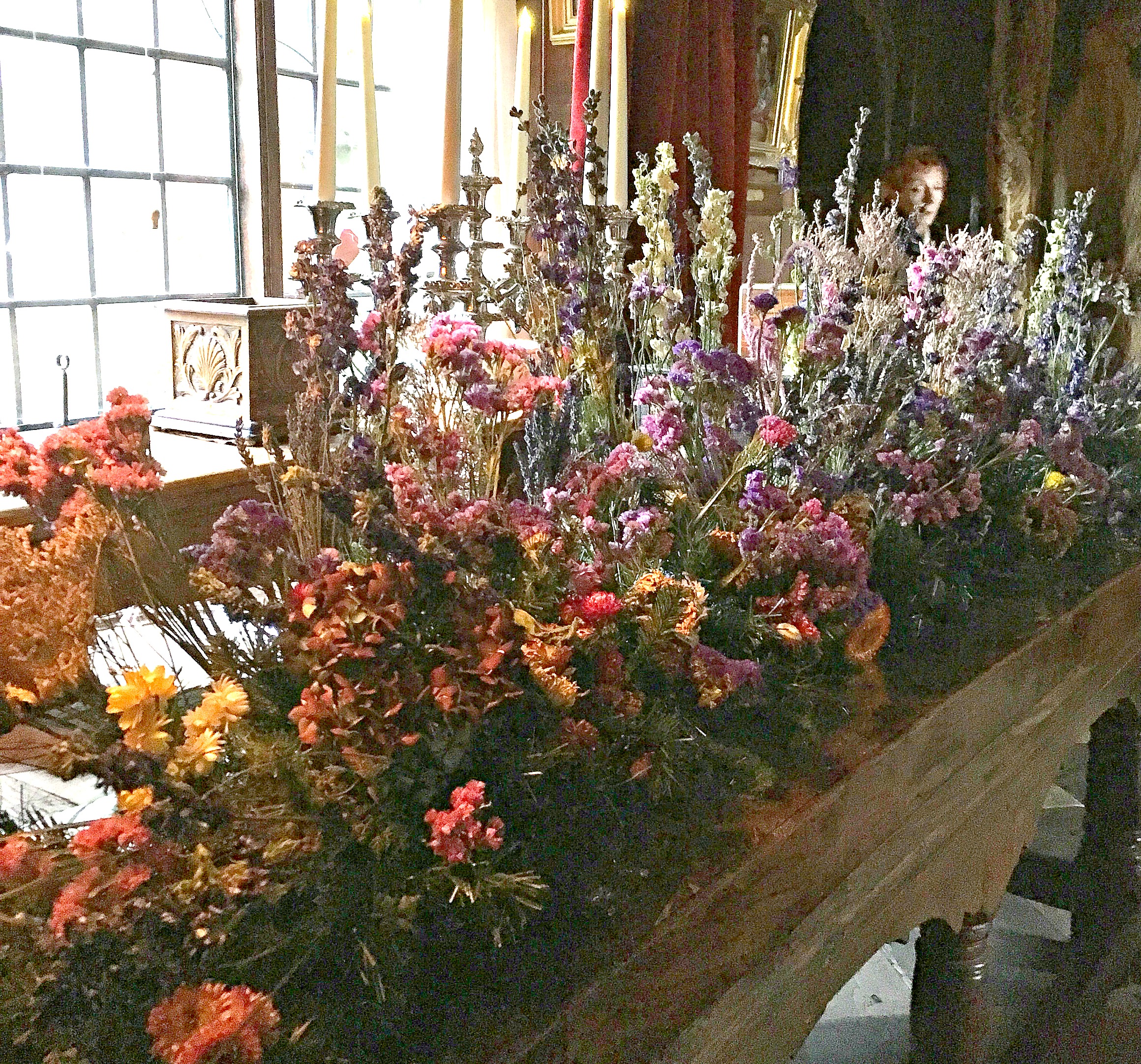 Clearly, Edward Ferrers was in good favour at court. Grants and wardships came his way, before Edward was knighted on 25 September 1513, following the Battle of Tournai (as was the case with Sir William Compton, a fellow Warwickshire landowner, who we read about last week). He is recorded as attending a banquet at Greenwich in 1517 and, three years later, he was a commissioner to oversee footmen at the Field of Cloth of Gold. Afterwards, he served at the meeting with Charles V at Gravelines. And so, we might imagine Sir Edward coming home from the court from time to time, bringing with him tales of adventure, of death, and of glory. Doing so somehow fills the house with stories from the past and makes the place all the more intriguing.
Ferrers died on 29 August 1535, at a ripe old age of 67, and was buried at Baddesley Clinton.
Henry Ferrers (1549-1633) was the last Tudor to make a mark on the house. As mentioned, he was a well-respected antiquary and was responsible for the remodelling of the south wing, whose interiors retain much of their Elizabeth appearance. Whilst Henry seems to have lived a quiet life, the drama was not yet over for Baddesley Clinton. In 1586, he rented out his home to Anne Vaux, an ardent follower of the Catholic faith. By this point, the Pope had excommunicated Elizabeth I, and it was illegal to harbour Catholic priests in England.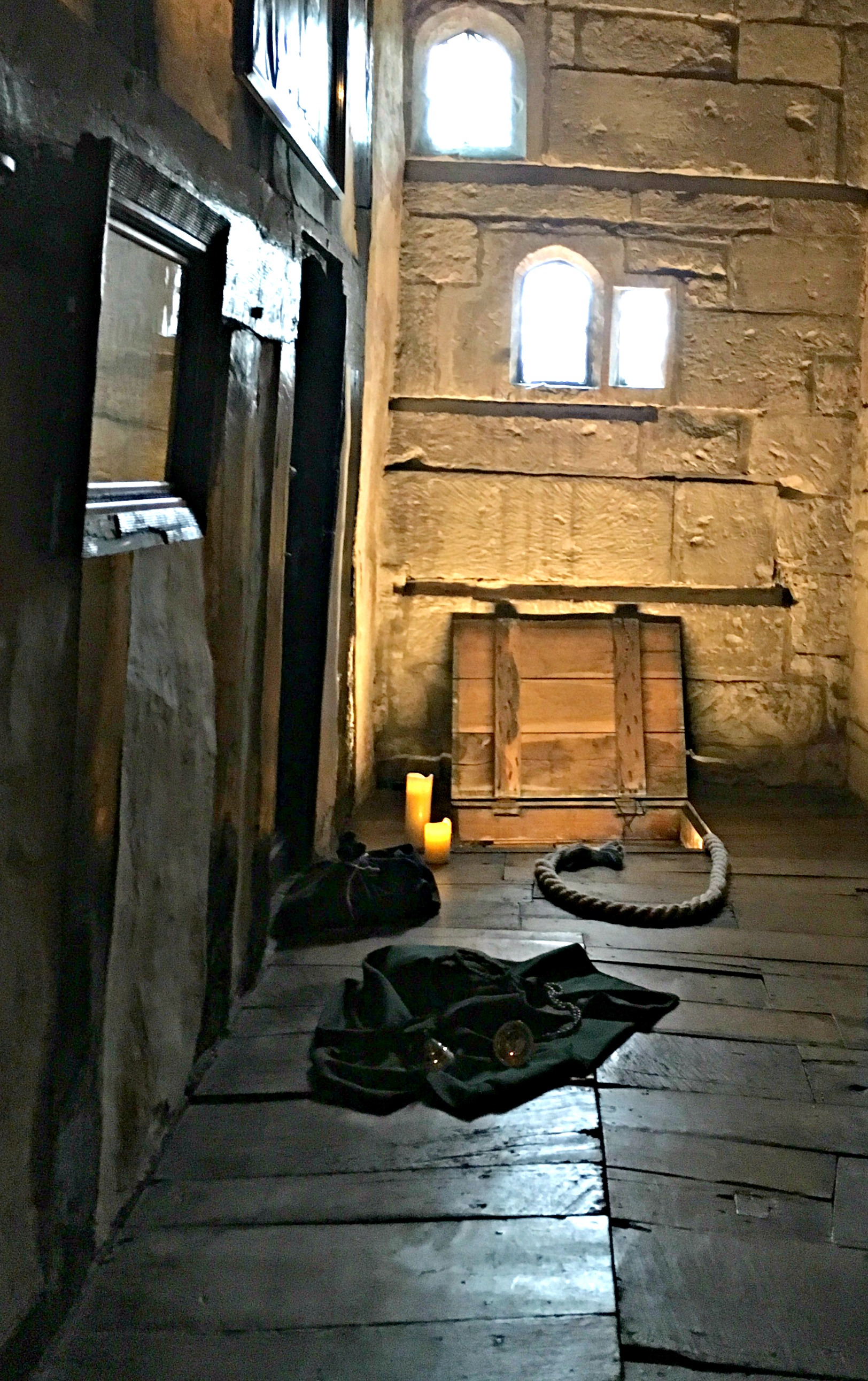 Nevertheless, Anne had three priest holes created at Baddesley Clinton, which were used, at least once, in 1591, when priest-hunters raided the house. One of the priests present later wrote an account, describing how the poursuivants (priest-hunters) had arrived at 5am, just as they were about to celebrate the Mass. Managing to clear away any clues of their presence, the priests hid for four hours in one of the holes, ankle-deep in water whilst, according to Anne herself:
"the poursuivants behaved just like a lot of boys playing blind man's buff, who in their wild rush, bang into tables and chairs and walls and yet haven't the slightest suspicion that their playfellows are right on top of them and almost touching them."
The priests were not found that morning, although a number later died under torture or on the gallows.
Christmas At Baddesley Clinton
Today, the peaceful ambience of Baddesley Clinton, and its quaint medieval appearance, continues to be reflected serenely in the moat, as it has been for hundreds of years. The serenity of the scene, which welcomes your arrival, belies the house's dramatic history. Calm has been restored and, during the festive season, Baddesley Clinton is festooned with hundreds, if not thousands, of dried flowers, arranged in wreaths, baubles, swags and garlands. Many volunteers work on creating the displays, and the scent of those displays fills the house.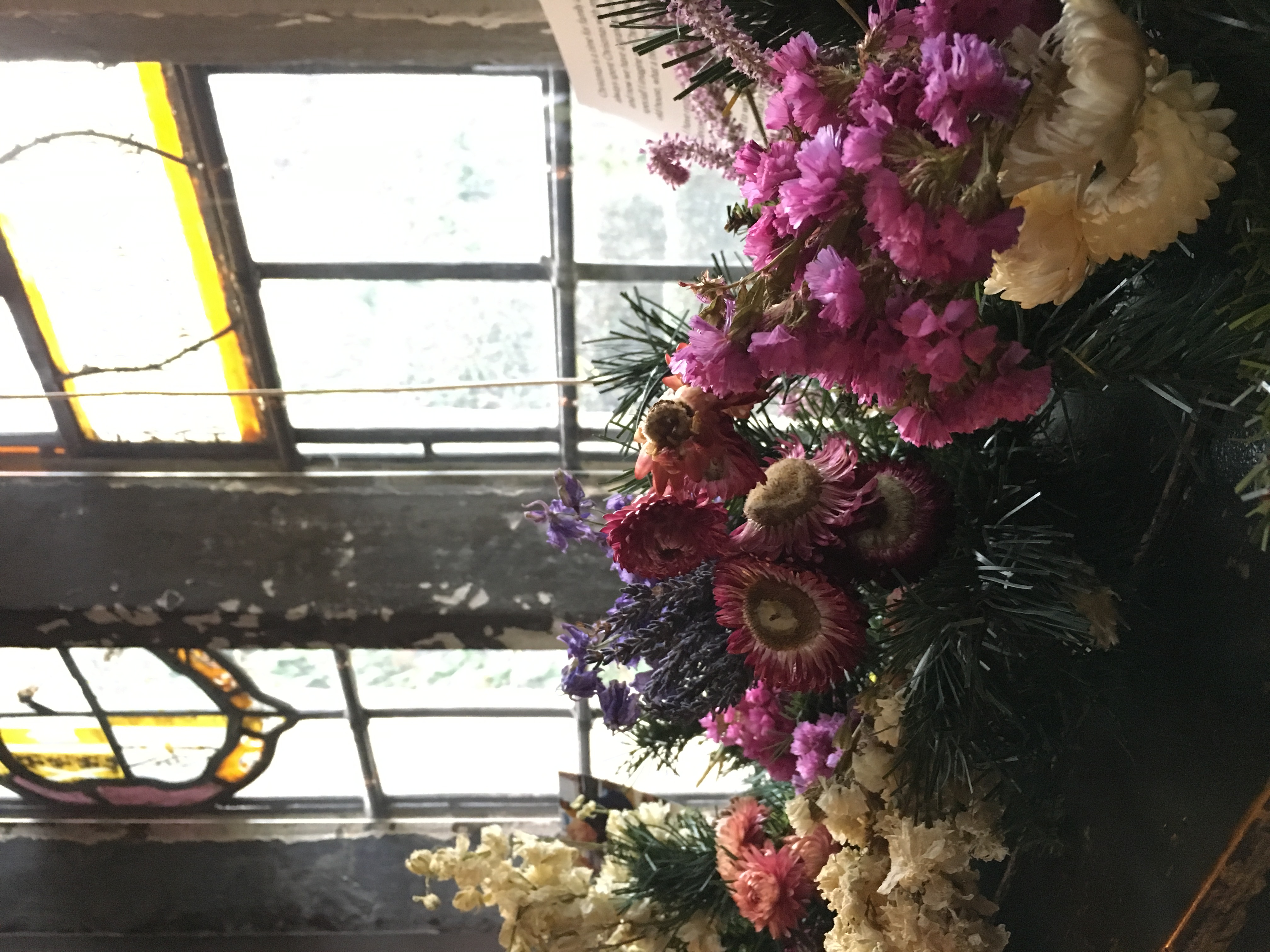 And as I sat in one of the comfy sofas in front of the fire, it was hard to imagine that this cosy room was the scene of a hot-headed murder, or that poursuivants once ransacked the house in a blood-thirsty hunt for Catholic priests. Baddesley Clinton is small, perfectly formed, and although not at the centre of court life in England, has seen plenty of human drama. Remember this, and a place like Baddesley Clinton comes alive with the hidden stories of those who have gone before us.
When were you last at Baddesley Clinton? What are your memories of it? What did you most enjoy? Do you have any tips for your fellow Tudor time travellers? I'd love to hear. Please do leave a comment below.
Visitor Information
Baddesley Clinton is run by the National Trust. If you want to find out more about seasonal events or opening times, click here. There is the usual NT restaurant, shop and toilets on-site, so all your needs are catered for.
If you are in the area, nearby Packwood House is the natural place to combine with a visit to Baddesley Clinton. A little later in design, it is nevertheless an interesting house and worthy of investigation. Also, just a 15-minute drive away, is the mighty Kenilworth Castle. Although a ruin today, there still remains plenty to explore, and it is packed with medieval and Tudor history. You can read about this here in one of my earlier posts.
NB: Cover image via Wikimedia Commons, by localpref: Creative Commons Attribution-Share Alike 4.0