What Things Cost in the UK: Travel Essentials
Welcome back to the Tudor History & Travel Show: Travel Essentials, Episode Two!
This section of The Tudor Travel Guide is designed for Tudorphiles who love to pack their bags, hit the road and connect to the past by standing in the places where Tudor history was made! Once again, we welcome back Philippa Brewell from British History Tours, our resident travel expert. Philippa helps us explore a very common travel query for those visiting from overseas: what things cost in the UK. We share our top tips for how to travel to Tudor-themed locations in the UK on any budget.
Please note: These show notes are intended to complement the relevant podcast episode. I highly recommend that you listen to the conversation and use this blog for reference. You will find links to the topic under discussion towards the end of this blog.
What Things Cost in the UK: Travelling by Road, Rail or River
Travel in London: As the capital city, London can be an expensive place to visit. With some careful planning, you can choose transport, accommodation and entry/admission options that suit your budget. Generally, the most economic travel options are the Thames Clipper boats, buses or trains. Oyster Cards or contactless credit/debit cards can be used as payment for most travel options across London within the London fare zones. See relevant links below for further information.
Remember, if you are planning to drive in London, it is advisable to check which areas are within the congestion charge zone before you travel. We also recommend checking parking availability and prices with your hotel ahead of your trip.
Booking times: It is always best to book your hotel as soon as possible. However, for train tickets, the best deals are available around 8-12 weeks before you travel. Look out for upgrade options too – for some longer journeys, an upgrade can result in a comfier journey!
Attractions: Here in the UK, we're lucky enough to have free entry for many of our museums, churches and cathedrals. English Heritage also cares for a number of sites that are in ruins, including many abbeys and castles. Some of these can also be accessed free of charge. Check their website or app for further information. Again, useful links are included at the end of this article.
Recommended Places to Stay: Freston Tower, Suffolk
An essential ingredient of that perfect vacation or road trip is finding a wonderful place to stay. Arguably, built to coincide with Elizabeth I's visit to Ipswich in August 1579, Freston Tower is steeped in history. Coupled with breath-taking views across the River Orwell, it's not to be missed off your accommodation list. Thanks to one of our listeners, Lisa, for sharing with us her top accommodation tip. Freston Tower is managed by The Landmark Trust. if you wish to find out more information about it follow this link.
What Things Cost in the UK: Some Essential Links
We hope you enjoyed listening to Philippa and I discussing what things cost in the UK. If you would like to find out more about any of the resources we mention in the podcast, please see the links provided below. You may also be interested in reading an earlier blog article that I wrote, here on The Tudor Travel Guide called: 'Your Essential Guide to Saving Time and Money on your Tudor-Themed Vacation.
Other Useful Links:
Thames Clippers
Transport for London
Tube Travel, London
Uber Travel, London
Bus Travel, London
Oyster Card, London
Congestion Charge, London
National Trust
English Heritage
Visit England, free entry
London to Edinburgh Sleeper Trains
Not to be Missed! Tudor-Themed Events Coming Up…
'Visitors will have the exciting opportunity to interact and engage with Henry VIII, his six wives and his children. Find out what it was really like to be married to one of history's most infamous kings. .' from Hatfield House website.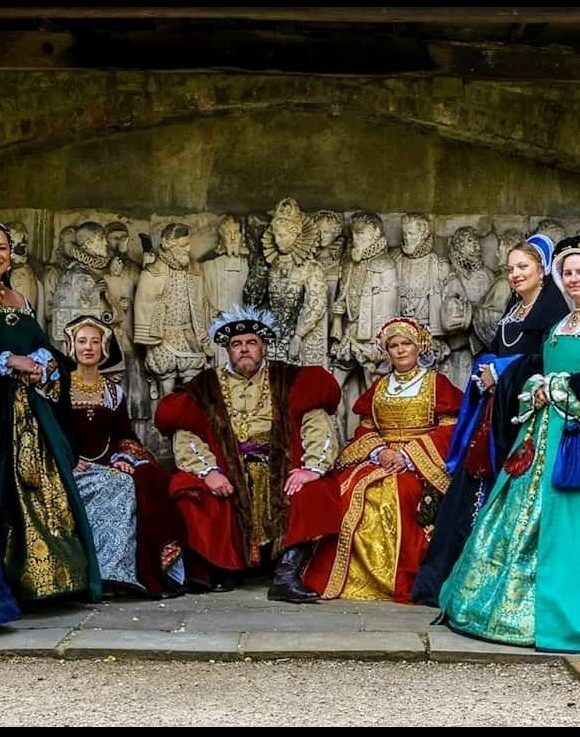 When: 11am-4pm, 5th April, 2021
Where: Hatfield House
Price: Free of charge once you have purchased an entry ticket
Hatfield House welcome The Tudor Legacies, a group of Tudor enthusiasts who bring history to life. Staged in the Stable Yard at Hatfield House, this event allows you to meet the personalities behind the portraits! Each of Henry's six wives share their experience of life in a royal court of scandal, intrigue and beheadings. Daughter of Henry VIII and Anne Boleyn, the future Queen of England, Elizabeth I is also featured – with Hatfield House being her childhood home.
For all of the latest information, visit the events page at Hatfield House.
Date: Saturday 27th March and Sunday 28th March, 2021
Price: Tickets for each talk cost £7.50 per person, and for those seeking a ticket for each of the eleven lectures, a weekend ticket is available costing £60. This event aims to raise money for the Ian Coulson Memorial Postgraduate Award fund to help those at CCCU wishing to research Kent history topics.
Description: This educational event run by the Centre for Kent History and Heritage gives audiences the chance to hear leading academics talk about their research interests. All lectures will be 'live', under the themes of 'Royalty and Conflict', 'Minorities', 'Manuscripts and Religion', and 'Social History'. Speakers include a friend of The Tudor Travel Guide, Professor Glenn Richardson, as well as Amy Blakeway and Keith McLay, Andy Wood, Pamela King and Matthew Johnson.
This event normally happens in the real world, so this year we have a great opportunity to parachute in when normally, this event might be well out of reach for most of us. For more details, see here.
I hope you have enjoyed listening in to this podcast episode and have managed to pick up a couple of tips around what things cost when travelling around the UK – and how to save some money along the way. Remember, this is your port of call for any questions you might have about travelling to and around the UK and visiting your favourite Tudor places. If you want a specific topic tackled, you can contact the show by sending me a message at hello@thetudortravelguide.com, or if you have a recommendation for a place to stay, why not let me know about that, or even better come on the show and tell your Tudor time travellers all about it!