The Lost Tomb of Henry VIII: Harry and Meghan Walk Over Royal Bones
This post contains some affiliate links
On Monday 19 September 2022, Queen Elizabeth II will be laid to rest in the King George VI Memorial Chapel, part of St. George's Chapel at Windsor Castle, next to her husband of 73 years, Prince Philip. The Queen will be also surrounded by her family in the burial spot. Her parents, King George VI, who died in 1952, and Queen Elizabeth the Queen Mother, who died in 2002, as well as her sister, Princess Margaret, who also died in 2002, are all interred at the King George VI Memorial Chapel, part of St. George's Chapel. A couple of years back, I was intrigued to find out more about the place of burial of one of the Tudor dynasty's most infamous monarchs: Henry VIII. He is buried alongside Jane Seymour in the crypt underneath the main chancel. But Henry himself had much bigger plans for the place that would commemorate him. It was the tomb that never was and it is a fascinating story. I initially wrote this blog in the run-up to the wedding of Prince Harry and Megan Markle in 2018, as I knew they would literally be walking over royal bones as they made their way to the high altar. So, if you'd like to follow in Harry and Meghan's footsteps, and walk over royal bones, then read on. 
Today we explore the strange story of the royal tomb of one of the most famous monarchs in Tudor history: King Henry VIII, whose body was laid to rest in St George's Chapel at Windsor castle. It was meant to be a grand monument to the man with a gargantuan ego that nobody, it seems, could be bothered to complete. It's ironic, isn't it that such a 'great' king lies beneath such a meagre monument? What happened? Well, let's go in search of the lost tomb of Henry VIII and find out.
St George's Chapel and The Lost Tomb of Henry VIII
Now, are you a fan of Henry VIII, or are you just a bit peeved at the way he treated the women in his life? I know I fall into the latter camp! Have you ever wished you'd just like to give him a piece of your mind? I have. Of course, that is never going to happen; all those characters we know so well, including Henry himself, are long gone. Yet, to use a turn of phrase, there is still a way to 'walk all over him' as Harry and Meghan will do as they marry in St. George's Chapel, Windsor in just under two weeks time. Henry VIII is buried alongside Jane Seymour in the crypt underneath the main chancel. But Henry himself had much bigger plans for the place that would commemorate him. It was the tomb that never was; it is the lost tomb of Henry VIII, and it is a fascinating story. So if you'd like to follow in Harry and Meghan's footsteps, and walk over royal bones, then read on.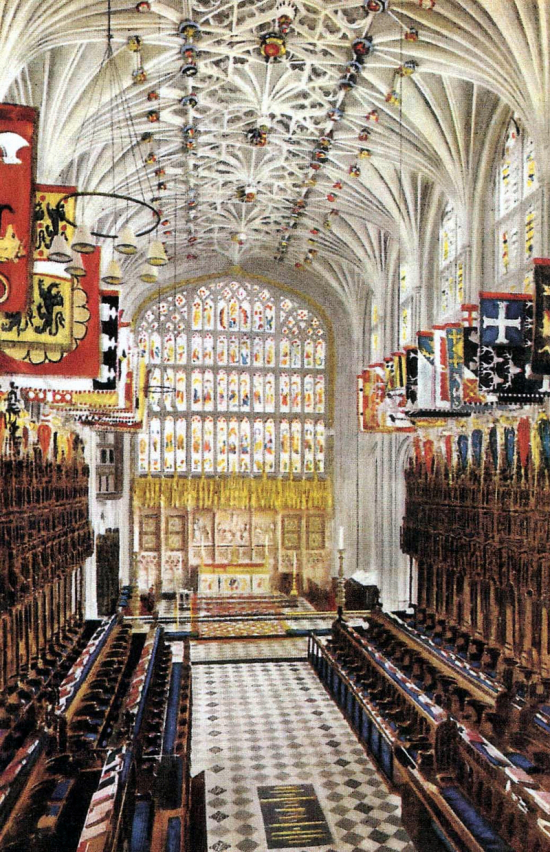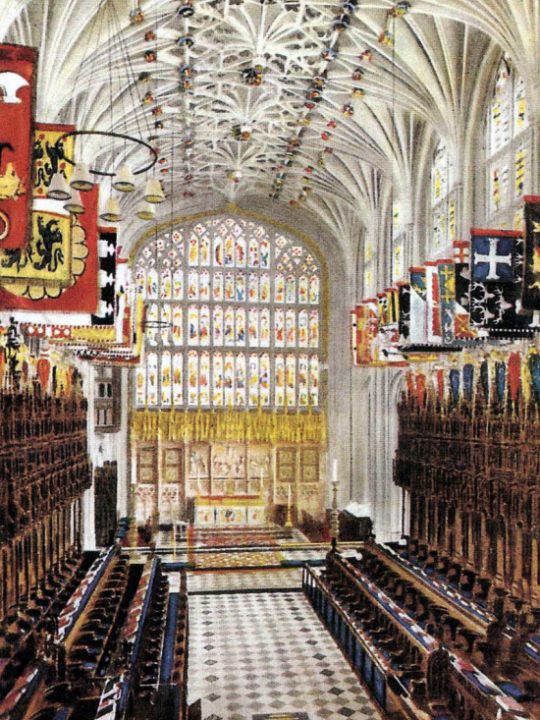 The Lost Tomb of Henry VIII: Grand Plans!
Never knowingly underselling himself, Henry had always planned a grand funerary monument, as befitting a great Christian prince of Europe. Following the fall of Cardinal Wolsey in 1529, he earmarked the marble base, pillars and statues which the cardinal had already commissioned for his own tomb. The king's big ideas were captured in a document called, 'The manner of the Tombe to be made for the King's Grace at Windsor' (now sadly lost) and it was to be erected in St George's Chapel, Windsor where Henry's grandfather and grandmother, Edward IV and Elizabeth Woodville were already buried.
It was to be 'ornamented with 'fine Oriental stones' and resplendent with white marble pillars, gilded bronze angels, four life-size images of the king and Queen Jane, and a statue of the king on horseback under a triumphal arch, 'of the whole stature of a goodly man and a large horse'. In all, there were to be one hundred and thirty-four figures, including St George, St John the Baptist, the Prophets, the Apostles and the Evangelists, 'all of brass gilt as in the pattern appeareth'.'
At the time of Henry's death in his bedchamber, in the great Tudor palace of Whitehall, the tomb was still incomplete, so Henry's corpulent body was temporarily placed inside a vault under the quire in St George's Chapel, alongside Queen Jane. There, they would remain, despite the king's great plans.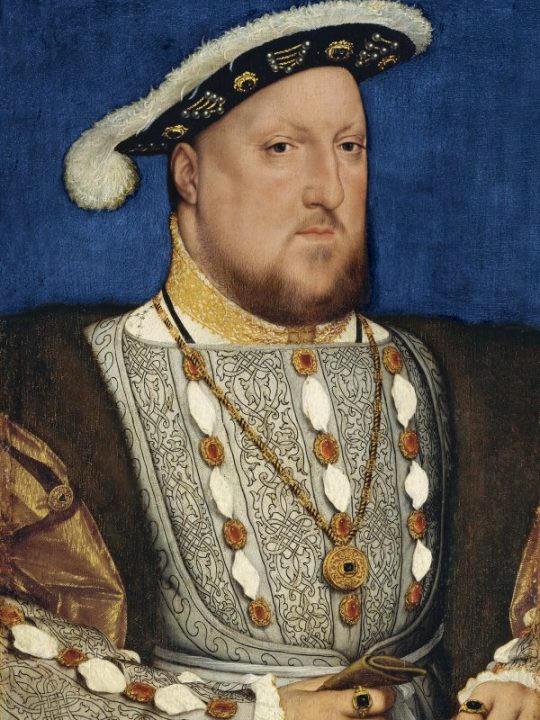 King Henry VIII's Tomb is Lost
Although Henry states in his will that the tomb was almost complete, the wars with Scotland and France during the latter part of Henry's life had drained the Exchequer and work slowed down. Around the same time, the master sculptor responsible for the work, Rovezzano, returned to Italy due to bad health.
Benedetto was commissioned to complete the tomb in St George's Chapel for the king, however, Henry VIII did not see it finished. Each of Henry VIII's three children expressed their intention to complete the memorial but failed to do so. Elizabeth I even moved the parts of the tomb to Windsor in 1565, where they stayed until 1645-6. During the Civil War elements of the monument that never was were sold to raise funds.
Just 3 years later, in 1649, the vault was opened and the body of the executed Charles I was placed next to Henry's coffin. In the same century, the body of a stillborn child of the future Queen Anne was also interred in the vault. The coffins remained undisturbed until the tomb was rediscovered in 1813 during excavations for a passageway to a new royal vault. At this time, A.Y. Nutt, Surveyor to the Dean and Canons, made a watercolour drawing of the vault (see below).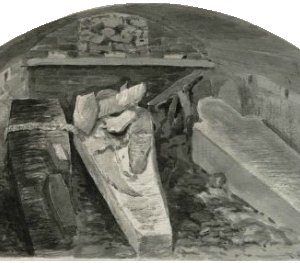 The Wolsey Angels
Until recently, only the black stone chest, later used for Admiral Lord Nelson's monument in the crypt of St Paul's Cathedral, and four bronze candlesticks, now at St Bavo Cathedral in Ghent, were thought to have survived from the Wolsey / Henry VIII tomb.
However, in 1994, two further angels appeared in an auction, unillustrated and catalogued simply as being 'in Italian Renaissance style'. They were acquired by a Parisian art dealer and later the Italian scholar Francesco Caglioti convincingly attributed them to Benedetto. In 2008 the remaining pair of angels was discovered at Harrowden Hall, a country house in Northamptonshire, now owned by the Wellingborough Golf Club, where all four angels once stood on top of the gateposts. Having been identified as being part of Wolsey's original funerary monument, the four angels were acquired by the Victoria and Albert Museum in 2015 at a cost of £5 million, thus saving an incredibly important piece of Tudor history for the nation (read more here).
When all is Said and Done…
Some years ago, when I was writing Le Temps Viendra; a Novel of Anne Boleyn, I went to St George's Chapel. Having walked in Anne's footsteps all the way to the scaffold, I felt I had some unfinished business with Henry. As I stood in front of the marble slab, looking down upon it and with tourists milling all around me, I quietly had my say. So, if you want to get an audience with His Majesty, there's no place to get more up close and personal…and when Harry and Meghan walk down the aisle and over that black slab, I'll be remembering…will you?
Visitor Information
If you are visiting Windsor Castle, particularly at the height of the tourist season, I highly recommend that you book tickets online in advance. You can buy them here. My other top tip for visiting the castle is to get there at the opening time. If you want a bit of peace and space to allow your imagination to work its wonders, I highly recommend you get ahead of the crowds.
The other thing to note about Windsor Castle is that whilst the exterior of Windsor Castle has remained largely unaltered since the sixteenth century unless you know what you are looking for, it is difficult to pick up any Tudor vibe inside; sadly, the interiors have been greatly altered over time. If you want to time travel and see the Windsor that Henry knew, you will find all you need to know in In the Footsteps of the Six Wives of Henry VIII. This covers the Tudor appearance and layout of the royal apartments in the castle, plus some of the key events which occurred there.
Notes:
Benedetto da Rovezzano (1474-1554) was a contemporary of Michelangelo and was described by Giorgio Vasari as '…among our most excellent craftsmen.' One of his early commissions, in 1508, was to finish Michelangelo's bronze sculpture of David (now lost), indicating his metalworking skills were much in demand. He worked in England between 1519 and 1543 where his pre-eminent patron became Cardinal Wolsey.
If you have enjoyed touching the past through this blog, do remember you can subscribe to my mailing list to receive all the latest news on new blogs, podcasts, videos and in-person events by clicking this link.'