'Gold and Glory' at Hampton Court Palace
The Field of Cloth of Gold was one of the most spectacular events of its age. Feted for the ostentatious display of power and wealth on both sides, its principal architect, Cardinal Wolsey, provided a glittering stage upon which two young, alpha males of Europe, Francis I of France and Henry VIII of England, might cover themselves in glory. It is fitting then that Historic Royal Palace's newly opened 'Gold and Glory' exhibition is being held in Wolsey's personal rooms at Hampton Court.
[mv_video doNotAutoplayNorOptimizePlacement="false" doNotOptimizePlacement="false" jsonLd="true" key="vc3pemorxyuhvyelv3vv" ratio="16:9″ thumbnail="https://mediavine-res.cloudinary.com/v1624801636/kcomj1exukx6dgpvulec.jpg" title="TTTG Presents: The Gold and Glory at Hampton Court Palace" volume="70″]
The exhibition brings together varied and rare pieces related to the event that allows us to pull back the veil of time and touch the magnificence of this historic meeting. Last week, I made the pilgrimage to Hampton Court to see the exhibition for myself and here, in this blog, I chart my undoubted highlights.
An Audience with Hans Holbein…
There is no artist that I adore as much as I do Hans Holbein, that master of renaissance realism! I am delighted to say that there are several noteworthy paintings in the Gold and Glory exhibition including portraits of the two central protagonists, Henry VIII and Francis I, as well as two iconic land /seascapes that capture the events as they unfolded: the so-called 'Field of Cloth of Gold' and 'The Embarkation at Dover'. The incredible detail of both scenes brings to life the epic nature of the English court on the move as well as the unparalleled temporary palace erected onsite at the 'Field'.
Both pictures capture an incredible amount of detail that could keep any lover of Tudor history fascinated for hours! I adored the way that HRP used illumination to pick out particular details in the latter picture – and the flying dragon was genius! Do make sure you linger for long enough in front of the picture to enjoy the light show. BTW If you want to read more about Henry VIII's Spectacular Temporary Palace, follow the hyperlink to a blog that I wrote last year as part of The Tudor Travel Guide's commemoration of the 500th anniversary of the Field of Cloth of Gold (2020).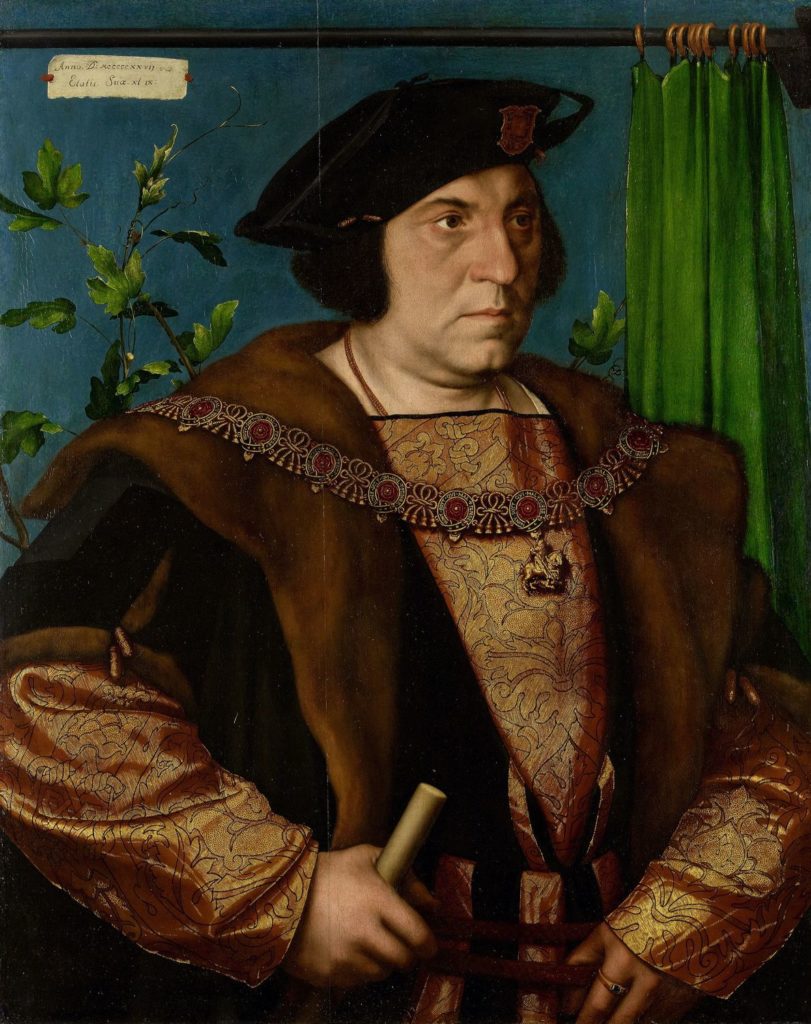 I am delighted to say that not one, but two, Holbeins are also on display. One is of Sir Nicolas Carew who cuts a dashing figure in his jousting armour. The other is a portrait of Sir Henry Guildford by Holbein on display from the Royal Collection. Sir Henry was a close companion of the young king, being himself a young man of 20 years old when Henry VIII acceded to the throne in 1509. Guildford remained a strong presence, close to the king throughout his life at court, fulfilling key military and court roles, including that of Master of the Horse at the Field of Cloth of Gold (Quiz: Can you spot him in the picture of the Field of Cloth of Gold in the next room along?).
By the early 1530s, Henry Guildford had become openly critical of the king's pursuit of an annulment in his marriage to Katherine of Aragon. In doing so, he incurred the displeasure of Anne Boleyn, who threatened Sir Henry with his removal from his office of 'Comptroller of the Household' should she become queen. Guildford retorted that she need not bother and promptly went to the king to resign. Despite this, unusually, the king does not seem to have shown displeasure towards his old friend and Sir Henry Guildford died of natural causes in 1532.
Holbein's picture exquisitely depicts Sir Henry dressed in cloth of gold; the fabric is woven into pomegranates, making clear his allegiance to the Aragonese faction. Luxurious fur lines and forms the collar of his outer gown, while the white staff of office held in his right hand indicates his position in the royal household as its 'Comptroller'.
The Gold and Glory of the Stonyhurst Vestments
While the Field of Cloth of Gold provided a theatre for courtiers to display their military and chivalric prowess, behind the scenes, the everyday routine and ritual of court life continued. One such element was the continuance of religious observance. The epicentre for this would have been the chapel, constructed as an integral part of Henry VIII's temporary palace.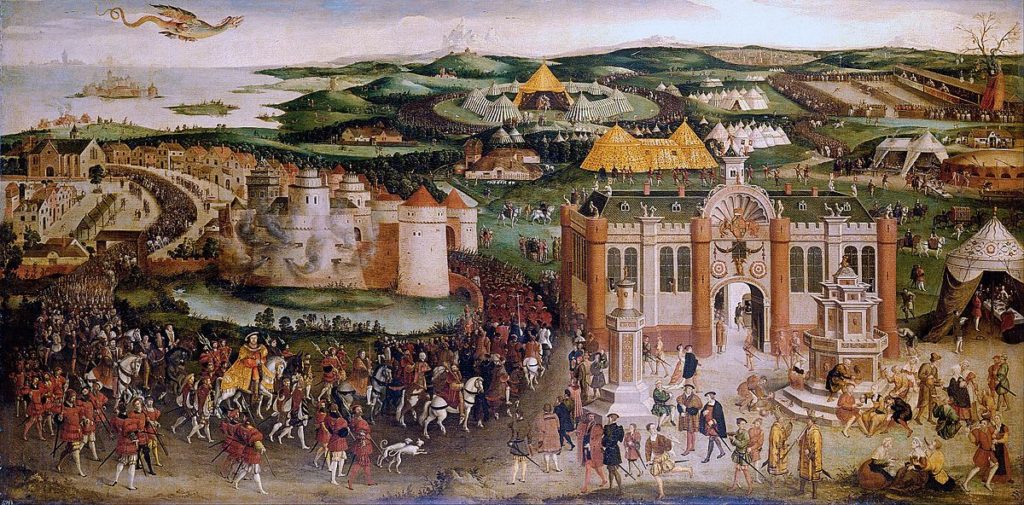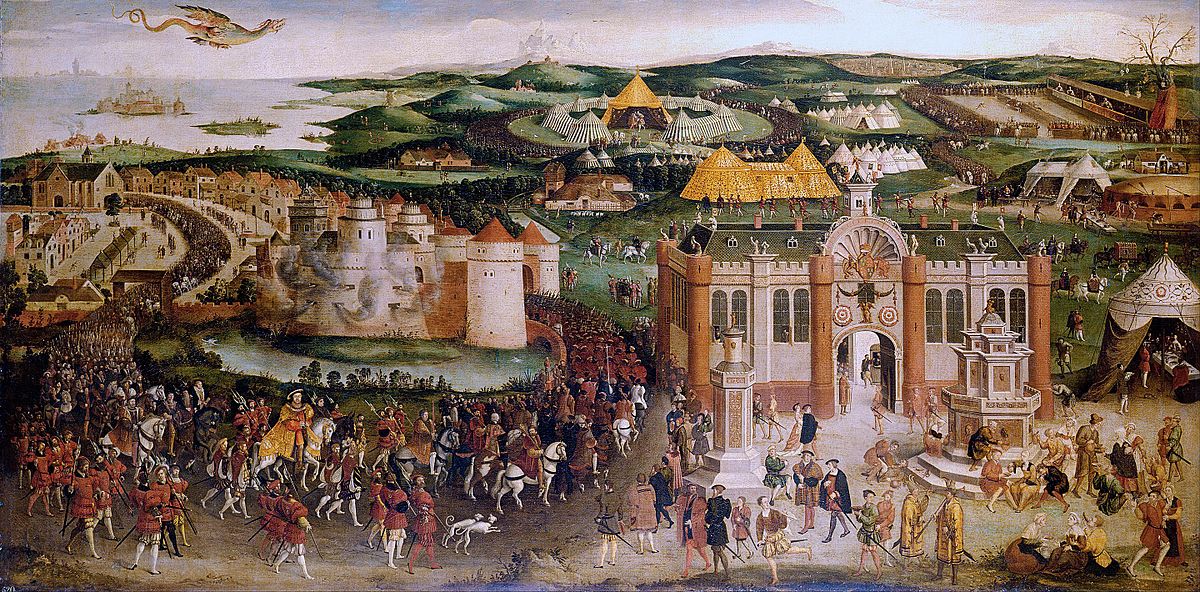 Chroniclers of the day record the existence of a chapel and its adjacent oratories for the king and queen. It is described as 'large' with the oratories looking down onto the body of the chapel, which was 'entirely covered and hung with cloth of gold and green velvet'.
Both oratories were hung with yet more, copious quantities of cloth of gold. Each had a pew 'in the English fashion'. Each chamber was adorned with six gold 'images', and 'two gold basins each worth 3,000 ducats, two gold censers, two gold boats containing intense, two candlesticks, and a chalice – also of gold'. There was also an altar and, on the king's side, we hear of 'six jewelled images' sitting upon it. These included a St. George on horseback, 'smiting' the dragon and a St. Christopher, both of which were 'of diamonds'. There was also a 'Nativity', covered in various jewels; a St. Ursula with her companions, a St. Katharine, and a St. Barbara.
Fitting perfectly into this rich fabric were the religious vestments worn by the officiating priests. A star exhibit on the Gold and Glory exhibition is the Stonyhurst vestments.
The Cope, belonging to the English Jesuit Province and held at Stonyhurst, is the sole survivor from a set of twenty-nine prestigious cloth-of-gold and red silk damask velvet copes commissioned by Henry VII for Westminster Abbey in the late fifteenth century. The cope proudly displays Tudor heraldry, including Tudor roses and the Beaufort Portcullis, the emblem of Margaret Tudor, that indomitable matriarch of the Tudor dynasty. The entire set was borrowed by Henry VIII in 1520 to take to the Field of Cloth of Gold. It is highly likely these were worn in the chapel at Guines – and possibly by Cardinal Wolsey himself. They are a dazzling collection, simply shimmering under the lights. It is simply incredible to me that they have survived in such immaculate condition. Wow! Just wow!
Making its Glittering Debut…
Occasionally, we are lucky enough to catch a fleeting glimpse of an object that has hitherto been kept away from the public's eye in a private collection. Such is the case with this gloriously vibrant tapestry, which makes its first public debut at the Gold and Glory exhibition. The tapestry shows two men wrestling, watched by members of the court, while musicians play a fanfare upon their trumpets. One such figure cuts an imposing presence, clearly watching the wrestling from a private box; he looks suspiciously like Francis I!
Indeed, most historians agree that in all likelihood it is the French king and that this tapestry captures one of the sporting events at the Field that has since become legendary. Of course, it is said that Henry and Francis wrestled each other at one point, following a challenge from the English King. Henry VIII is said to have lost the fight, although, in fact, there is considerable disagreement as to whether this event took place at all.
Nevertheless, it is a vibrant work of art, full of glorious detail, from the chapel and castle in the background to the hooded hawk held by a gentleman of some wealth position in the mid-ground of the painting. To his right, I find it interesting that King Francis appears to be looking away from the action in another direction entirely. There might be a reason for this; it has been postulated that this tapestry was once much larger but at some point was cut down. There remains the delicious possibility that Henry VIII was originally seated to the right of King Francis and perhaps they were depicted in conversation.
The tapestry bears the arms of King Francis' Lord Chamberlain, who served his master at the Field of Cloth of Gold. Since the time of its creation in 1520, the tapestry stayed in the same French family until sold into a private collection overseas in more recent times. Its permanent home is now in New York. So, my time travelling friends, don't miss out on this rare and fleeting opportunity to see this impressive artefact that tells the story of this epic event.
We all need a bit of 'Gold and Glory' in our lives right now. I visited with Deb Roil of the Tudor Times and we were both genuinely blown away by the number and quality of exhibits on display. We found ourselves moving from exhibit to exhibit gasping our amazement and delight, whether it was on account of the artefacts mentioned here, one of many others, such as the actual Treaty of Peace itself, an illuminated prayer book given my Cardinal Campeggio to Wolsey, or a 1520s salt cellar fashioned into a galleon, you will be left dizzy with delight. So, I implore you, if you love Tudor history, do not miss this collection of objects brought especially together to be enjoyed in commemoration of this historic event.
The exhibition is now open and will run until 5 September 2021. Entry to the exhibition is including in the price of your entrance ticket to the palace. Click here for more information and to book your tickets.