The Incomparable Holbein at the Tudor Court
Cover image: Hans Holbein the Younger, Anne Boleyn. Royal Collection Trust / © His Majesty King Charles III 2023.
Last week, I was lucky enough to be invited to the press viewing of an incredible new exhibition in the Queen's Gallery at Buckingham Palace. Holbein at the Tudor Court is the largest exhibition of Holbein's work in over 30 years, and incredibly, all the pieces come from the Royal Collection. This exhibition serves up a mesmerising cornucopia of Tudor treasures over three principal exhibit rooms and two smaller ones (which detail what has been learnt about how Holbein worked through the conservation of his art).
The exhibition opened on 11 November and will run until 14 April 2024. It showcases the Royal Collection's most significant artworks by Holbein, alongside other major players of the day; the exhibition is an absolute delight for Tudor lovers. Being one of the very first people to see it was simply amazing. Already the exhibition is proving very popular, and I urge you to book tickets as soon as possible.
Hans Holbein at The Tudor Court: From Parvenue to Preeminence
Holbein at the Tudor Court highlights works from Holbein's time at the Henrician court in the first half of the sixteenth century when he became the most renowned artist in Tudor England. This exhibition tells the story of Holbein's career in England, from itinerant artist to king's painter, showing how the vibrant international court culture he found on his arrival in London formed a fertile ground for his future success.
The exhibition and accompanying publication examines Holbein's artistic techniques, his career in England and the lives of the men and women who commissioned his portraits, from members of the Tudor royal family to writers, churchmen and senior figures at court. Holbein's skill as an artist was instrumental in cementing friendships, marking occasions such as marriage and as a tool in dynastic negotiations.
Hans Holbein the Younger, John Godsalve,1543; Holbein the Younger, William Reskimer,
c.1536; Hans Holbein the Younger, Sir Henry Guildford, 1527; Hans Holbein the Younger, Noli me Tangere, 1526–8; Nicholas Hilliard, Henry VIII, c.1600.
All images: Royal Collection Trust / © His Majesty King Charles III 2023.
At the heart of the exhibition are over 40 portrait drawings, which Henry VIII probably acquired at the artist's death. These careful sketches, made in preparation for finished paintings, were taken during personal sittings when Holbein sought to capture the essential features of his subject. Their survival allows us to come face to face with some of the key figures of the Tudor court, from Anne Boleyn to Sir Thomas More. While these extraordinary drawings cannot be permanently displayed for conservation reasons, the exhibition allows visitors to study them up close and see the exquisite skill that captured the imagination of the Tudor court almost 500 years ago.
The exhibition features two preparatory drawings alongside the resulting paintings. The comparison shows that the transfer process was not simply a matter of copying from paper to panel and that Holbein's mastery of the portrait included the ability to flatter his subject through subtle alterations and emphases. Unusually for Holbein, one of these works, the portrait of William Reskimer, one of the Pages of Henry VIII's Bedchamber, is painted on a reused panel.
You can also see paintings and decorative arts from the collections of Henry VII and Henry VIII, showing how the Tudor court was home to works from across Europe. Highlights include Guido Mazzoni's terracotta bust of a young boy, once said to be Henry VIII as a child, and a portrait of Louis XII brought to England as part of the marriage negotiations between that monarch and Mary Tudor, Henry VIII's sister.
Hans Holbein the Younger, Derich Born; Portrait of Sir Henry Guildford by Hans Holbein the Younger, with preparatory drawing, left, 1527; Hans Holbein the Younger, Anne Boleyn,
1532–6; Hans Holbein the Younger, Mary Shelton, later Lady Heveningham, c.1543; Hans Holbein the Younger, William Reskimer, c.1536–9; Armour garniture of Henry VIII for the field and tilt, by Erasmus Kyrkenar, 1539–40.
All images: Royal Collection Trust / © His Majesty King Charles III 2023.

The exhibition explores Holbein's arrival in England in 1526 and his first works for Sir Thomas More's learned humanist circle. It will show his broadening appeal in the 1530s as he became the most sought-after portraitist at the Tudor court. Works on display include drawings, paintings, miniatures and book illustrations by the artist and tell the stories of his sitters through the portraits Holbein produced. Among them is a beautiful drawing of Mary Shelton, later Lady Heveningham, a cousin of Anne Boleyn and friend of poets such as Henry Howard, Earl of Surrey. Shelton, herself a poet, was one of the compilers of a significant anthology of Tudor verse.
Towards the end of his career, Holbein's work for Henry VIII included portraits of the King's wives and children, as well as depictions of Henry himself. Drawings of Princess Mary (later Mary I) and Prince Edward (later Edward VI) sit alongside Holbein's similarly dynastic portraits of the Howards, one of the most powerful families in Tudor England. The final section of the exhibition shows how, after his death, Holbein's work influenced later Tudor artists such as Hans Eworth. You can get up close to drawings of Anne Boleyn and Jane Seymour and a large portrait of Henry VIII and his family by an unknown artist.
Away from the three main exhibition rooms, you will find two smaller spaces dedicated to deconstructing the artist's work and showing us how Holbein moved from preparatory sketches to the finished portrait in oil. From materials used to the pinhole and chalk technique called pouncing, we can immerse ourselves in the artist's studio and see the precision and genius of his work.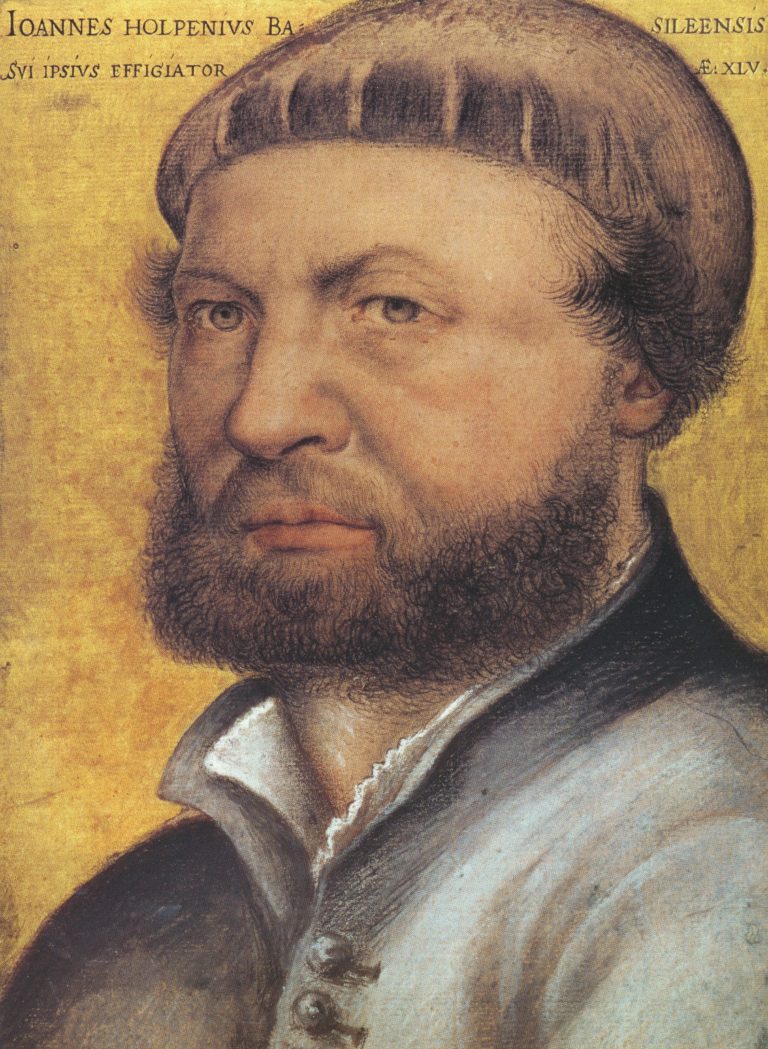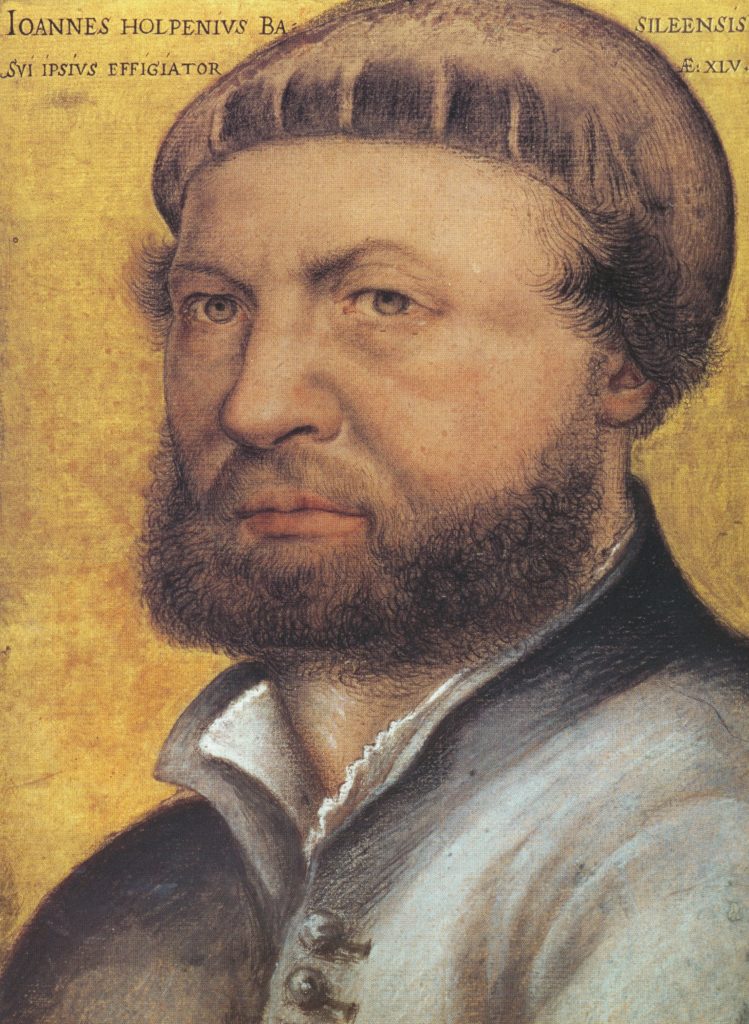 Kate Heard, curator of Holbein at the Tudor Court, said: 'Holbein's brilliant success at the Tudor court was due to his mastery of his art. His exquisite drawings and paintings were made using the techniques he had learned as an apprentice, but his impressive skill with these traditional materials saw him celebrated by contemporaries, as he is still celebrated today. It is easy to understand why the men and women of Henry VIII's court sought a portrait from Holbein as a mark of success, a record of a loved one or a gift between friends.
'Looking closely at the pieces in the exhibition, we can see Holbein at work, refining and altering as he goes to achieve the most perfect image that he can create. Close examination and technical analysis has allowed us to understand more about these endlessly fascinating works, which reveal so much about Holbein and his work as an artist in Tudor England.'
Useful Links
Holbein at the Tudor Court is at The Queen's Gallery, Buckingham Palace, from 10 November 2023 – 14 April 2024.

Visitor information and tickets for The Queen's Gallery, Buckingham Palace are available here.

The exhibition's accompanying publication is published by the Royal Collection Trust and will be
available at £24.95 from the Royal Collection Trust shop.
If you have enjoyed touching the past through this blog, you can join my membership, The Ultimate Guide to Exploring Tudor England, which brings together all my best, most comprehensive content in one place: blogs, videos, live chat, progresses, maps, itineraries, travel information and podcasts.