The Tudor Travel Guide's '12 Days of Christmas'
NOTE: IF YOU ARE FOLLOWING OUR 12 DAYS OF CHRISTMAS LIVE: SCROLL TO THE BOTTOM TO SEE THE LATEST LOCATION!
As 2022 draws to a close, I wanted to share a little gift with you all, as an appreciation for you being part of my loyal, Tudor community. In the spirit of celebrating the 12 days of Christmas, we wanted to deliver 12 'gifts' to your inbox. For the next 12 days, we will be sharing our 12 favourite blogs, podcasts and videos in our virtual Santa sack of 'presents'. Each one will take you from one magical Tudor location to the next, creating a virtual itinerary that you can savour now, or later. Do let me know of any of your favourites in the comments at the end of this blog – I love to hear from you!
Looking forward to 2023, I have some really exciting plans for what's to come – keep up to date by following me on Instagram, Facebook or via my mailing list.
The 12 Days of Christmas: Tudor Christmas Tradition
For over five thousand years, civilisation has sought to counteract the darkest season of the year with festivities that bring light, warmth and merriment.
One of the most magnificent of all, Christmas, has been celebrated for centuries, and today remains a time of festivity, peace and hope. Many of the things we do to mark the occasion – decorating our houses, cooking special meals and spending time with our loved ones – are centuries-old traditions. While the Victorian era brought many of the Christmas traditions we still hold today – Christmas trees, Christmas cards and Father Christmas – many of our Christmas festivities can be tied back to the Tudor times.
Mince pies, singing carols, exchanging gifts and sharing festive meals were all part of Tudor Christmas, which began on 24 December. For 12 days, all ranks of society indulged in feasting and entertainment. While customs have inevitably changed, as now, it was the spirit of the season that made Christmas in Tudor England so magical.
12 Magical Tudor Locations: Virtual Itinerary
We will stop at a new location on our virtual itinerary every day for our 12 days of Christmas. If you want to VIEW THE ITINERARY AS IT BUILDS ON A MAP, click here.
Whether you prefer to read, listen or watch, tour Tudor England (and beyond!) with us. Don't forget to check back here every day as we reveal each day's stop.
During the first few days of our virtual itinerary, we're in the heart of Tudor London, discovering some important, and lesser-known, Tudor locations in the city. After that, we're going to travel north, following in the footsteps of a Tudor queen, before we head towards the south of the UK ready for a trip overseas…let's get going!
Day 1
On the first day of Christmas, The Tudor Travel Guide brings to you…Sutton House in London's Hottest Borough: A Tudor Place Like No Other.
I came across Sutton House while I was on my quest to detail the great houses belonging to Thomas Cromwell and his circle. As a unique architectural and historical survivor of the early sixteenth century, it's a 'must see' for any Tudor-loving aficionado – so if you missed it earlier this year, now is your chance to catch up here. Joined by our tour guide, Jo Nightingale, we look around the house once owned by aspiring Tudor courtier, Sir Ralph Sadler, who built the house when his family, and his fortunes, were on the rise. Described as a 'small gentry house' and one that has 'no direct parallels', Sutton House is utterly unique. Want to find out more? Head over to listen to the podcast episode here and see more images of Sutton House here.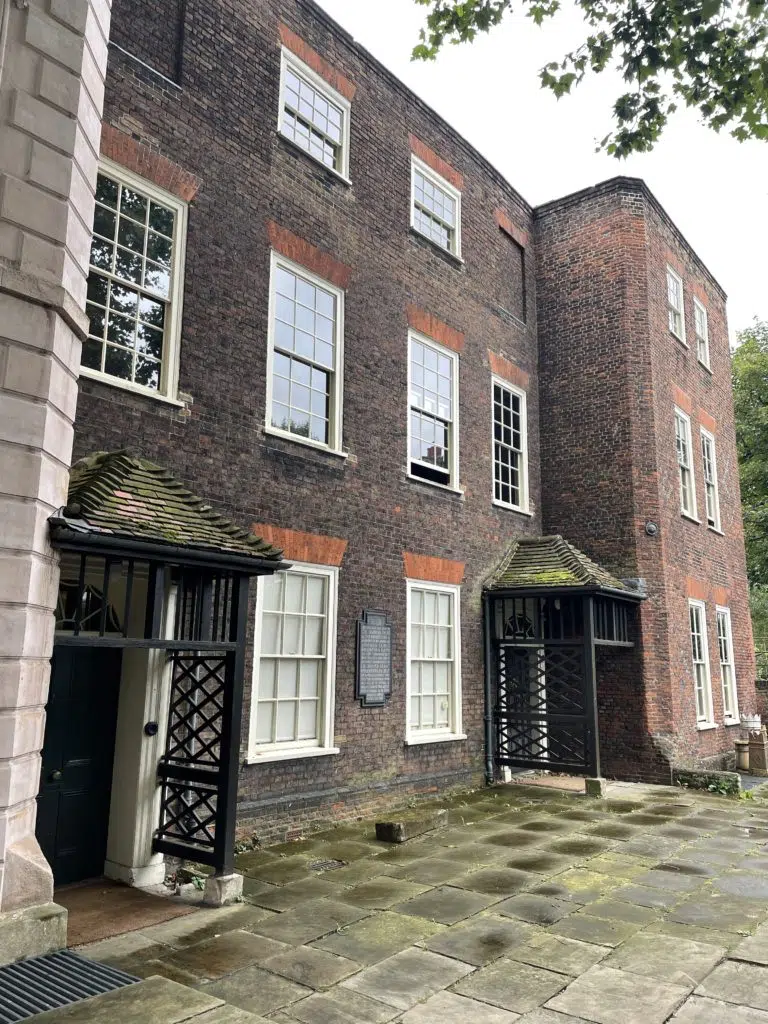 Day 2
On the second day of Christmas, The Tudor Travel Guide brings to you…Tales From The Tower of London.
Heading south towards the Thames, our time in London wouldn't be complete without a stop at the infamous Tower of London. The Tower has a rich and complex history, having housed the Royal Mint, the Royal Armouries and the Crown Jewels. Its ancient walls imprisoned some legendary inmates, including perhaps the most famous of all, Queen Anne Boleyn. Joined by Assistant Buildings Curator, Alfred Hawkins, let's explore some of the well-known, and much less well-known, nooks and crannies of this notorious fortress/palace and prison. Head to The Tower of London here.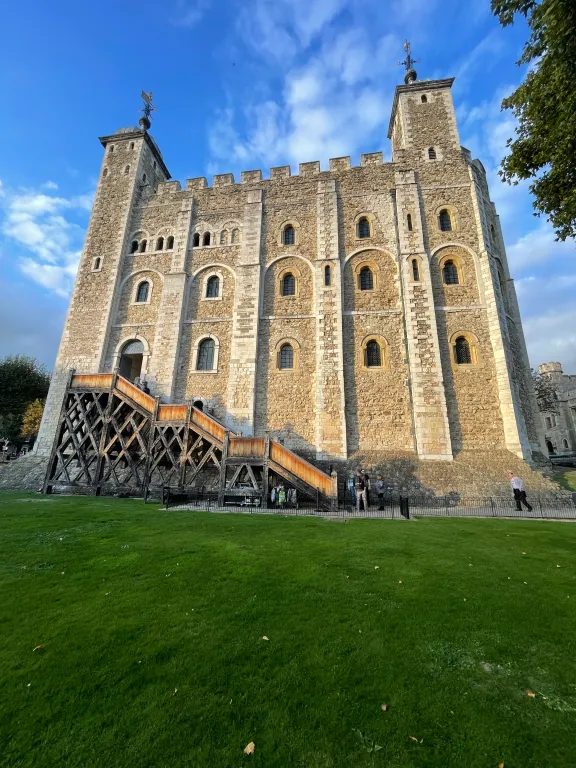 Day 3
On the third day of Christmas, The Tudor Travel Guide brings to you…The Charterhouse and A Life of Splendid Isolation: How Did a Carthusian Monk Live?
Heading north-west from the Tower of London, we make our way towards a building that was once one of the most illustrious religious monasteries in England: The Charterhouse. A short distance from the epicentre of the Tudor court in London, Whitehall, the Charterhouse was a convenient location for an aspiring Tudor courtier. We'll get to know the various Tudor owners of the Charterhouse, and find out more about the lives of the residents who spent their time here. Let's get away from the pestilence and bustle of the city and head across Charterhouse Yard to discover life as a Carthusian monk…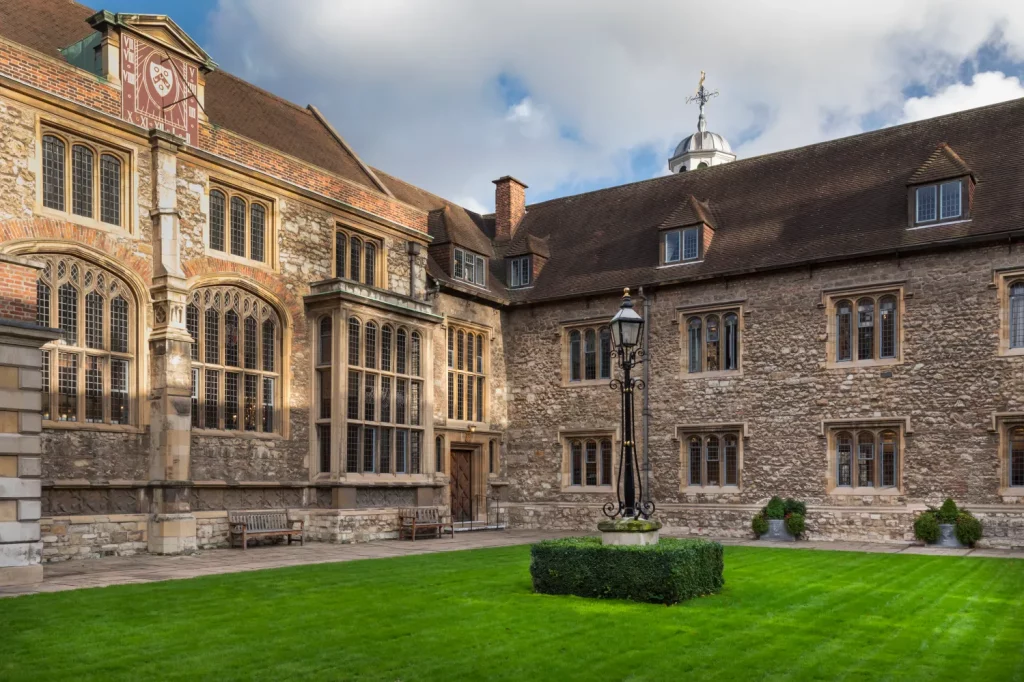 Day 4
On the fourth day of Christmas, The Tudor Travel Guide brings to you…Mortlake Manor: Thomas Cromwell's Palatial Residence on The Thames
Today we step off the beaten track, to visit a lesser-known Tudor location. Meet Mortlake Manor, in Surrey. In its time it was once a palace and later became a cherished residence of one of the most powerful figures in Tudor history – and a time that would change the very fabric of English society. Long since lost to time and yet, 500 years ago, it witnessed the pinnacle of one man's rise to glory and his bloody demise.

Let's take a river trip up the Thames from the epicentre of English power, Westminster, to Mortlake Manor, en route on the south bank of the river, halfway between Putney and Richmond. Let's rediscover Mortlake.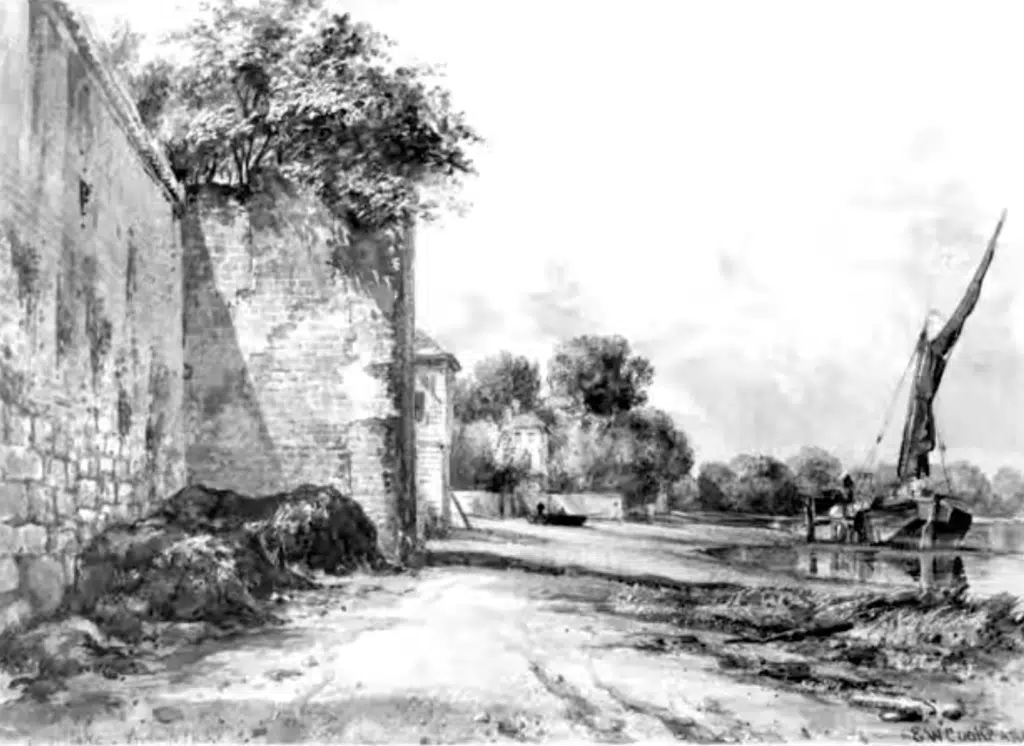 Day 5
On the fifth day of Christmas, The Tudor Travel Guide brings to you…Hampton Court Palace.
No trip to London would be complete without a trip to the place at the top of every Tudor traveller's list: Hampton Court Palace. We head south-west from the Charterhouse to the infamous russet-coloured walls of Hampton Court. The site of births, deaths and betrayal during the Tudor period, Hampton Court witnessed public dramas and private lives. Home to many pivotal events – the stillbirth of Anne Boleyn's second child in 1534; the birth of the future Edward VI in 1537 and death of his mother, Jane Seymour, shortly thereafter; the arrest of Katherine Howard in 1541 and finally Henry's marriage to Katherine Parr in 1543 – let's go back to explore this fascinating palace. Click here for your ticket to Tudor Hampton Court.
PS. If this video leaves you wondering more about the origins of Hampton Court Palace, before the great palace we know today took shape, you can find out about its earliest origins here.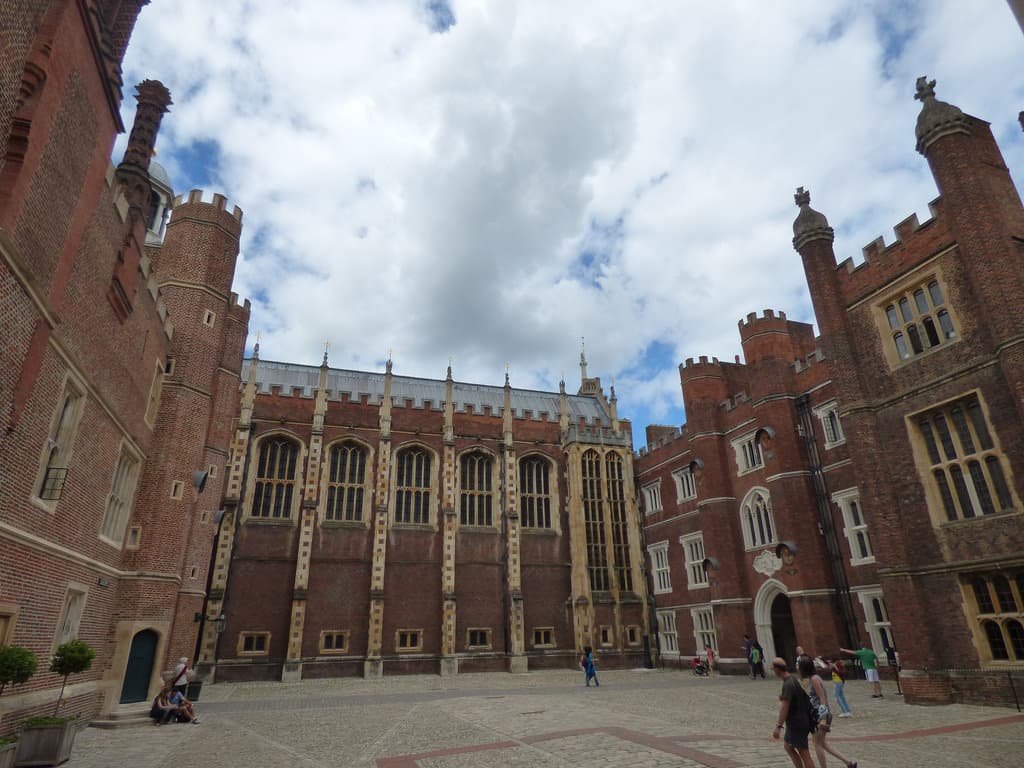 Day 6
On the sixth day of Christmas, The Tudor Travel Guide brings to you…St George's Chapel, The Burial of Elizabeth II, Plus More Tales from Inside the Royal Vaults.
Next, we head north-west to Windsor, to visit a site that has been in the spotlight this year. The death of Her Majesty, Queen Elizabeth II on 8th September saw us witness historic events associated with the death of a monarch. Ceremonies steeped in tradition, royal funerals and burials follow many of the same rituals as those hundreds of years before them.
The place in which the late Queen's body rests, alongside that of her parents, sister and beloved husband, goes well beyond the story of just that vault. The Chapel of St George has a history that stretches back to the time of Henry I, who ruled England between 1100-1135.
In 2023, we will continue to witness key moments in history with the coronation of King Charles III. A truly fascinating event, you can expect lots more on this from me here at The Tudor Travel Guide. For now, click here to find out tales from inside the royal vaults.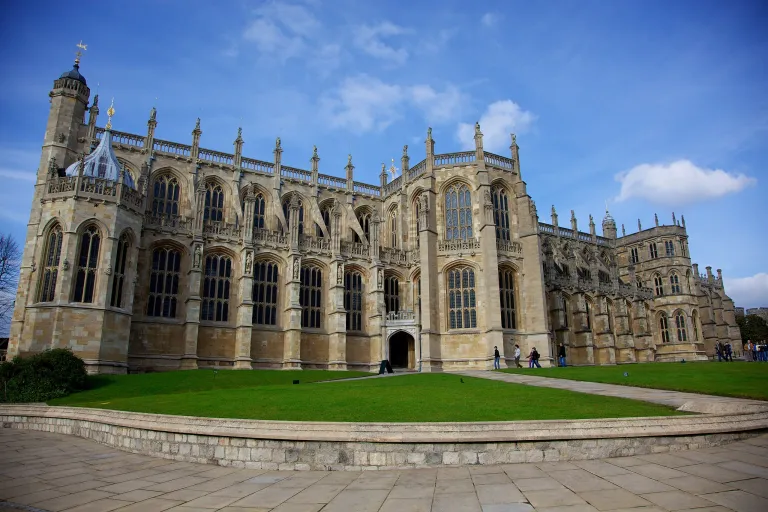 Day 7
On the seventh day of Christmas, The Tudor Travel Guide brings to you…The Battle of Stoke Field: A Battlefield Walk with Kevin Winter.
We're heading out of London, on a journey some 100 miles north to Nottinghamshire to the much overlooked site of the Battle of Stoke Field. Now nestled in the countryside, the site was witness to the final major conflict in the Wars of the Roses.
It was here that the House of York suffered a crushing defeat in a bloody battle that killed some 7,000 men. Join me and Kevin Winter from the Battlefields Trust, as we take a walk around the site and Kevin shares the story of the bloody battle, that brought an end to the Wars of the Roses. Put your boots on, it's time to go for a stroll!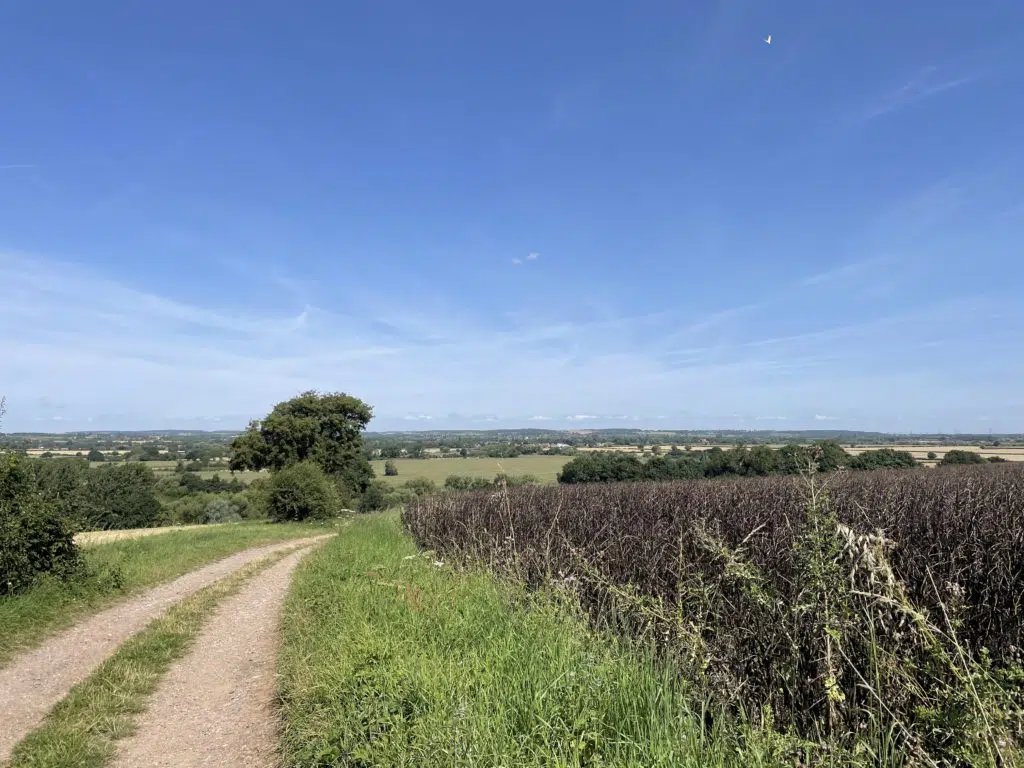 Day 8
On the eighth day of Christmas, The Tudor Travel Guide brings to you…On Progress with Elizabeth I: Norwich 1578 with Aidan Norrie.
Next, we journey east to a county steeped in Tudor history: Norfolk. Earlier this year, to mark the anniversary of Elizabeth I's summer progress of 1578, I looked back at this historic tour. Having departed Suffolk, Elizabeth began her 'Royal Progress' in Norwich. Heading back to Tudor Norfolk, I followed in Elizabeth's footsteps from her reception at the city gates to her lodgings adjacent to the cathedral.
Join me and expert guide, Aidan Norrie, as we discover The Boleyn Chantry Chapel in Norwich Cathedral and learn more about Elizabeth's historic progress to England's second-largest Tudor city. Are you ready for some time travel? Head to the video here.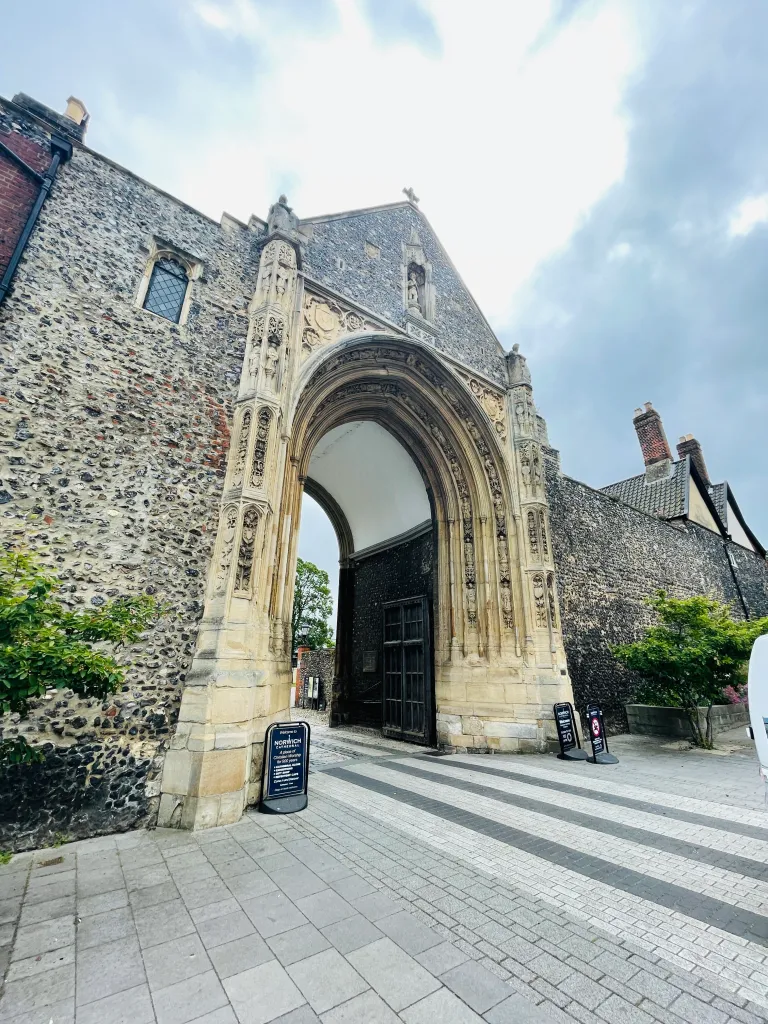 Day 9
On the ninth day of Christmas, The Tudor Travel Guide brings to you…The Unexpected Story of Anne Boleyn's Book of Hours with Kate McCaffrey.
Making a long journey south, we head to the childhood home of Anne Boleyn, Hever Castle. It probably won't come as a surprise to you to hear that my interest is well and truly piqued by any historical findings relating to Anne Boleyn, so I was absolutely thrilled to find out more about a book once owned by Anne herself. Join me at Hever Castle in Kent, where I chat to Kate McCaffrey, Assistant Curator. We discuss a very special project that Kate has been working on: the study of Anne Boleyn's Book of Hours. Kate shares some spectacular and unexpected findings that tell us more about what happened to Anne's book, and how a network of Kentish women treasured her memory. Want to find out more? Tune in here.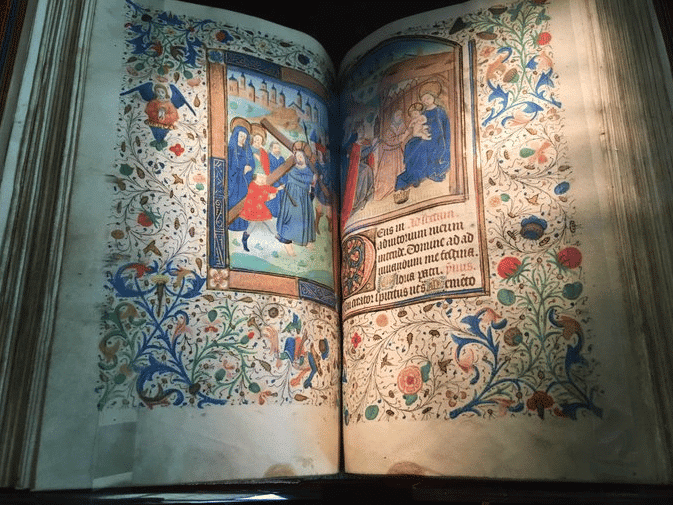 Day 10
Heading east across the county of Kent, we head to Canterbury, to a spectacular sight. One of my favourite blogs this year, I wanted to give you a chance to catch up or re-read. A glittering party that dazzles even at the distance of 500 years well and truly piques my interest, and this blog delves into the detail of such a splendid event.
In late May 1520, the English royal household began to make its way from Greenwich toward the Palace of Calais to enjoy what would become one of the most lavish and celebrated parties of the Tudor age: The Field of Cloth of Gold. Before the celebrated meeting between King Henry VIII of England and his French counterpart and rival, King Francois I of France could unfold, there was a last-minute meeting held at Canterbury Cathedral and its adjacent Archbishop's Palace. With three dominant Princes of Europe involved, there was a fair degree of one-up-manship on display. Let's find out more…click here.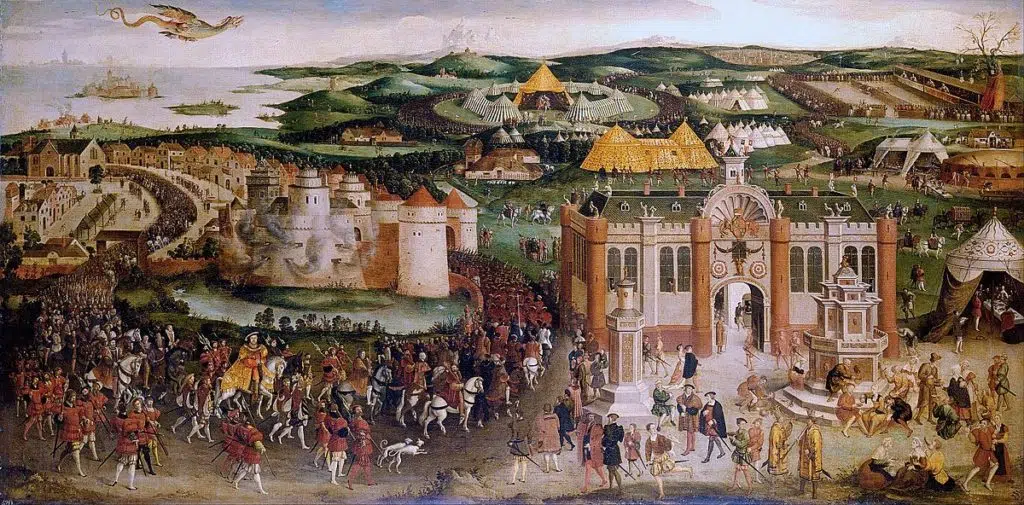 Day 11
On the eleventh day of Christmas, The Tudor Travel Guide brings to you…Lost in France: A Delightful Journey in the Footsteps of Anne Boleyn.

Today we travel across the Channel to France, as we follow in the footsteps of a young Anne Boleyn in France. Let's head to The Loire Valley, as we explore Château de Blois, to Château de Chaumont, to Château D'Amboise imagining how they would have looked during the sixteenth century. Are you ready for a tour of some of the finest French Renaissance architecture? Let's go!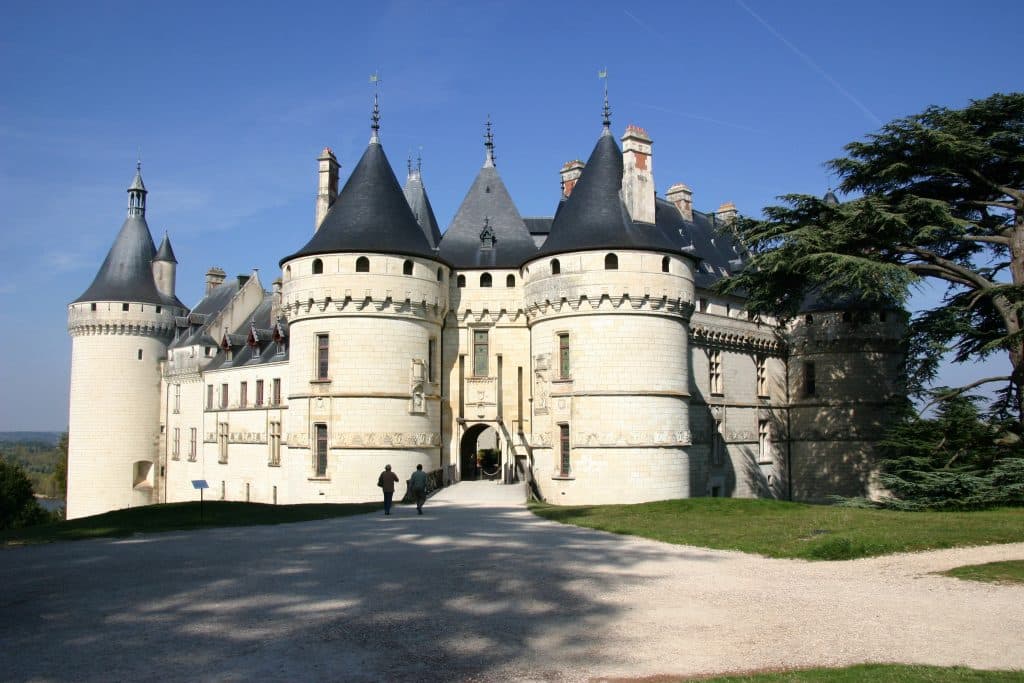 Day 12
On the twelfth day of Christmas, The Tudor Travel Guide brings to you…Calais: The Glittering Triumph of Anne Boleyn.
On our way back to England from France, our final destination brings us to a fascinating location: Calais. In the first half of the sixteenth century, Calais was the only jewel of English sovereignty that remained as part of the French mainland. It was a remnant of the vast empire of England's Plantagenet dynasty; a dynasty that had once reigned across not only England but much of northern and western France, as far south as Aquitaine.
A charming city, once full of architectural delights, has been almost completely obliterated (and now, hauntingly, exists simply as a ghost in the imagination). I've been mesmerised by this ancient, lost town. Thankfully, old town plans, sketches of the city's skyline, descriptions of the main streets and prominent buildings, allow us to piece together how Calais looked during its Tudor hey-day. Travel back with me, and experience the sights and sounds; visualise the royal procession as it wound its way from the port through the city's narrow streets and open squares, heading toward the royal lodgings at the Exchequer.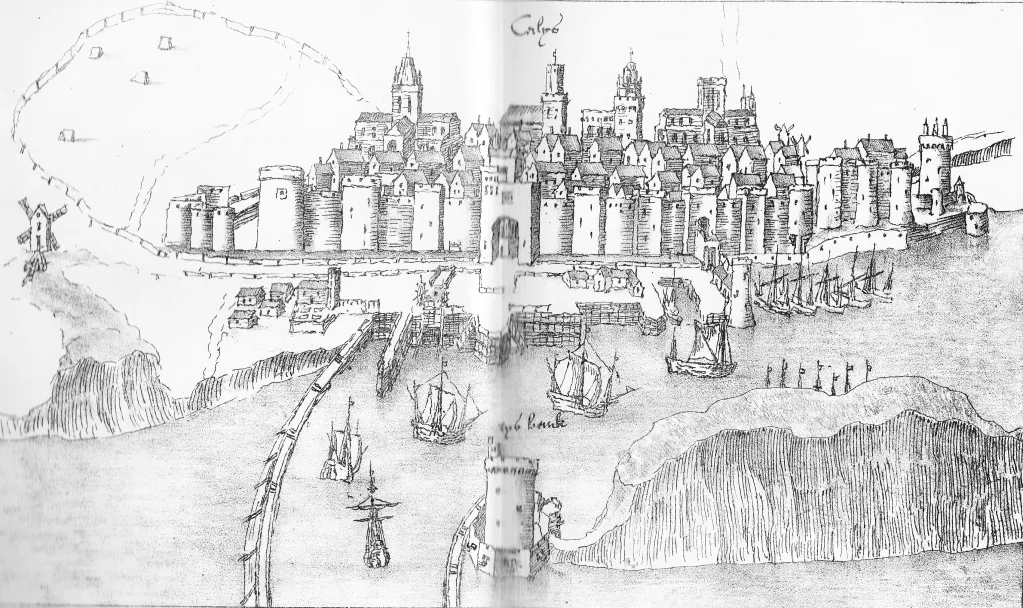 Sources & Further Reading
A Tudor Christmas by Alison Weir and Siobhan Clarke