The Priory of St John: Power, Influence and Prestige in Tudor London
One of my favourite things in the world is uncovering a hidden gem; a little-known Tudor fact, artefact or location. My second favourite thing is telling you all about it, so you have the chance to enjoy it too. As Pooh Bear once said, 'It's so much friendlier with two!' Well, this week I want to share one of my recent 'discoveries': the remains of The Priory of St John in Clerkenwell, London.
Today these remains are preserved in the form of the Museum of St John. Central to the museum is a Tudor gatehouse, built in the year 1504. St John's Gate, as it is known, once gave entrance to the inner courtyard of the Priory of St John, around which all the significant priory buildings once stood. It is off the well-beaten tourist trail. So, you could easily miss it. For this reason, I count it to be one of London's hidden, Tudor treasures.
My adventure started with an invitation from His Grace, King Henry VIII, to enjoy a Tudor-themed, guided tour of the museum. You know how partial I am to an audience with His Majesty. Now, by exclusive invite, I was to enjoy another encounter with one of the sixteenth century's larger-than-life figures and find out about another fascinating Tudor location in the heart of London.
A Brief History of the Priory of St John
The Order of St John is an ancient one. It was founded in Jerusalem almost 1000 years ago, in 1080, by a sect of Benedictine monks who established a hospital there to care for pilgrims of all faiths who had made the long journey to the Holy City. After Jerusalem was captured by Crusaders, the monks took up a military role in addition to their traditional monastic vows. And so began this rather peculiar quasi-religious/military Order, who established their English headquarters in Clerkenwell, in London, in 1140.
A great monastery was built just north of the City walls in tranquil, open countryside, close to a handful of other notable religious houses; St Mary's Nunnery, The Priory of St Bartholomew (which I write about in one of my Tudor Travel Guides: 'Your Tudor Weekend Away…in London') and the Charterhouse. The Priory of St John thrived through the Middle Ages, and soon became closely allied to the Crown. The size of the complex, the wealth of the Order, and the luxurious and palatial lodgings made it both a powerful and influential ally as well as an oft' used residence for the royal family and distinguished foreign visitors.
Unfortunately, like other religious houses, the Priory of St John was dismantled and disbanded in 1540 as part of the Dissolution of the Monasteries. Although briefly revived during the reign of the Catholic Mary I, it was ultimately dissolved for good upon the accession of her half-sister, Elizabeth. Now, thanks to a series of Tudor tours running throughout the summer season, not only can you discover the delights of this Tudor treasure, but you may do so by royal appointment!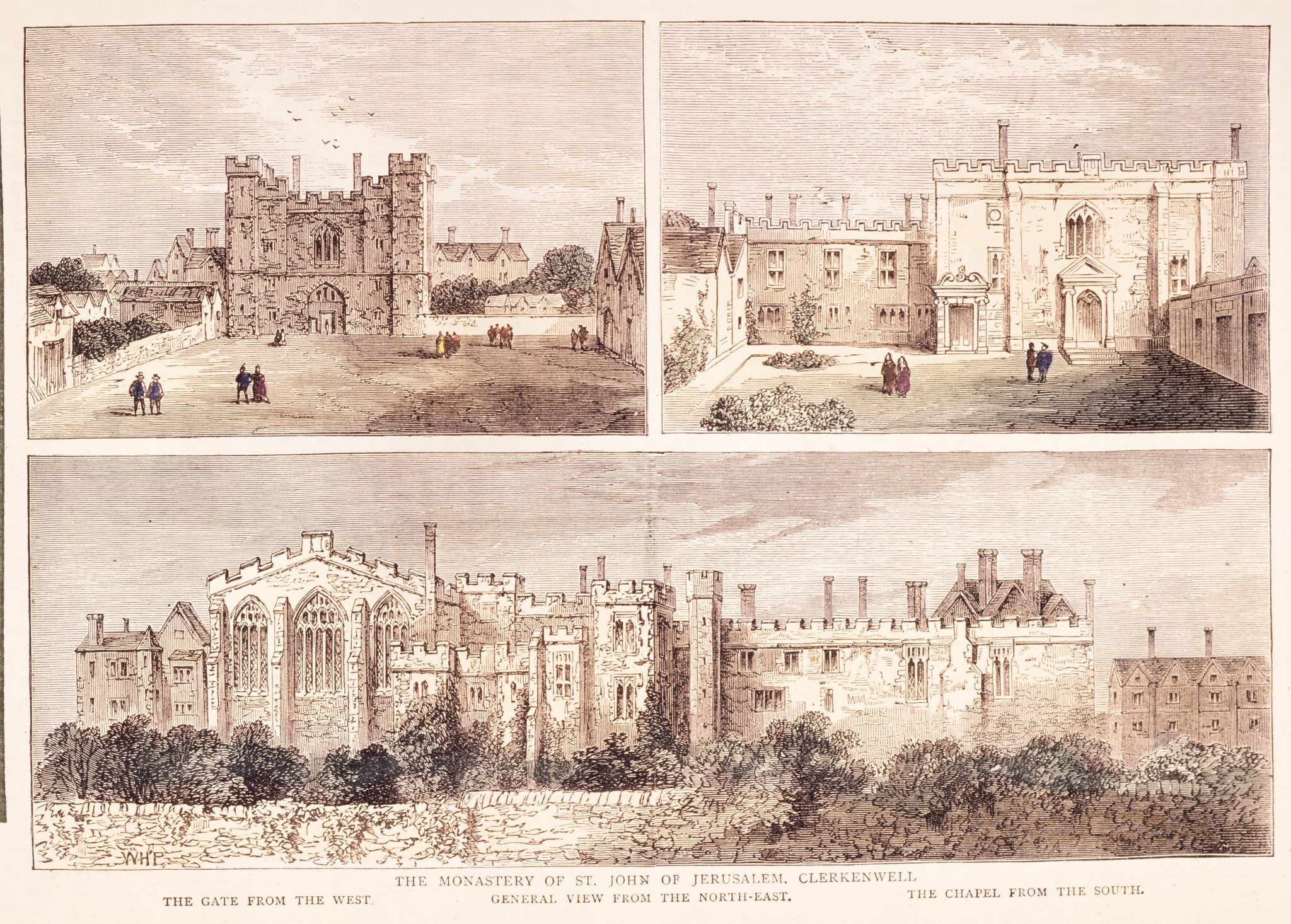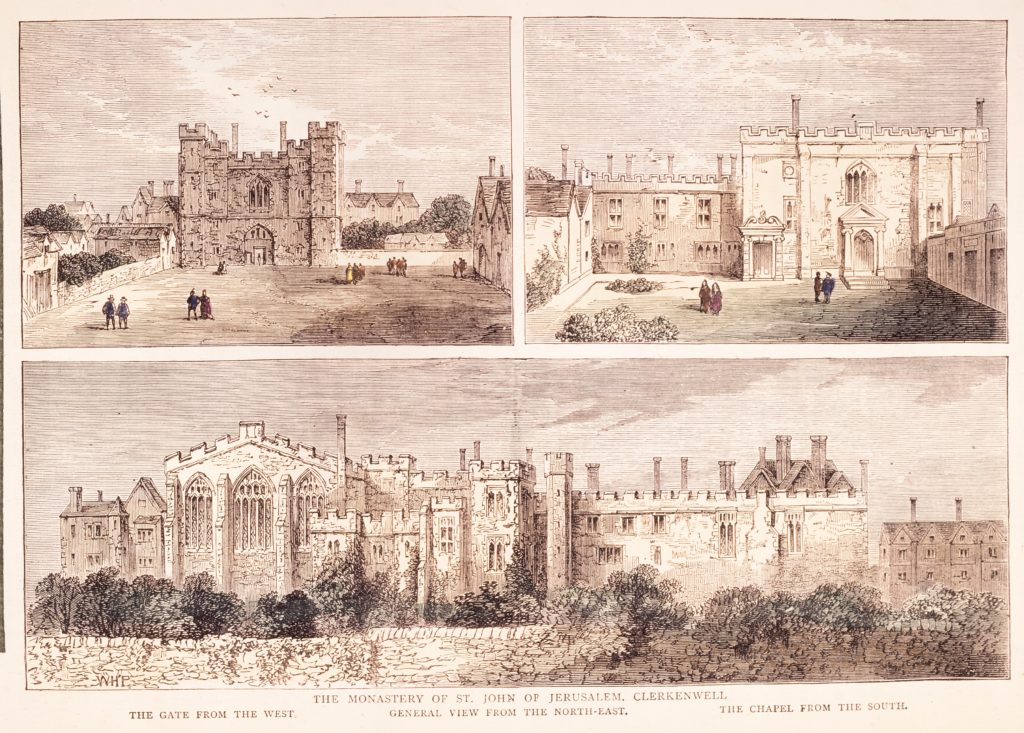 An Evening with Henry VIII
There's delicious anticipation to be had when visiting a new Tudor location. I am sure you know what I mean. Nothing could dampen that tingling in my stomach as I was spewed out onto the bustling pavement in front of Farringdon Tube station, close to the heart of the City of London. It was bang on the rush hour. I began weaving my way through the morass of busy Londoners, most heading home, each with the same level of focus as a heat-seeking missile.
Quite in contrast, I entered a familiar state of wonderment that always creeps over me as I approach an unfamiliar, Tudor building. I stop to read one of those much-neglected information boards, sited right outside St John's Gardens, a little oasis of green, close to the old monastery, which is now used by office workers as a place to escape their desks and devour their lunch. I am so intent on reading about the history of the site that I barely notice a woman close by, watching me as if my act of lingering interest requires further interrogation. I am sure she is curious. Maybe she had passed by hundreds of times but never gave much thought to the garden's hidden past.
Meanwhile, I feel my imagination open me up, as ancient-sounding street names lure me in. Eventually, I turn into St John's Lane to be confronted by the priory's ancient gateway, packed in amongst modern office blocks. What a joy! I want to stop and tell passersby what a miracle it is that this gateway survives but, of course, I keep my excitement to myself. I may be a crazy, Tudor lady, but I try to keep it under control in public!
As I am a wee bit early, I examine the gateway from all sides, musing particularly on a blocked-up doorway on the north side, which is so small one might think that it was used by hobbits! I would only later find out the surprising truth. It's slightly bonkers, and if you want to find out the answer for yourself, you will need to listen to the accompanying podcast.
At the appointed hour, we were shown into the museum area, which is light, bright and modern, the design weaving itself attractively into the old facade of one of the original priory buildings, adjoining the gateway. It is a very becoming space, telling the story of the Order and the Priory of St John. Delightful!
But a royal audience awaited. And so our party was conducted into the council chamber, sited directly over the gatehouse arch, where King Henry himself was soon regaling us with tales of the history of the priory and why it was dissolved. In the Edwardian great hall, we were shown some of the treasures of the museum, including the charter of Mary I, giving the Order back its lands. Although not original, the ceremonial hall was designed sympathetically and in keeping with the original, surviving buildings. Of course, we rounded off our tour by posing with the king for our obligatory photos. You didn't think I'd miss that opportunity, did you?!
I so enjoyed my visit that I returned the following week for a complete guided tour, including the crypt of the original priory church. You can join me in the podcast accompanying this post as museum director, Tom Foakes, takes us around what remains of this once great, religious institution. It's amazing what you find lurking underground and hidden from plain sight!
The Museum of the Order of St John can most definitely count itself as one of London's best kept Tudor secrets. For me, the great lure of the place is its extraordinary history and close ties with English royalty – and if you love exploring places that give you room to breathe, linger and allow your imagination to take hold, then make sure St John's is on your Tudor itinerary. Oh, and don't forget! You could easily make up a full morning or afternoon in the area exploring two other fascinating sites alongside this one: The Charterhouse and the Church of St Bartholomew the Great. Both are easily within walking distance of St John's Gate and the combination would make for a packed half-day of Tudor-themed delights.