Coronation Gowns: Sensational Royal Dress Through Time
Queen Elizabeth II's reign of the United Kingdom spanned seven decades. Born in 1926, Elizabeth was the daughter of King George V's second son, and had little expectation of succeeding to the throne until her uncle, King Edward VIII, abdicated in 1936. After the death of her father, King George VI, 25-year-old Elizabeth was called upon to assume the throne, beginning a momentous reign. As we look back on the life of our inspirational queen, let's remember some of the most magical moment of her reign, including her coronation in 1953. In this blog, I look at one of the most important outfits in a monarch's reign: their coronation dress. 
The epitome of royal splendour, coronation gowns are one of the most important outfits a queen will ever wear. As we celebrate the extraordinary milestone of seventy years since Queen Elizabeth II's ascension to the throne, the first British monarch to celebrate a Platinum Jubilee, let's turn our attention to her coronation gown. An outfit steeped in tradition, are there any similarities between the coronation gowns of Elizabeth I and Elizabeth II?
Westminster Abbey: A Thousand Years of Tradition
Having succeeded to the throne on 6th February 1952 after the death of her father, King George VI, Elizabeth II was crowned Queen of England on 2nd June 1953. The sixth queen to have been crowned in Westminster Abbey in her own right – the first was Queen Mary I in 1553. Coronations have been held at Westminster for over 900 years, with the first being that of William the Conqueror on Christmas day, 1066.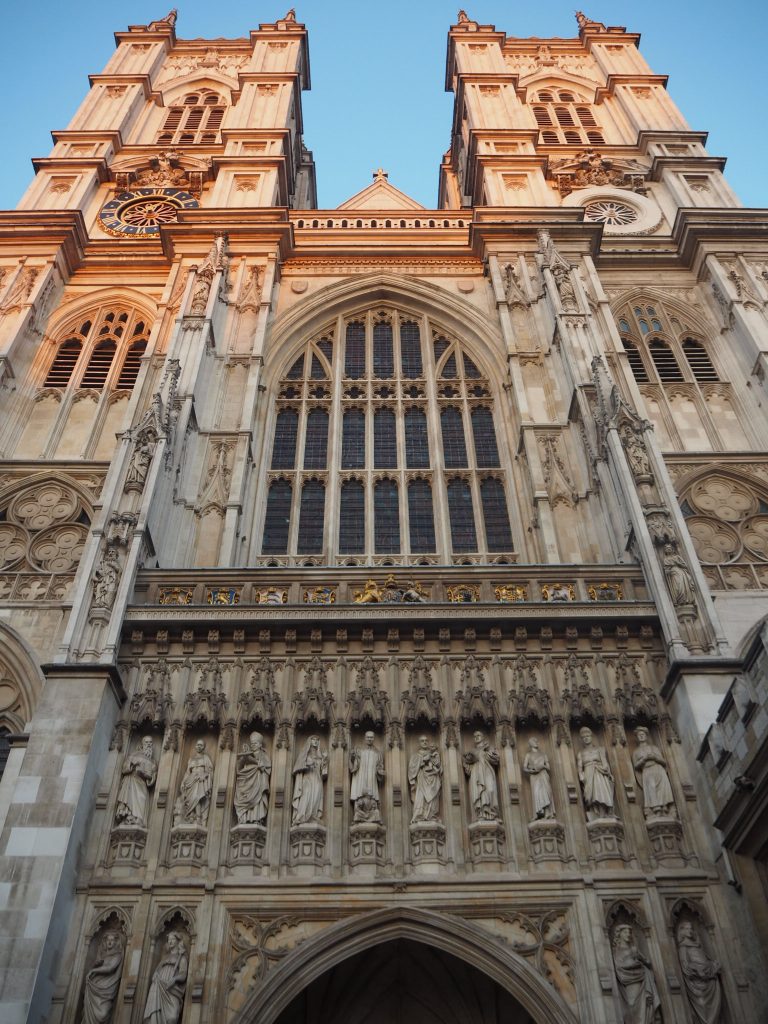 The first coronation to be televised, Elizabeth II's coronation allowed us a fascinating window into such a monumental occasion. Over the last thousand years, the traditions of royal coronations have barely changed. While coronation outfits bring some modernity and originality to the ceremony, they must also follow strict design guidelines, paying respectful homage to the centuries of traditions that came before them.
Coronation Gowns: Opulence For Elizabeth II
Created by Ede and Ravesncroft, who have been robe makers to the British monarchy since 1689, Elizabeth's Robe of Estate was made of velvet, silk, satin, damask, sarsnet, cloth-of-gold and ermine. Measuring over 6 metres long, the outer layer featured crimson velvet, lined with pure silk English satin. The trim on the robe and cape was Canadian ermine, (fur from an ermine, a short-tailed weasel) which is in keeping with royal tradition. The robe features gold lace and filigree embroidery in the shape of wheat ears and olive branches, symbolising prosperity and peace. The robe was worn on the Queen's arrival to and departure from her coronation. It is thought that it took 12 embroideresses, using 18 different types of gold thread, more than 3,500 hours to complete the work between March and May 1953.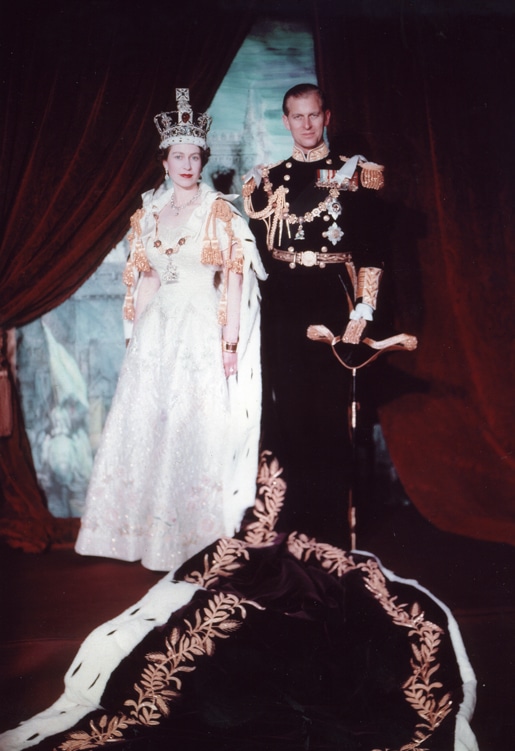 Elizabeth II's coronation dress was designed by Norman Hartnell, and featured a similar sweetheart neckline to her wedding dress in 1947, but had a fuller, heavier silk skirt. Made from white Duchesse satin, it was embellished with embroidery in gold, silver and pastel-coloured silks, encrusted with pearls, crystals and sequins. Echoing earlier Coronation gowns, the needlework, completed by the Royal School of Needlework, included national botanical emblems of the United Kingdom and Commonwealth countries, including the English Tudor rose. Since the Coronation, The Queen has worn the Coronation dress six times including the Opening of Parliament in New Zealand and Australia in 1954.
But what do we know of the coronation of Elizabeth I? Let's travel back in time to 1559, when the twenty-five-year-old Tudor queen ascended the throne, following the death of her half-sister, Mary I.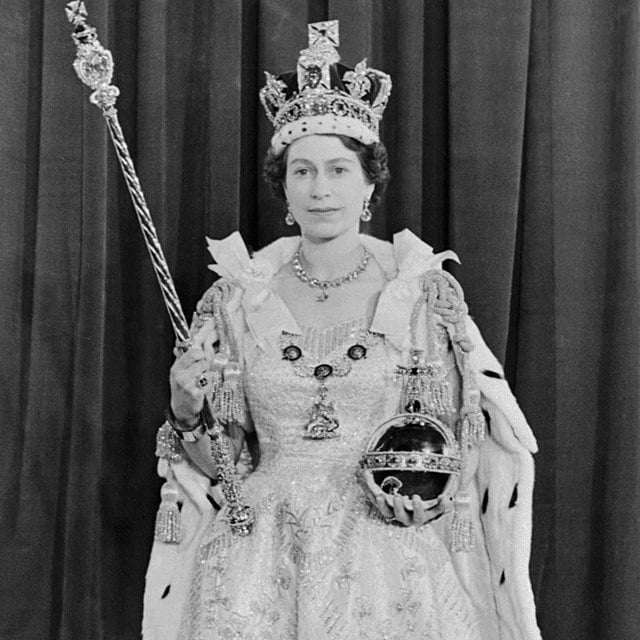 Elizabeth I's Coronation Procession
On Thursday 13th January 1559, Elizabeth travelled by water to the Tower. She stayed there until Saturday when she set out in procession to Westminster. From Fenchurch to Cheapside, Elizabeth received a joyful welcome from London:
'Her Grace, by holding up her hands and merry countenance to such as stood far off, and most tender and gentle language to those that stood nigh to her Grace, did declare herself no less thankfully to receive her people's good will, than they lovingly opened it unto her.' In return, 'the people again were wonderfully ravished with the loving answers and gestures of their Princess, like to the which they had before tried at her first coming to the Tower from Hatfield.'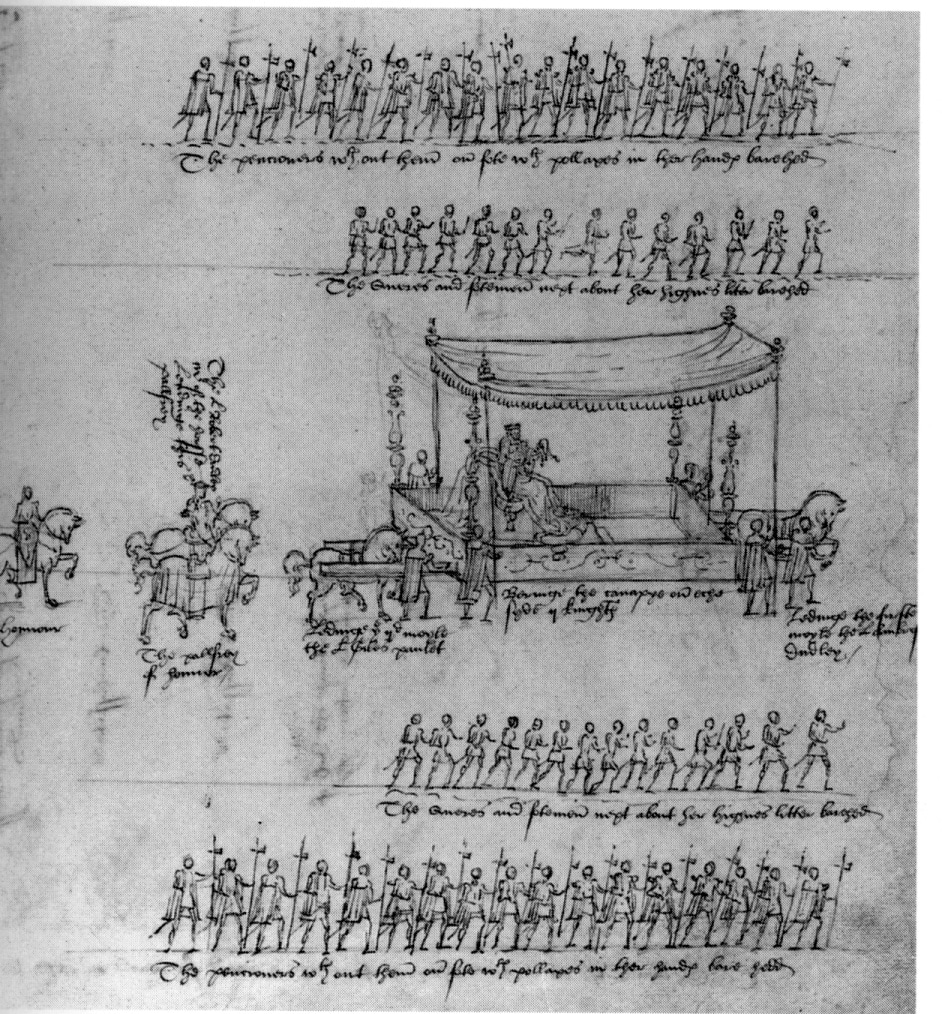 At the upper end of Cheapside, the Queen accepted the city's gift, a purse of crimson satin with a thousand marks in gold:
'I thank my Lord Mayor, his brethren and you all. And whereas your request is that I should continue your good Lady and Queen, be ye ensured that I will be as good unto you as ever queen was unto her people. No will in me can lack, neither, do I trust, shall there lack any power. And persuade yourselves that for the safety and quietness of you all, I will not spare, if need be to spend my blood. God thank you all.'
Coronation Gowns: Elizabeth I's Regalia
The bodice, close sleeves and full skirt of Elizabeth's gown and robe were golden yellow silk, covered with embroidery in metallic silks. The Renaissance pattern incorporates roses, leaves and the fleur-de-lis. As we saw on Elizabeth II's coronation outfit, the cuffs of the dress and edge of the robe are trimmed with ermine.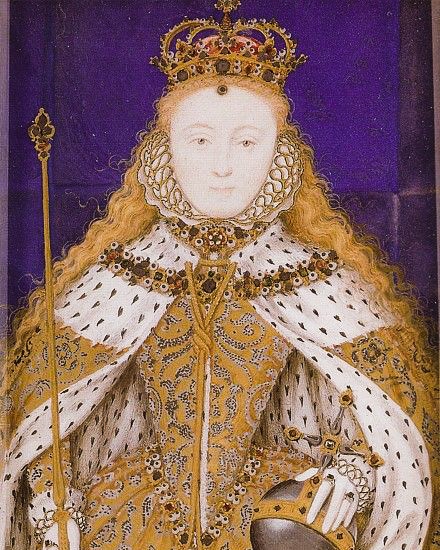 Elizabeth's ruff is a goffered frill style, edged in gold lace. It is higher at the back, and narrower around her face to meet her carcanet (neck collar). The robe is attached a little lower with gold cord and tassels as a central fastening over the shoulder collar. The collars, bodice, crown, orb and sceptre are set with rubies, sapphires, pearls, and diamonds. Elizabeth wears her hair loose, as traditional for the coronation of a queen. It is said that the cambric lace coif Elizabeth wore on her head was there to protect her hair from the holy oil during her anointment.
Sources & Further Reading
Queen Elizabeth II's coronation dress and robe of estate are part of the Platinum Jubilee: The Queen's Coronation exhibition at Windsor Castle, which runs from Thursday 7th July 2022 – Monday 26th September. Book tickets here.
As part of the Jubilee celebrations, British artist, Max Jacquard, has created a series of glass flowers. Along with a garden of wild flowers filling the ancient moat at the Tower of London, his glass Tudor rose is inspired by the hand-embroidered Tudor rose on Elizabeth II's coronation gown. Find out more about Superbloom at The Tower of London.
For more stories of royal traditions through time, check out this blog.
If you have enjoyed touching the past through this blog, do remember you can subscribe to my mailing list to receive all the latest news on new blogs, podcasts, videos and in-person events by clicking this link.