One of the most iconic and enduring institutions in the world, the British monarchy has weathered many storms. From the bloodiest of battles to religious, political and economical uprisings, our kings and queens have faced treachery, triumph and rejoicing! As we approach Queen Elizabeth II's Platinum Jubilee, we look back on centuries of royal traditions to the monarchs who have shaped our cultural identity over the years. Tracy Borman's new book Crown & Sceptre: A New History of the British Monarchy from William the Conqueror to Elizabeth II walks us through the history and evolution of the British monarchy, from 1066 to the present day.
I am delighted to include an excerpt from Tracy's book on my blog and, of course, I chose to feature a Tudor monarch! An iconic queen, whose reign was so eminent we now refer to the latter half of the sixteenth century as the 'Elizabethan' age. This distinctively personal stamp is tantamount to a queen who was as tenacious as she was renowned.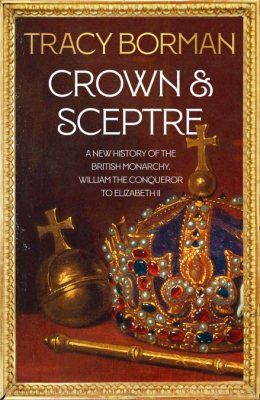 Crown And Sceptre, by Tracy Borman; An Excerpt.
Although Elizabeth had been mentally and physically robust for the majority of her reign, by the late 1590s, her grip on affairs appeared to be loosening. 'The court was very much neglected,' observed one of its members, 'and in effect the people were generally weary of an old woman's government.'
The fact that Elizabeth made no new appointments either to her privy councillor to the nobility made the competition for places ever more fierce. In turn, this fuelled the vicious rivalry that dominated the politics of her later years, which inspired the famous observation by Sir Robert Naunton: 'The principal note of her reign will be that she ruled much by faction and parties, which she herself both made, upheld, and weakened as her own great judgement advised.' But this factionalism resulted more from a lack of royal control than from the assertion of it.
The gulf between the queen's carefully constructed public face and the private one that lay beneath the layers of makeup, heavy wigs and ostentatious gowns grew ever wider as the 1590s drew to a close. Despite all her efforts, there was nothing Elizabeth could do to disguise her increasing age and infirmity.
In November 1597, Henry IV of France dispatched his ambassador, Andre Hurault-Sieur de Maisse, to secure Elizabeth's military assistance. His description of the sixty-five-year-old queen is brutal but perhaps more accurate than the flattering accounts of a beauty that time had not touched. Her long, thin face 'appears very aged', he reported, 'and her teeth are very yellow and unequal . . . Many of them are missing so that one cannot understand her easily when she speaks quickly.' But the same restless energy that had kept Elizabeth's figure slight and her mind sharp throughout her long reign was still in evidence. De Maisse could not but admire: 'how lively she is in body and mind and nimble in everything she does'.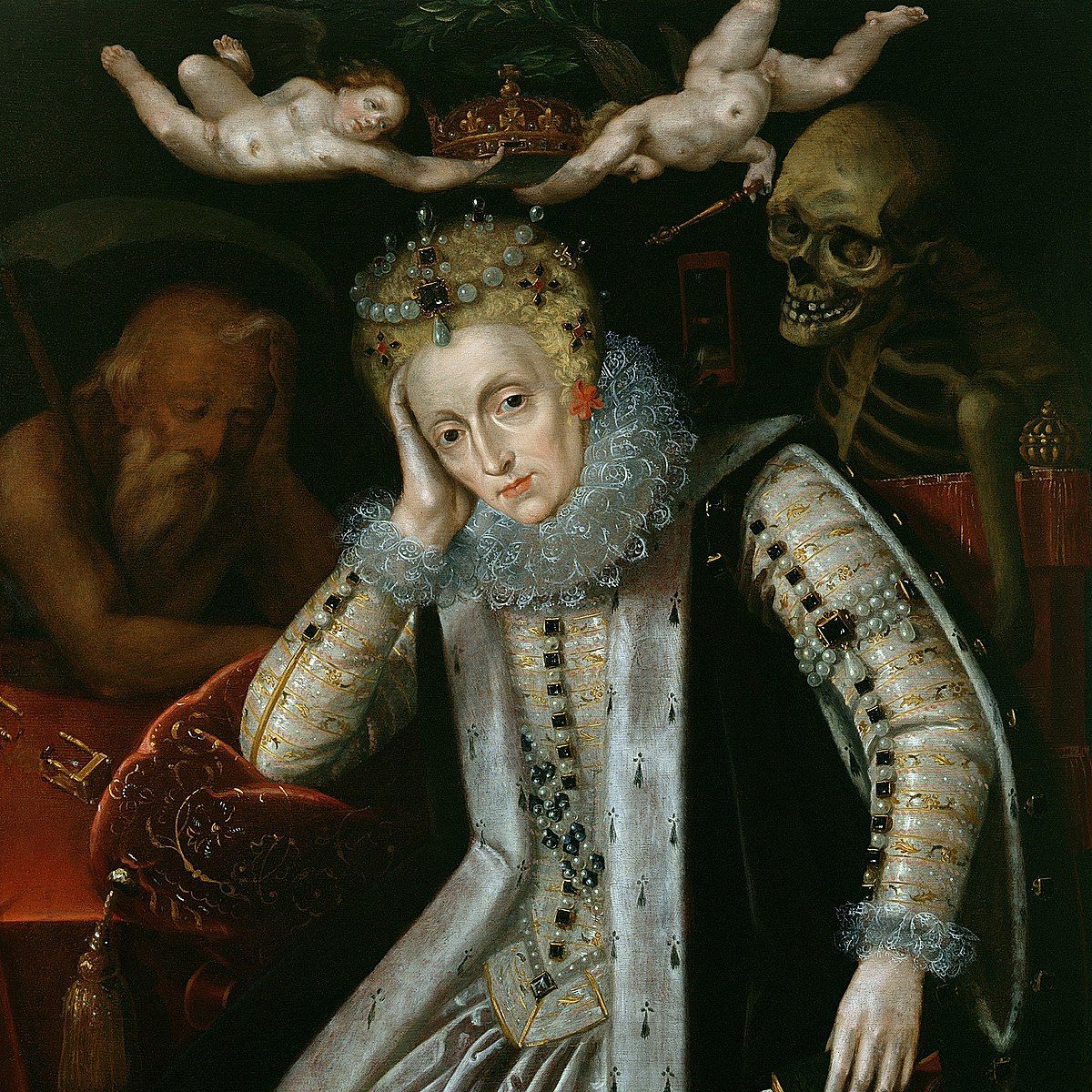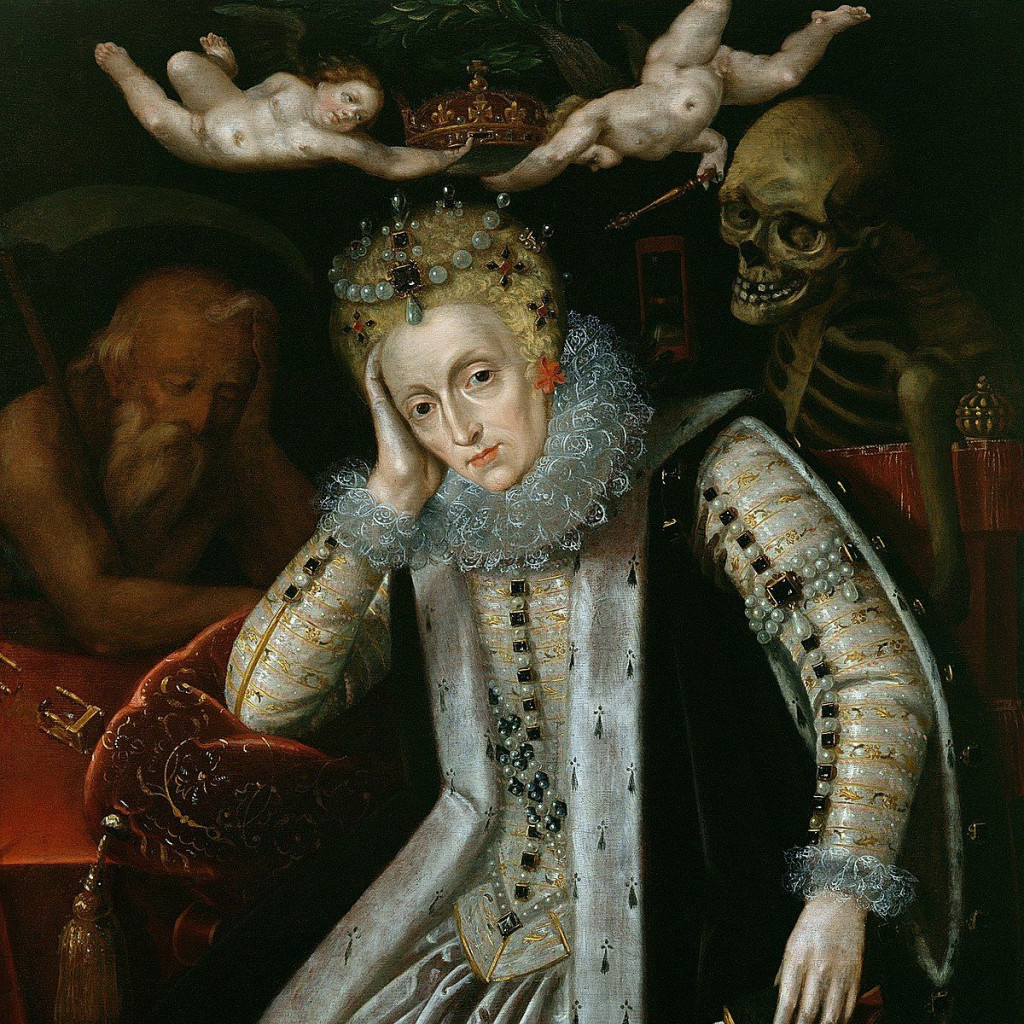 Elizabeth was not the only member of her court to have aged. Although she had outlived the majority of those who had served her since her early years as queen, her most trusted official was still in post when the French ambassador paid another visit in 1598. William Cecil, Lord Burghley, had remained by his royal mistress's side throughout the forty, often turbulent, years that she had occupied the throne. Now approaching his seventy-eighth birthday, he was extremely frail – De Maisse described him as 'very old and white' and he died shortly afterwards. Elizabeth repaid his loyal service by tenderly nursing him during his final illness, sitting on his bed and feeding him with a spoon.
Burghley's death left the door open for other ambitious men to take his place. In part, this was filled by his son, Robert Cecil, who became secretary of state, a position that he had informally exercised for almost a decade. A highly able administrator, Robert had learned his craft under his father's careful eye. But while she appreciated his efficiency, Elizabeth never trusted the son as she had the father and called him her 'pygmy', on account of his diminutive stature.
Cecil's main rival was another Robert, the Earl of Essex. The queen's 'Sweet Robin' was the son of her despised rival, Lettice Knollys. Although he was more than thirty years her junior, he acted the part of a lover whenever he was in her presence, then poked fun at her in private as a 'crooked' old woman. Elizabeth seemed to return his devotion, which stoked his already overbearing arrogance. After defying her orders in Ireland, Essex assumed that he would be instantly forgiven, but returned to find himself deep in disgrace.
Desperate to win back favour, he resolved upon a reckless scheme that ended with a futile, almost farcical rebellion on 8 February 1601. Although he protested that he had rebelled against members of the government rather than the queen herself, this rang hollow. His supporters had financed the staging of Shakespeare's Richard II, and the theme of usurpation had not been lost on Elizabeth. 'I am Richard II, know ye not that?' she had asked indignantly. Much as she had revelled in the young earl's attentions, she knew his life could not be spared. He was at least afforded the privilege of a private execution inside the Tower on 25 February.
'These troubles waste her much', reported Sir John Harington. 'She walks much in her privy chamber, and stamps with her feet at ill news, and thrusts her rusty sword at times into the arras in great rage . . . the dangers are over, and yet she always keeps a sword by her table.' The queen was plagued, too, by talk of the succession, which 'every day rudely sounded' in her ears. In 1600, the government official and keeper of records, Thomas Wilson, observed: 'This crown is not like to fall to the ground for want of heads that claim to wear it.' He proceeded to give an account of at least twelve people with some kind of claim to the English throne.
For several years now, the attention of officials and subjects had been increasingly drawn north of the border to the leading candidate, James VI. Henry VIII had barred his Scottish relatives from inheriting the English throne, but as the great-great-grandson of Henry VII, James's bloodline was stronger than any other candidate. 'They adored him as the Sun rising, and neglected her as now ready to set', Camden neatly observed.
James's nearest competitor was his cousin, Arbella Stuart, the great-granddaughter of Henry VIII's sister, Margaret Tudor and James IV of Scotland. Although her bloodline was weaker than the King of Scots, many considered her claim stronger because she was born on English soil. But in temperament, Arbella was entirely unsuitable as a future queen. Elizabeth thought her 'haughty' when she was first presented at court in 1588, aged thirteen, and her blind arrogance only increased in the years to come, encouraged by her ambitious grandmother, Bess of Hardwick. She was dangerously unstable, too, and by 1603 she was described as 'half mad' by a Venetian envoy.
Setting aside the question of her succession, in October 1601 the queen appeared before the last Parliament of her reign. The atmosphere was strained, thanks to a controversy over monopolies, but by the time Elizabeth had finished her speech, there was hardly a dry eye in the house. 'To be a king and wear a crown is a thing more glorious to them that see it than it is pleasant to them that bear it', she reflected. 'For myself, I was never so much enticed with the potent name of a king, or royal authority of a queen, as delighted that God hath made me his instrument to maintain his truth and glory and this kingdom from dishonour, damage, tyranny and oppression . . . And though you have had, and may have, many mightier and wiser princes sitting in this seat, yet you never had nor shall have any that will love you better.' With these words, she neatly encapsulated the challenges of monarchy, as she saw them. It would be Elizabeth's final public appearance of note, and she had saved the best until last.
In January 1603, the queen left the court in Whitehall and moved to her favourite palace of Richmond, to which she could 'best trust her sickly old age'. She lingered on until March, when she rose from her bed and would not return to it for three days and nights, refusing food or rest, 'and was greatly emaciated by her long watching and fasting'. As one contemporary observed: 'It seems she might have lived if she would have used means, but she would not be persuaded, and princes must not be forced.'
Finally, in the early hours of 24 March, the last of the Tudor monarchs 'departed this life, mildly, like a lamb, easily like a ripe apple from the tree'. Although Elizabeth's wishes for the succession had remained uncertain to the end, her ring was conveyed at once to James VI, signalling that he was now King of England. On 28 April, the late queen was laid to rest next to her half-sister Mary in Westminster Abbey. The new king ordered a magnificent tomb for her and, later, the same for his mother, Mary, Queen of Scots.
At the end of her reign, Robert Cecil reflected that the queen had been 'more than a man, and, in truth, sometimes less than a woman'. She had certainly confounded the stereotypes of female rule. Her first biographer, William Camden, claimed that she 'surprised her sex'. This implies that Elizabeth had triumphed in spite of being a woman, whereas in fact, she had made a glorious virtue of her gender. Her feminine traits had enabled her to stand out in a world dominated by men – and to dominate these men in turn. But she had also promoted her masculine characteristics when she had judged it expedient, such as when reproving her councillors: 'Had I been born crested, not cloven, you would not speak thus to me!'
Even so, the eagerness with which the late queen's subjects scrambled to pay homage to the new king suggests an element of relief that after fifty years of female sovereignty, the natural order of things had been restored. But it would not be long before the people of England would hark back to the 'golden age' of the Tudors, and of Elizabeth in particular. A popular seventeenth-century polemic declared:
A Tudor! A Tudor! We've had Stuarts enough, None ever reign'd like old Bess in her ruff.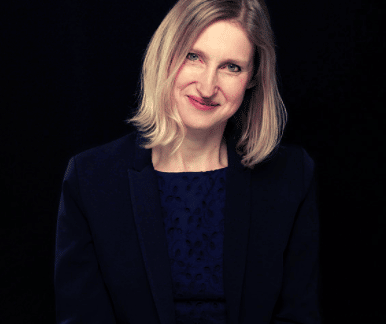 Tracy Borman is an author and historian. She is Chief Executive of the Heritage Education Trust, a charity that encourages children to visit and learn from historic properties. She is also joint Chief Curator for Historic Royal Palaces, the charity that manages Hampton Court Palace, the Tower of London, Kensington Palace, Kew Palace, the Banqueting House, Whitehall and Hillsborough Castle. Tracy often appears on television and radio and is a regular contributor to history magazines.
You can buy Tracy Borman's book, Crown & Sceptre: A New History of the British Monarchy from William the Conqueror to Elizabeth II, published by Hodder and Stoughton from Amazon UK or Amazon US. [When you buy via these links, I earn a small commission, which is at no cost to you but helps support my work at The Tudor Travel Guide – Thank you!]
To find out more about the book, head over to the live chat I did with Tracy earlier this month.